Ever found yourself staring at the ceiling late at night wondering how to see your church thrive?
Looking for effective church growth strategies that not only attract more first-timers through your doors but also keep them coming back?
Then you're exactly where you need to be.
What I'm about to share with you aren't quick fixes, they will take work…
But these are strategies rooted in the trenches of real ministry, tried and tested and proven to work on the mission field.
Whether you lead a small and struggling church, guide a congregation of 100 with ambitions of reaching 200, or work in a larger church eager to extend its impact…
Here are 29 proven church growth strategies you can implement in your local setting.
29 Effective Church Growth Strategies
1. Find Your Starting Point 🏁
To chart a path toward growth, it's good to understand where you stand right now.
You need to figure out where you are so you can map out a plan of action to get where you want to be.
Here are some key questions to help you assess your starting point:
What's your current attendance rate and what's the trend?
Which programs are thriving and where do you need improvement?
What's the demographic makeup of your current attendees?
How engaged is your congregation in various church activities?
To simplify this process, take the free 20-question Guest Ready Assessment.
It'll give you a score and personalised recommendations based on your results.
2. Plug The Holes 🚪🏃
Before you get new people through the front door, find out why people are exiting out the back door.
Has someone not been to church for a while?
It's time to reach out.
Did a long-term member leave your church?
Call or message to find out why.
Check-in with your current members. Find out why they started coming and why they've stayed.
These candid conversations are like digging for gold because what you discover will help you make smarter, more strategic choices based on your congregation's real experiences.
3. Identify Your Target Demographic 👨‍👩‍👧
Try to reach everyone and you'll reach no one, so you want to narrow it down.
More than that, you want to get into their heads and figure out what makes them tick, what their biggest problems and frustrations, goals and aspirations are.
Rick Warren, in his now famous book The Purpose Driven Church, gave a great example of this with his Saddleback Sam profile: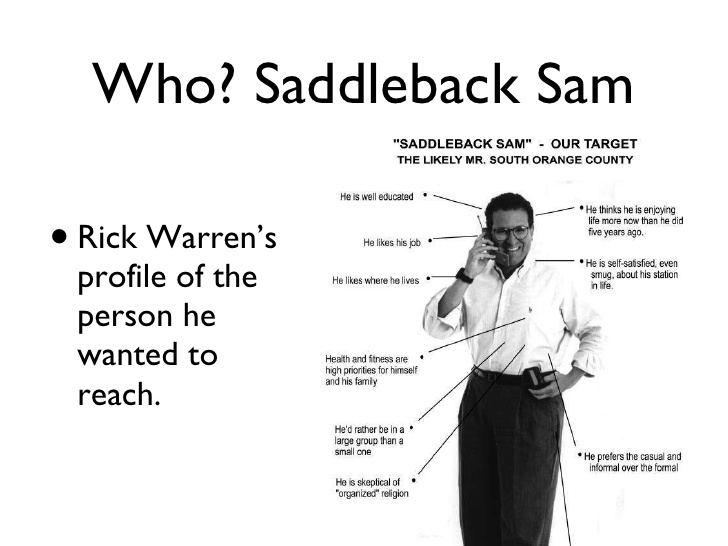 Your church could potentially serve a diverse range of demographics, including:
Young people looking to connect with peers
Young families seeking a welcoming community
Professionals in search of spiritual growth and support
Seniors longing for social interaction and to make a difference
Here are some questions to help you define your church's target audience:
Who currently attends our church and why?
What are our church's strengths?
Is there an underserved group in our community, and who are they?
What's our community's demographic makeup?
What's the average income level?
What types of professionals are prevalent in our area?
What hobbies are popular locally, like outdoor activities, sports or other interests?
You can also use AI tools like ChatGPT to help you identify your church's target audience.
Use this free ChatGPT guide for pastors to get started.
4. Craft A Crystal-Clear Purpose 🎯
Before you can measure success in your church, you need a clear picture of what success means.
It's not just about the number of people attending; it's about fulfilling the great commission of making disciples (Matt 28:18-20).
Now, your church likely has a vision or mission statement, but let's make it laser-focused:
What is the definition of a disciple?
In our church we said a disciple is someone who:
a) Loves Jesus & follows Him
b) Loves the Word & obeys it
c) Loves the church & serves in it
In the next section, we'll dive into creating a process to turn this purpose into reality and provide you with a practical strategy to measure and track your success.
5. Design A Process Around Your Purpose ⚾
If the purpose of your church is to make disciples who love Jesus and follow Him, love His Word and obey it and love the church and serve in it, then your job as pastor is to create a strategic roadmap that guides people through each stage of discipleship.
Imagine it like a baseball or discipleship diamond with each base representing an intentional program or step within your church.
The ultimate aim is to advance individuals to the third base because that's when they become fully-fledged disciples, and your church fulfils its mission.
In our church plant in Thailand, we broke our purpose down into 3 simple and practical steps:
Step 1: Love Jesus & Follow Him (Reach)
We used our Sunday morning service as the "main event" or "front door" of the church.
We made sure our church gave a warm welcome to visitors, made our preaching more evangelistic and gave opportunities for people to follow Jesus every week.
Step 2: Love His Word & Obey It (Teach)
We used our Connect groups to dive deeper into God's Word and fall in love with it.
Step 3: Love The Church & Serve In It (Mobilise)
We created various service teams people could join to help the church achieve its mission and made it easy for people to volunteer.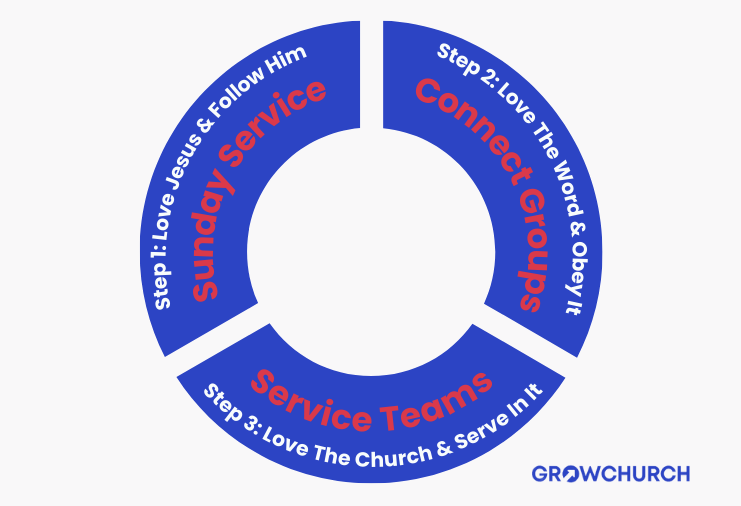 Now you have a straightforward way to measure your success:
How many people attend our Sunday service?
What percentage of them are part of a Connect group?
And what percentage of those are actively serving somewhere in the church?
That will tell you exactly how many disciples you're making and whether or not your church is achieving its mission.
It gives you something to work towards too:
Let's say you have 100 people coming on a Sunday and only 50% of them are in a Connect Group. Your mission then as pastor is to continually brainstorm creative ways to get more people plugged into these groups.
Similarly, if you had only 20% actively serving, you'd want to strategise on how to encourage more people to step up and serve.
You might define a disciple as someone who is baptised, filled with the Spirit, taking a discipleship study, making other disciples etc…
So please feel free to adjust and tailor this to your local setting.
Check out the Building Your Ministry Plan course for practical step-by-step help on creating a strategic plan for action for your church.
The point is, having a clear, intentional and measurable approach to making disciples is the best church growth strategy you could ever implement.
6. Cut Programs That Aren't Working ✂️
It is easy to mistake busyness for effectiveness.
Over time we tend to accumulate more church programs without ever taking the time to stop and evaluate:
What the purpose of the program is
And whether or not it's achieving that purpose.
Like Jesus with the fig tree, you've got to be ruthless about pruning the programs in your church that aren't producing fruit
By ridding yourself of the clutter, you'll free up more time, energy and resources for the programs that are working.
7. Foster Friendships With The Unchurched 🤝
Another reason to cut out unnecessary programs is creating meaningful connections with the unchurched becomes simpler when your members aren't tied up with meetings every night of the week.
Encourage your congregation to spend quality time with friends, go out for meals and do fun stuff together.
Sites like Meetup.com are a great way to find local community groups of people with similar interests in your area.
You could train your members on how to do friendship evangelism, share their personal testimony and encourage them in the fact you don't have to be a theologian to talk to your friends about Jesus.
Take Your Church To The Next Level 📈
8. Create An Invite Culture 📧
Heard about Thom Rainer's 3-year study?
He talked to hundreds of unchurched individuals and here's what he found:
96% of them said they'd be somewhat likely to attend church if someone invited them.
That's the power of word-of-mouth invites!
So, how do you make it happen?
Church Fuel's Inviting Course is by far the best resource for creating a culture where people inviting other people to church is the norm.
Whether it's a regular Sunday gathering, a special event or the start of a new sermon series, you can equip your congregation to invite by putting invites in their hands.
Church invites are a cost-effective yet powerful way of getting a steady stream of new people coming to your church.
OvernightPrints.com is my #1 go-to for printing.
But don't stop at paper invites – go digital too.
Use easy design tools like Canva and post invites to your church's Facebook page so members can easily share them with a tap on their phone to share your links and help spread the word about your church online.
9. Be A "Can't-Miss" Church 📍
Picture this:
There's someone new in town, eager to find your church, but they don't know where it's hiding. That's where clear signage comes to the rescue!
Visit ChurchBanner.com for some great ideas.
Create eye-catching signs that proudly display your church's name and logo. Put them in smart spots around town, on the road leading to your church and right at the entrance.
These signs act as friendly guides, saying, "Hey, we're right here! Come join us!"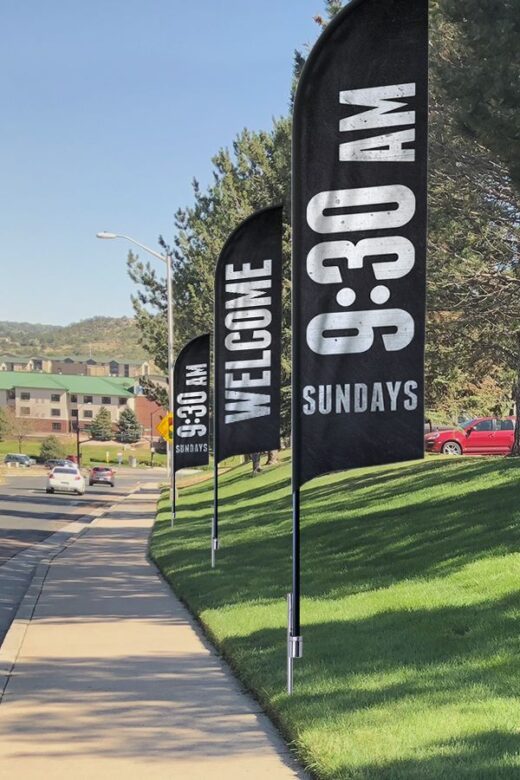 38,525 people google "church near me" on average each month, so if your church isn't popping up on Google Maps, you're missing out big time.
Get your church listed, ask members to leave reviews and add some snapshots of your Sunday service, your facilities and Kids Church to give folks a sneak peek of what your church is all about.
For a step-by-step on getting your church on Google Maps, watch this:
10. Create An Irresistible Welcome 👋
Getting new people through your church doors is an exciting first step, but here's the real challenge:
How do you get them coming back for a second week?
Your church will grow when new people visit and keep coming back.
The average church sees only 6-10% of their first-time guests return a second time, however, with a little effort, you can easily double that number.
This is where the magic of your welcome comes into play.
Here are a few key actions you can do to make sure church visitors feel welcome:
Welcome team: Have a friendly welcome team ready to greet newcomers and give that all-important great first impression.
Church welcome pack: Put together a handy church welcome pack with essential information about who you are, how they can get in touch and next steps.
Welcome speech: Start your service with a warm church welcome speech. Let your guests know how thrilled you are to have them and what they can expect during their visit.
And if you're looking to take your welcome experience to the next level, consider checking out the Guest Ready Bundle.
It's a valuable resource designed to ensure your church is fully prepared to welcome and embrace new guests.
11. Enhance Your Church Service ⛪️
Your church service is more than just a Sunday routine; it's the heartbeat of your mission.
Remember how we defined our purpose and process in strategies #4 and #5?
In our church, we decided to make our service the program we use to connect people with Jesus. We made Sunday morning the main event.
The good news, especially if you're a small church, is you don't need a big stage with dazzling lights and smoke machines to make this work.
All you need is to use what you already have and infuse it with a bit of intentionality.
Start by meticulously planning the elements and order of your service.
Consider appointing a service director whose role is to ensure everything runs smoothly like a well-oiled machine, keeping everything on schedule.
And think about appointing a church MC; a person who acts as the service host, smoothly transitioning between each element and leaving no room for awkward gaps.
12. Preach Engaging Sermons 🎙️
When it comes to church growth, few strategies rival the impact of preaching better sermons.
Did you know that a whopping 90% of unchurched people choose a church based on the pastor or preaching?
That's because excellent preaching has the power to spark conversations, draw in crowds, point people to Jesus, trigger more personal invites and keep visitors coming back.
One effective approach to make your sermons more engaging is to introduce monthly sermon series that delve deep into specific, relevant, and life-applicable topics over 4 weeks.
Here are 12 sermon series ideas you can use.
To help you become an exceptional preacher, we've reviewed the best preaching courses out there…
🏆 Best Preaching Courses 🏆
But your learning doesn't have to stop there.
You can further enhance your preaching skills by:
Remember, your pulpit is more than a piece of furniture; it's your platform to inspire, challenge and transform lives.
So, invest in your preaching and watch your church flourish.
13. Lead Worship Well 🙌
Did you know the quality of worship is a key driver of church growth?
It's true.
Whether you have a one-man band or a 50-strong choir, a Spirit-led worship team can transform your church services.
But how do you achieve this?
By investing in your worship team.
Great worship leaders are made, not born so encourage their growth, both as musicians and as spiritual leaders.
Encourage regular training sessions for your worship team, focusing not only on musical skills but also on the spiritual aspect of worship leading.
Equip them to lead the congregation into moments of authentic worship.
If you're looking for resources to help your worship team lead worship effectively, take a look at Worship Ministry Training.
Creating a dynamic worship experience isn't about having the latest gadgets or expensive gear; it's about creating an atmosphere where people can encounter God.
14. Supercharge Your Kids Church 👦👧
Have you ever considered growing your Kids Church program could be a powerful church growth strategy?
In a study by Barna, 62% of parents stated children's ministry was a "very important" factor when deciding which church to attend.
Simply put, parents are more likely to attend church regularly if they know their children will have a fantastic experience.
Here's the key:
Treat your Kids Church with the same level of intentionality as you would your main service.
Make it the highlight of every child's week so they can't wait to come back next Sunday.
Create a warm and welcoming environment and leave a lasting first impression.
Invest in a high-quality Sunday school curriculum and prepare interactive lessons and hands-on activities.
Prioritise safety and keep parents in the loop about what's happening.
Here are some more practical strategies from Better Bible Teachers on how to supercharge your Kids Church program:
15. Elevate Your Youth Ministry 🔥
Done right, your church's youth program can be a real powerhouse for growth.
Because while you need the wisdom and stability of the older folks, you also need the fire and optimism of young people.
Following the approach outlined in strategy #5 and breaking down the purpose into manageable steps worked really well for our church plant in Thailand.
Here's the 3-step action plan you can use to grow your church youth group:
Step 1: Love Jesus & Follow Him (Reach)
To kickstart your youth ministry's growth, focus on attracting newcomers.
We met every Sunday after the service, focused on making it social and encouraged youth group members to invite their friends.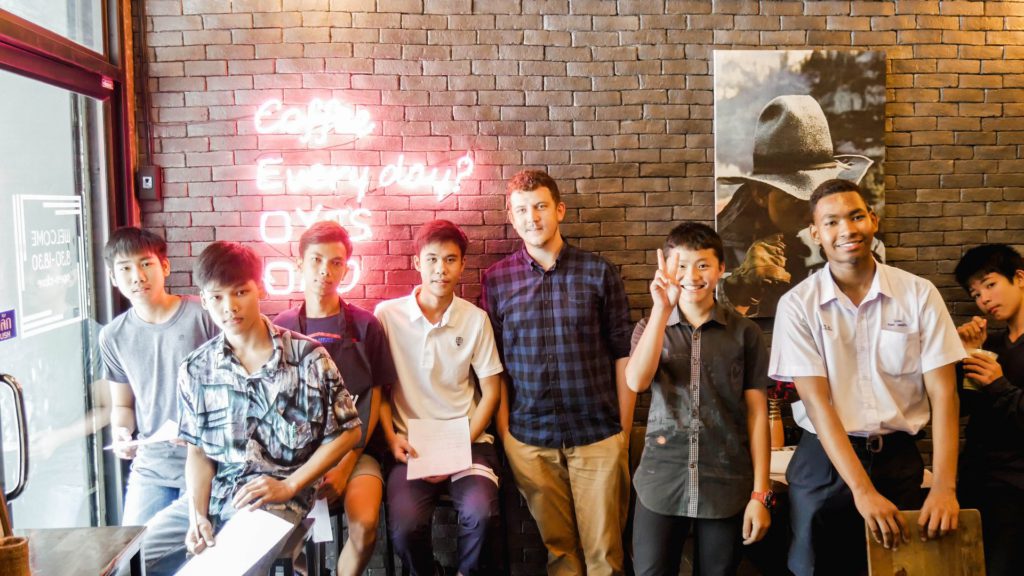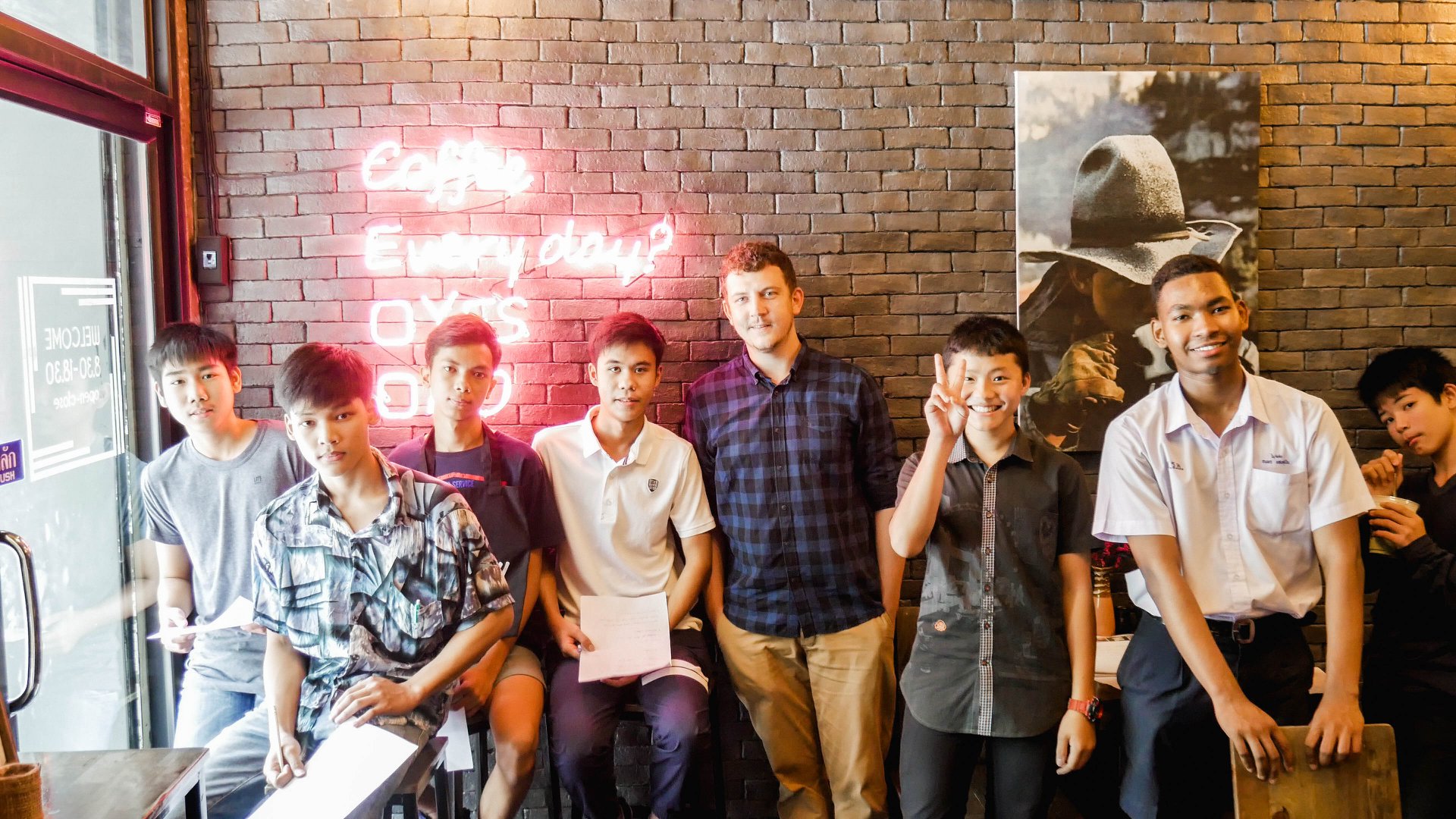 We did fun stuff like:
Game nights
Park outings
BBQs
Pool parties
Coffee shop hangouts
We took plenty of pictures which our youth eagerly shared all over social media.
Doing this not only attracted new attendees every week but also fostered a strong sense of community and belonging.
Step 2: Love His Word & Obey It (Teach)
To drive discipleship, we ran several youth Connect groups across the city.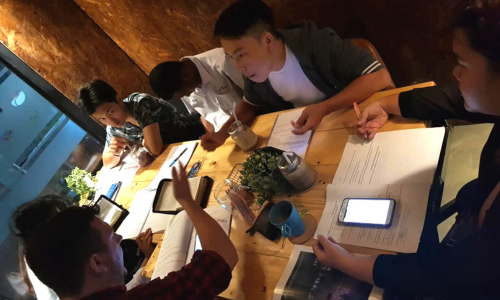 We'd typically open up with a game before diving into some kind of interactive Bible study.
As the majority of our youth were new believers from Buddhist backgrounds (or not even saved yet) we wanted to walk them through the basics.
You could use any type of Bible study guide but I like The Purple Book as its open-ended questions made for some great conversations.
Step 3: Love The Church & Serve In It (Mobilise)
Finally, we gave the youth opportunities to get involved.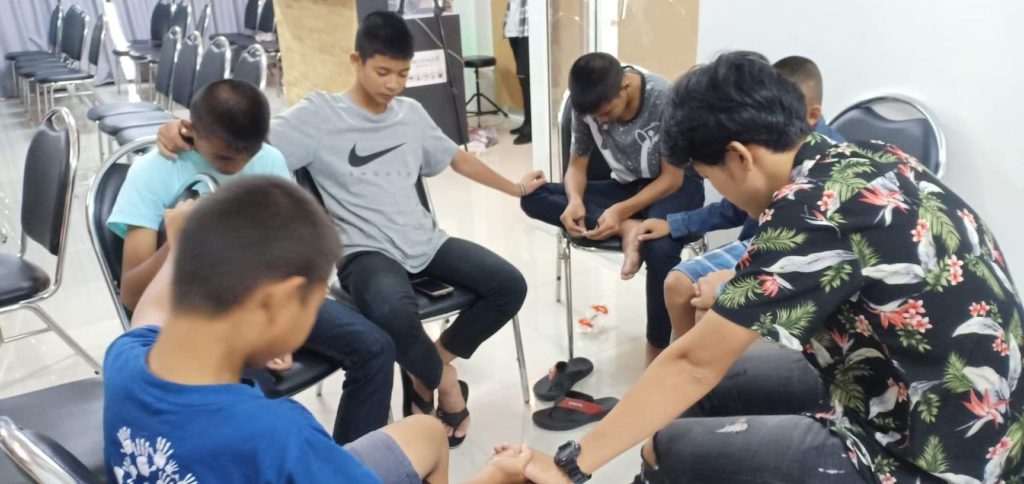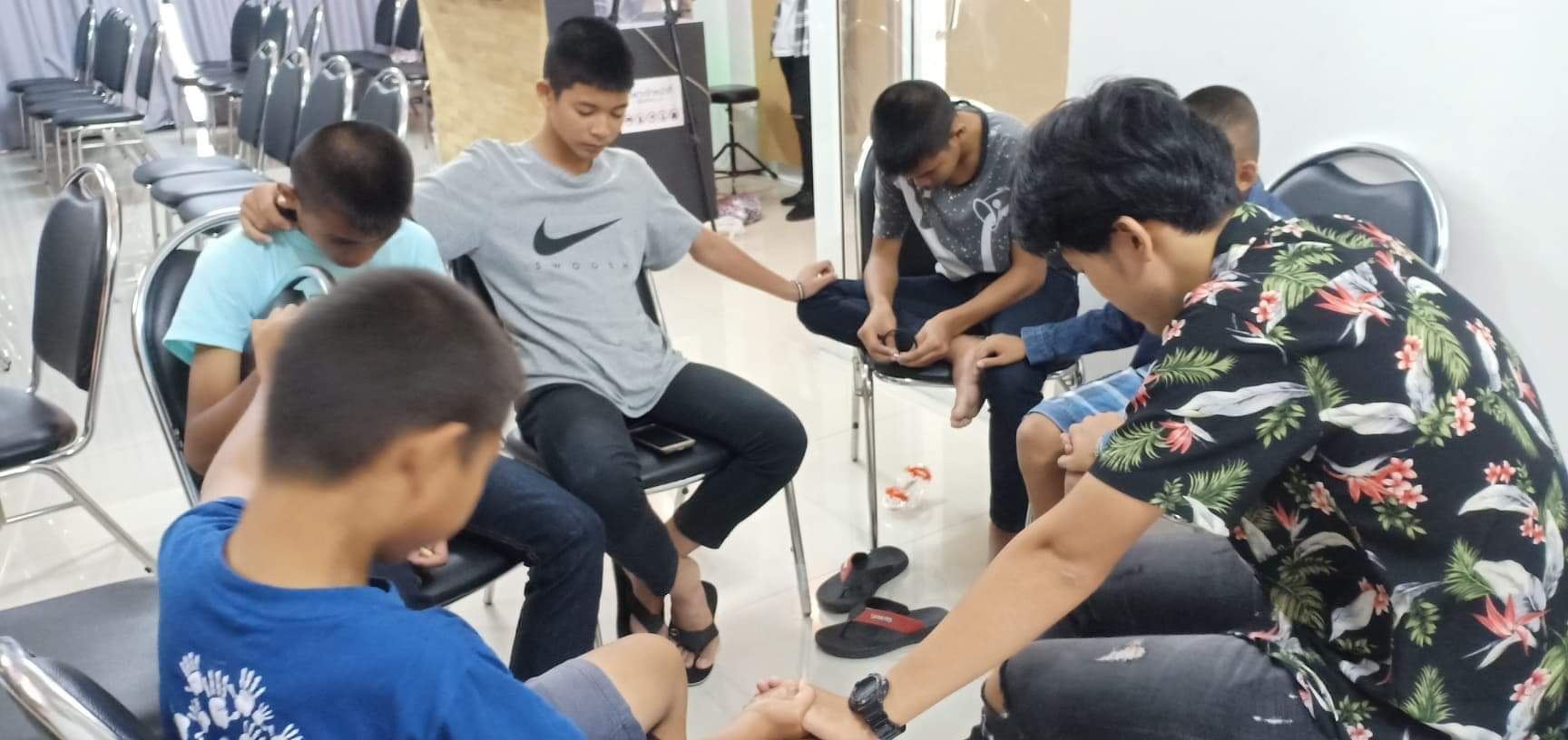 This could be as simple as asking someone to come up with an idea for a game, pray for someone, lead a discussion or become a peer leader.
Maybe they could help in Kids church or join your church welcome or worship team.
Whatever it is, this allowed our young people to assume ownership, grow in their gifts, and take pride in knowing they're helping to make a difference.
16. Leverage Big Events 🎉
In a 2012 study, 1,000 pastors were asked to identify the top three Sundays with the highest attendance:
93% chose Easter, 84% said Christmas and 59% said Mother's Day.
You can use these big events throughout the year to build community connections, reach new people and catapult your church's growth if you know how to take full advantage.
Take, for example, Life Church in Bradford and their annual Christmas Spectacular: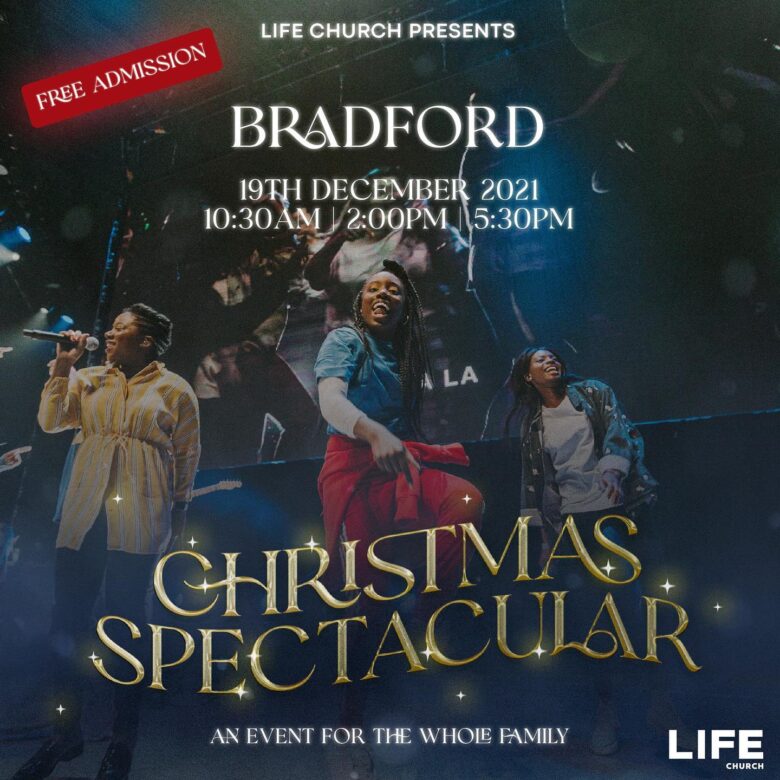 Every year they go all out to create an amazing experience for all the family, print flyers, put up posters, run a social media campaign and encourage their members to invite their friends, family, neighbours and work colleagues – it's an event for the entire community.
This concept can be adapted for churches of various sizes…
Consider hosting a Christmas concert, a heartwarming nativity show or an eggceptional Easter service (sorry! 🙃) where you get everyone in your congregation involved.
When kids and teens join in these events, something special happens – parents want to come and bring aunts, uncles, and grandparents. So, it really can be a genius way to get an influx of new people.
17. Connect With Church Connect Cards 📇
Once you've done the hard work of actually getting new people through your doors, you must capture their information so they don't simply walk out after service, never to be seen or heard from again.
So how do you do this?
With church connect cards.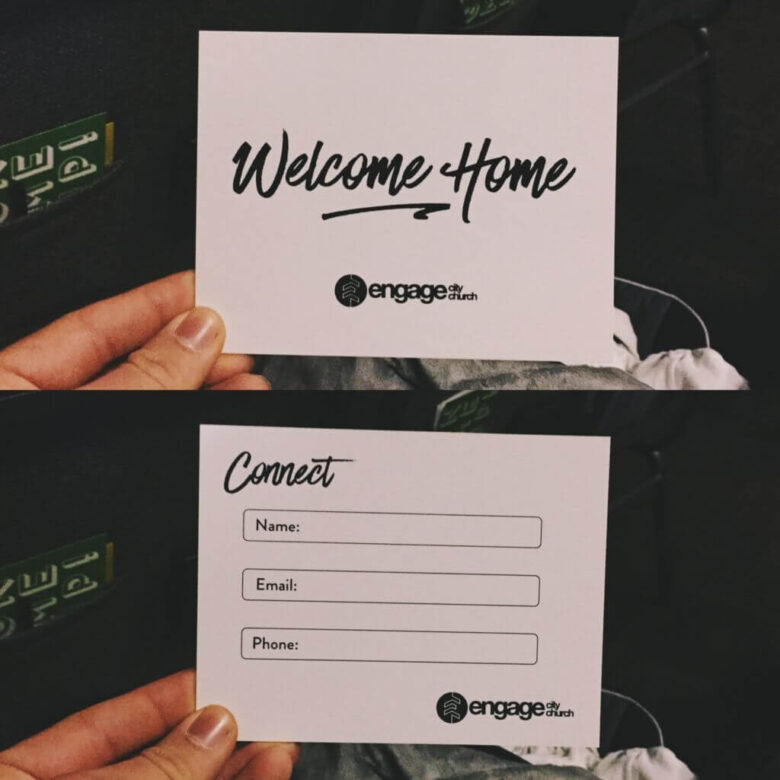 You could give them to visitors at the door, put them in your church welcome packs or have ushers hand them out right before the offering telling them to pop them in the basket as it passes by.
You can use Canva to come up with a simple design (the simpler the better) and have people fill out as few form fields as possible:
Name (necessary)
Email (necessary)
Phone Number (optional)
Address (not recommended)
To get your creative juices flowing, here are 7 perfect church connect card examples.
With connect cards, you ensure every visitor has the opportunity to get plugged into your church community. They also set the stage for the next church growth strategy we'll dive into, which is follow-up.
18. Follow Up With Church Guests ☎️
Why does follow-up matter?
A study found:
85% of guests return if visited within 36 hours
60% of guests return if visited within 72 hours
15% of guests return if visited within 7 days
The study was done in 1987 and in today's world, you could replace the word "visited" with called, texted, emailed or messaged.
The takeaway is this:
Following up with church visitors (and quickly) makes them feel valued and far more likely to return.
Here's a practical guide on how to set up a follow-up system in your church.
For example, you could:
Give them a call: Have a staff member contact guests by phone asking if they have any prayer needs and if you'll be seeing them next Sunday.
Send them a message: This could be a friendly invitation from a Connect group leader in their area inviting them to the next Connect group or social event.
Visit them: At home or in a coffee shop. While you never want to turn up unexpectedly (people don't like this!), you could arrange a time to meet, get to know each other and discuss next steps.
See what works best for you.
The key to developing a solid follow-up strategy is having a systematic way to follow up with guests as soon as possible, whilst striking the right balance between being proactive without coming across as too pushy.
19. Drive Growth Through Small Groups 🏡
Connect groups, home groups, cell groups, life groups, care groups, Bible study groups…
Whatever you want to call them, they play a pivotal role in helping people connect with God's Word, connect with each other and create a safe space for personal growth.
To borrow a phrase from Andy Stanley, life change happens in circles, not rows.
Small groups are the engine room for discipleship within your church.
Starting a small group is easy. You can either ask someone to host it at their home, host it yourself, or choose another place to meet.
Personally, I find not meeting in the church helps people relax and be themselves.
And you could ask your church to fill out connect cards to find out who's interested in joining. You can start with just 2-3 people and it will naturally grow from there.
When I'm leading a small group I like to format the time into 4 easy-to-remember sections or elements:
a) Welcome: Begin with a simple group icebreaker to get everyone warmed up, especially when you've got new people or members who don't know each other well.
b) Worship: Singing 2-3 worship songs helps people connect with God and prepares hearts for Bible study. If you're not comfortable leading worship in a small group or you're not a musician, you can play well-known worship videos on YouTube.
c) Word: Follow some kind of systematic Bible study. I like to use Instant Small Group: 52 Sessions for Anytime, Anywhere because it promotes interactive group discussion rather than me doing all the talking.
d) Fellowship: I like to give space at the end of a group for social time so members can build friendships with other members. The host could provide refreshments or you could have a potluck and eat together.
Here's Rick Warren on how to structure your small groups for growth:
20. Mobilise Your Congregation 🙋🏻‍♂️
Getting more people to step up and volunteer is an essential strategy for church growth.
Without it, you're running around doing everything yourself, limiting your growth potential and not to mention, putting yourself on a one-way road to pastoral burnout.
Discovering people's strengths, giving them opportunities to develop and equipping the saints for the work of the ministry (Eph 4:11-12) is also a big part of your mission.
Whether it's making tea and coffee, helping people park their cars, serving in kids church, leading a small group or playing drums in the worship team, members who actively serve in the church have a sense of belonging and can take ownership knowing they're making a difference.
Here are 3 ways you can recruit more church volunteers:
1. Cut The Red Tape
Make it as easy as possible for them to play their part. This sounds obvious but the number of churches I've seen that require members to complete a 16-week discipleship course, tithe for 12 months etc. is staggering to me.
As far as I'm concerned, apart from leading or preaching, anyone can serve pretty much anywhere, saved or unsaved, it doesn't matter. The point is to get them connected and move them one step closer to becoming a disciple.
2. Ask Directly
Instead of addressing the entire congregation from the pulpit and facing blank stares and zero sign-ups, take a more personalised approach.
Nothing beats meeting someone 1-on-1, telling them how their skills are perfectly suited to a particular ministry and asking them outright. I think you'll be pleasantly surprised by the number of people who step forward when personally invited.
3. Appreciate Your Volunteers
Thank your volunteers often. Praise them for what they're doing on stage. Brag about them any chance you get.
Treat them like the VIPs they are, showcase the positive impact they've made and others will be inspired to get in on the action.
Check out The Volunteer Course for insanely practical help on how to gain, train and retain more church volunteers.
21. Equip & Empower Your Team 💪
Your staff and volunteers are the backbone of your ministry.
Investing in their development isn't just a good idea; it's crucial for church growth.
By equipping your teams with the knowledge and skills they need, you not only keep them motivated but also empower them to excel in their roles and draw more people to your church.
For instance:
But it doesn't end there.
Investing in and raising leaders is one of the best investments you can make.
That's where LeaderPulse comes in.
LeaderPulse is a comprehensive leadership training program that provides you with done-for-you leadership development materials, including meetings, retreats, staff development exercises, skill-based training lessons, and more.
It's a valuable tool to help you invest in and develop the leaders within your church.
By prioritising the growth and development of your staff and volunteers, you're creating an environment where everyone can thrive.
22. Talk About Money 💸
I'm just going to say it:
More money in the offering basket means more lives changed.
Or put another way:
A generous church is a powerful church because, with more resources, you can do more.
Unfortunately, many pastors feel uneasy talking about money so they avoid the topic altogether. The end result is a lack of biblical understanding of tithing and giving in our churches.
And a quick 5-minute offering talk isn't enough if you really want to grow your church budget.
So let's start a conversation about money within our church community – it really doesn't have to be awkward.
Many of your members are struggling with the consequences of poor financial decisions and the Bible offers a wealth of wisdom on:
Stewardship
Saving
Investing
Budgeting
Business
Debt management
Spending habits
Your church can provide valuable teachings and resources on these topics to help your members lead financially healthier lives.
Consider using resources like More Than Money.
This comprehensive toolkit equips you to offer a 90-minute financial workshop to your church or community.
It covers everything from presenter resources and participant guides to slides, graphics, a done-for-you 4-week sermon series and marketing materials to help you prompt a spirit of generosity in your church.
23. Expand Your Reach With Strategic Outreach 📈
You might be wondering why we haven't delved into evangelism or outreach until now…
That's because I often see churches investing considerable time and money in evangelistic events with little impact.
I believe the key to church growth is strategic outreach, especially if you are a small church with limited resources and manpower..
And unless you first put the systems in place to make your service the best it can be, welcome visitors, follow up, disciple new believers, raise leaders and all that good stuff, the chances are any new people you do get won't stick.
Here are 3 super simple and cost-effective outreach ideas that have proven highly effective for us:
1. Meals With Friends
Imagine a couple in your church inviting their friends to join another couple for a meal.
This offers a fantastic opportunity to build connections and extend invitations to a Connect group.
It's much easier to step into a church or Connect group when you already know a few friendly faces.
2. Small Group Social Events
Consider having your Connect groups run social events like BBQs, pool parties or potlucks once a month or every couple of months.
Members can invite friends and neighbours who may not yet feel ready to attend a Sunday morning service and gently introduce people to your church family.
3. Invite A Friend To Church Sundays
While every Sunday should ideally be an invitation opportunity (and they will if you follow the strategies outlined in this post), designating specific Sundays every 3, 6, or 12 months for this purpose can help foster an inviting culture within your congregation.
Here's a comprehensive step-by-step guide on how to organise an invite a friend to church Sunday.
24. Get Your Church Online 🌐
In the digital era, your church's online presence is its front door and the real first impression for many.
80% of people will check out your website before ever setting foot in your building.
It's where potential visitors want to know where you are, what to expect, and see glimpses of your services, kids' church, and connect groups.
Check out these 35 inspiring church website examples.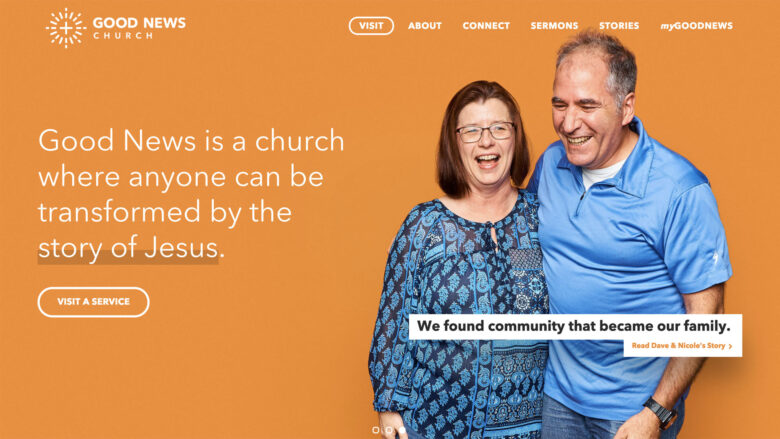 The good news?
Setting up a church website isn't as technical as it sounds.
Here's a click-by-click walkthrough.
25. Go Big On Social 📱
Your church needs a social media strategy.
I get it, social media can be overwhelming and time-consuming and I'm definitely not saying you have to rush out and join every social media platform out there…
Just pick one that aligns with the target demographic you identified in step #3 and focus on that.
Whether you choose Facebook, Instagram, Snapchat or Twitter, you could share:
Sermon Takeaway Images: Condense key points from your sermons into cool and shareable graphics
Event Invitations: Create invites for upcoming events
Devotionals & Inspirational Quotes: Share daily or weekly scriptures and quotes to uplift and inspire
Behind-the-Scenes Content: Give your followers a glimpse into the life of your church. Show rehearsals and backstage event prep
Testimonials & Stories: Share real-life stories of transformation within your church. These authentic accounts can inspire and connect with others
Community Outreach Projects: Highlight the ways your church is making a positive impact in the community. This shows your commitment to serving beyond the church walls
Interactive Content: Conduct polls and Q&A sessions to engage with your audience
Getting your church social makes it incredibly easy for your members to share your content online and expand your reach.
Here's Brady Shearer from ProChurchTools on how your church can leverage social media:
26. Harness The Power Of YouTube ▶️
YouTube isn't just for watching FailArmy videos; it's a dynamic tool for church growth.
It's the second-largest search engine on the planet with more than 3 billion searches a month where people go for answers and inspiration.
Elevation Church is probably the best example of how churches can harness the power of YouTube.
They've got 2.68 million subscribers on their channel: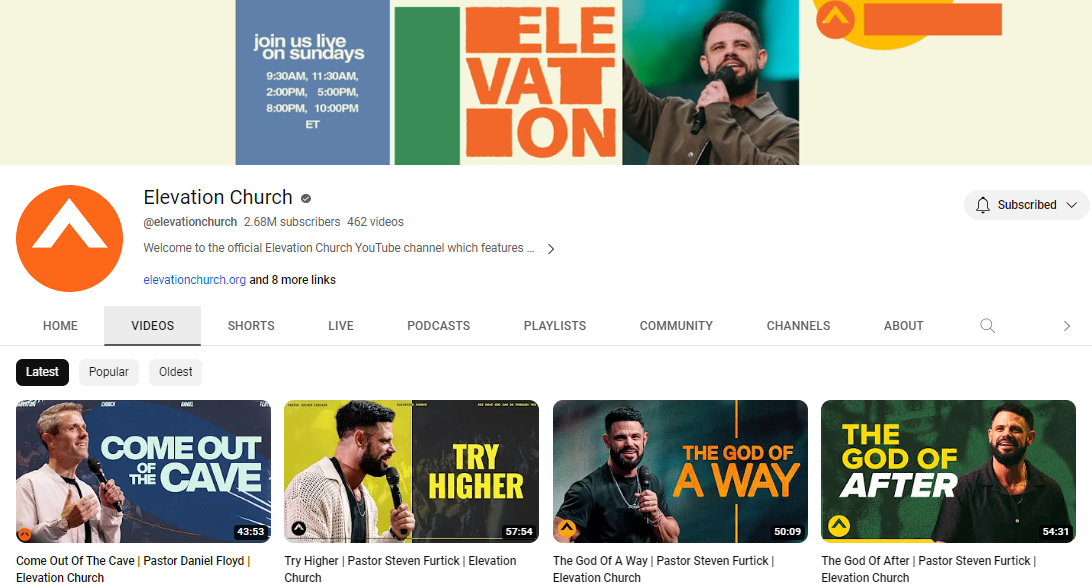 Here's how you can leverage this platform:
Shorts and Reels: Post snippets of your messages. Share member testimonials of life-changing experiences.
Live Streaming: Reach a wider audience by live streaming your services on YouTube. It allows those who can't attend in person to still be a part of the experience.
And you don't need to be a pro with a ton of gear to amass 1,000s of subscribers and 100,000s of views:
Just grab the phone you've got in your pocket, hit record and start talking.
Answer people's questions, give solutions to their problems – focus on helping and adding value and watch your audience grow.
27. Get Your Church Ranked On Google 🔍
Every month 10,000s of people search terms like:
Churches near me
Church in New York
Churches in Chicago
Churches in London for young adults
If you have the budget, Google Ads can propel your church to the number one search result when people in your area are looking for a church.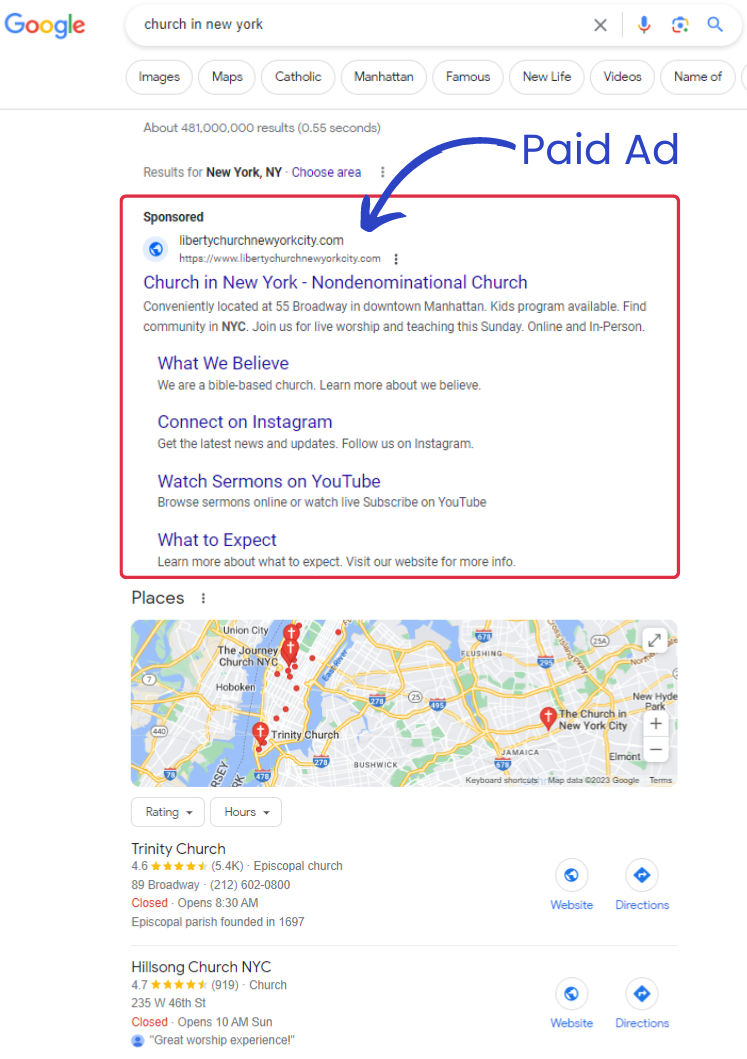 And if you don't have the budget and you're in the U.S., there is even a $10,000 per month grant for non-profit organisations to rank top of Google.
Here's a breakdown of how it works:
28. Optimise Your Church Space For Growth 🏙️
Your physical building and church space can either promote growth or stunt it.
Studies have shown growing churches maintain a seating occupancy in the 40-80 zone.
This means they never let their services drop below 40% seating capacity and rarely exceed 80% capacity.
Below 40% and your church will feel empty, more than 80% and it'll feel too crowded.
And it's not just the size of your building that counts; it's also about the overall feel, whether or not you're in a visible and accessible location, if you have enough car parking spaces and adequate facilities and so on.
There are times when you make the best of what you have and other times when, if you're serious about growing your church, it's best to make the decision to move your church to another location.
It's a risky move that can either propel your church forward or set you back so it's important to get this right.
I'll never forget when my home church in Leeds, England moved from a small meeting hall on the outskirts of the city into a hired hotel banquet hall right in the heart of the city centre.
Our church grew from 30 people on a Sunday to 150+ in the span of 6 months.
29. Relaunch Your Church 🚀
Whether you're moving to a new location, rebranding, transitioning under new leadership, or simply looking for a fresh start, relaunching your church can be a powerful way to gain momentum.
Do a massive leadup up to it and build expectation
Post flyers through every letterbox in the city
Run a massive Google ads campaign
What we did was spend the 4 Saturdays leading up to the relaunch in the city centre, all wearing matching brightly coloured T-shirts, handing out balloons and flyers so everyone knew what was happening.
You could take your praise and worship teams out and have them sing and perform dramas in the streets.
Remember, a relaunch signifies new beginnings so think big, be bold and be ready for the new people when they come.
Church Growth Strategies: The Bottom Line
I know there's a lot to work on here!
And I'm not for a minute suggesting you rush out and start implementing all 29 of these church growth strategies right away, but I hope at least a couple of them have triggered some ideas you can use to grow your church…
Or, at the very least, given you something to talk about at your next church leadership meeting!
Over To You
What church growth strategies have you implemented in your church?
What has proven successful, and what hasn't?
Share your experiences – both positive and challenging – in the comments below.
Your insights are really helpful to fellow pastors and church leaders 🙏