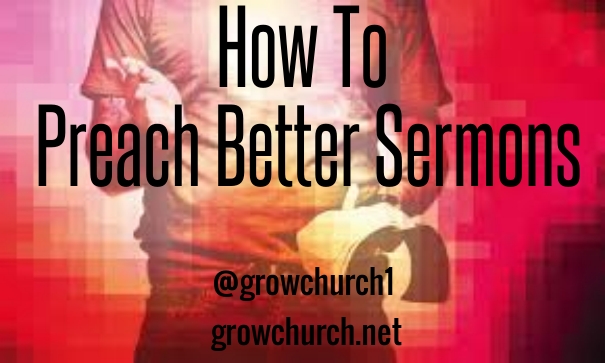 The preachers who preach better sermons are the ones who are always learning. The greatest preachers around have an insatiable appetite to improve, grow and develop.
The truth of the matter is that taking the time to learn how to preach better sermons is one of the most worthwhile initiatives you can take.
Preaching better sermons means your church will grow. Here's 7 reasons why.
When Thom Rainer surveyed hundreds of unchurched or newly-churched people he found that 90% of people will choose a church based on the preacher and preaching.
Preaching better sermons means that your people will be more engaged and listening more. The results of this are changes in thinking and life-transformation. You owe it to yourself and your church to present your sermons better.
All of us can improve and I think most of us actually want to learn how to preach better sermons, but we just can't find seem to find the time as we struggle to juggle our daily responsibilities, It's hard to know how to best use any free time you have to improve your preaching.
That's why, to make it easier, I want share with you 4 simple steps you can take right now to increase your communication skills and make your sermons better.
[bctt tweet="While you're busy working on your sermon, who is working on you?"]
1. Read About Preaching
---
I remember once talking to a young man in his final year of college who felt that maybe God was calling him to be a pastor. I offered him a few books that he could read to help him weigh up his decision.
"I'm not much of a reader." he said.
"Well, then you won't be much of a pastor." I responded without thinking too much about it.
I think this poor guy was slightly surprised by my strong reaction. In affect what I was saying was either become and reader or choose a different career path. I strongly believe that those who have the responsibility of preaching in the church have a responsibility to always be investing into themselves to be the best they can be.
With the vast amount of resources available to us now, we can learn how to do almost anything without ever needing to step into a classroom. Preaching better sermons starts with a willingness to learn, once you have a desire to improve, preaching better is a given. Here are a couple of reading suggestions to get you started…
Reading books about preaching is the best way to gleam from the best preachers and communicators of our time. Though you'd probably never have the chance to meet with the authors face to face, reading books from great preachers gives you access to how they plan a sermon, come up with ideas, how they tell a story and how to present well.
There are a lot of great books preaching. While many focus on the more mechanical side of how to preach expository sermons, structure sermon outlines and how to properly examine the scripture texts (which is good too), but you today who is looking to preach better sermons, I want to recommend a book that talks more about how to communicate effectively as a preacher.
Communicating for a Change by Andy Stanley is the best book on preaching sermons I have read in the last few years. Invest in it, it will definitely help you to improve your sermon presentation style.
2. Watch Good Sermons
---
You want to copy no one but gleam from everyone. Now more than ever before you have access to hundreds of great preachers with just a click of a mouse. With podcasts, YouTube videos, websites and blogs this really is the best time in history to learn how to preach better sermons.
Here is a list of today's top preachers whose sermons I'm currently listening to on a regular basis. You can learn, grow, get ideas, and be inspired by the best preachers in the world.
3. Watch Yourself Preach
---
As painful as this might sound, watching yourself preach is one of the most effective ways to preach better sermons.
Andy Stanley, pastor of Northpoint Community Church watches every sermon he preaches. This guy is a brilliant preacher! If anyone could have said, "You know what, I'm good. I don't need to get better." it would have been him.
But Andy has always had a hunger for self-improvement. I'm guessing he was a good speaker back when a youth pastor. He could have rested on his laurels but he didn't. and now, 20 or 30 years on he's one of the most influential writers and speaks of our day. Unbelievers and pastors and leaders alike all like to listen to his sermons.
Why?
Because he was willing to cringe a little at himself, self-evaluate and improve.
You might be thinking right now, "Oh, but you don't understand, I can't stand to watch myself on video!"  Yes you can. Just do it. Take notes and improve. Watch (don't just listen) to your sermons and see what you're actually putting people through each week.
If your church doesn't video record the weekly sermons then try to change that. In the meantime, just find a way. Set up your iPhone inconspicuously in front of you and right as you're about to launch into your sermon, hit the record button.
You can also others to evaluate your preaching and give you feedback on both the content and delivery of your sermon. You can grab yourself a free Sermon Evaluation From download here.
4. Get Practical Preaching Coaching
---
You may have heard the saying, "The man who thinks he knows it all, knows nothing." This is so true! As soon as we stop learning we stop improving and we stagnate as a preacher. This is not a good place to be.
Everybody knows a fresh and passionate preacher when they see one. Your church congregation knows when the sermon is hot out of the revelation oven or just the dried scraps from your sermons of yesteryear. Serve your church with confidence knowing that you're investing into yourself as a preacher to be the best preacher you can be.
A few years ago I felt like I was plateauing in my sermons. I was still passionate, people still complimented me after the service, but inside me I knew I had to get some fresh vision and inspiration.
Actually more than that, above the abstract i wanted some step by step guidance and help with my sermons. I want practical instructions and how-to's on preaching style and sermon delivery so I enrolled onto a coaching program called Preaching Rocket.
With audio and video coaching, done-for-you resources the Preach Rocket is a step by step course with practical training, tools and resources to help you to improve your sermons.
Featuring leading speakers like Charles Stanley, Andy Stanley, Louie Giglio and so many others, I learned how to come with ideas for my preaching, how to build a solid sermon outline, how to preach sermons that people will remember, how to become a master story teller and so much more.
If you really are serious about wanting to preach better sermons that I can not recommend this training course highly enough. It's what I use to this day. You can read my full review and find out how to start your free trial here.
Your Turn
---
This is not an exhaustive list, but it will get you started right now. What are some other resources or practices you would recommend to communicate better as a preacher? Leave your comments below.
Pastors and church leaders, don't forget to check out the  free resources page for a ton of free downloads that will help equip you to take your church forward.