Outstanding worship leaders love serving God and His church. They're driven by a profound desire to know God intimately and possess a special talent for orchestrating life-changing God encounters for others.
But great worship leaders are made, not born.
They learn from every experience and possess an insatiable hunger to improve and a relentless drive to grow – not just for themselves, but for everyone around them.
So if you're looking to elevate your worship leadership, you're in the perfect place.
Let's unpack the qualities and characteristics that distinguish the truly exceptional worship leaders.
5 Qualities Of A Great Worship Leader
1. A Worshipper First
One of the key qualities that define a great worship leader is being a worshipper first and a worship leader second.
They lead others into worship from a place of deep personal devotion.
When Jesus said "The Father seeks worshippers who worship in spirit and in truth" in John 4:23-24, he was saying worship is a genuine connection with God, grounded in a correct understanding of His character and nature.
In Spirit:
Worshipping "in spirit" transcends superficial habits and routines and dives directly to the depths of the heart.
In Truth:
Worshipping "in truth" means offering authentic worship, based on a correct understanding of who God is. It aligns with His revealed character and will, rejecting any form of hypocrisy or false representations of God.
A great worship leader knows God desires worship that is genuine, heartfelt and rooted in a true understanding of who He is.
2. Committed To Growth & Skill Mastery
A great worship leader understands the importance of both making a joyful noise (Psalm 100:1) and playing skillfully (Psalm 33:3).
They also recognise that progress, not perfection, is the true aim.
Continually honing their craft, they focus on:
Improving musical and technical skills
Bringing out the best in their team
Creating seamless setlists
Increasing congregational participation
They are committed to honing their craft, continually developing their musical and leadership abilities and cultivating an atmosphere of excellence in their ministry.
Worship Ministry Training offers cutting-edge training for worship leaders looking to develop these essential skills and qualities.
Join now for access to in-depth, step-by-step courses, 1-on-1 coaching and monthly live interactive workshops with top worship leaders from around the world.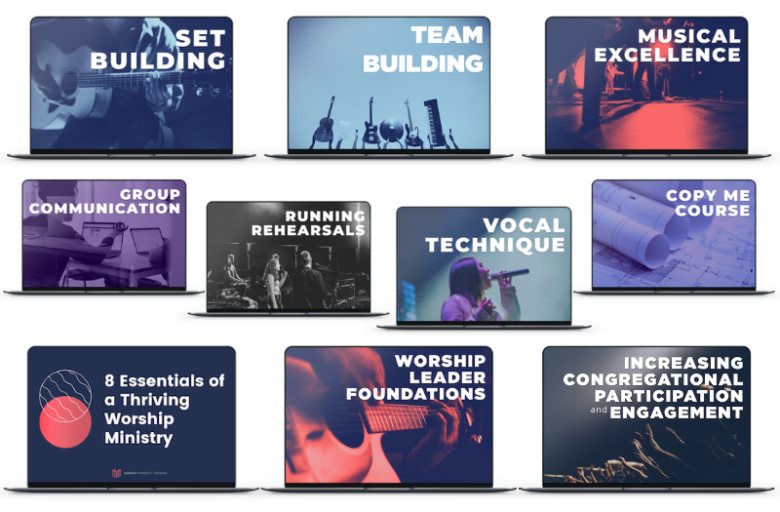 Plus, you'll become part of a vibrant community of over 4,000 worship leaders, all dedicated to mutual growth and excellence in their ministries.
Learn more about Worship Ministry Training here »
3. Trustworthy & Reliable
A cornerstone quality of a great worship leader is their unwavering dependability. They are the bedrock, the one you can count on without hesitation.
Paul in 1 Corinthians 4:2 says, "Now it is required that those who have been given a trust must prove faithful."
This verse speaks directly to the essence of reliability in leadership. Trust is granted and a great worship leader upholds that trust with unwavering faithfulness.
Reliability extends far beyond simply showing up on time. It means being a person of your word, consistently delivering excellence, and being a source of strength for your team.
When a worship leader is reliable, the entire worship team flourishes because everyone knows they can depend on them.
4. Heart Of Service
A remarkable worship leader's heart beats for service, both on and off the stage.
They're driven not by self-interest, but by a genuine desire to serve the Lord and make a difference.
They understand how the worship ministry aligns with the broader vision of the church and willingly place themselves under the umbrella of leadership.
Their actions aren't about showcasing their own abilities, but rather an act of devoted service unto the Lord (Colossians 3:23-24).
They're the first to step up and the last to seek recognition and their passion for serving is infectious – they set a powerful example for their team and church, inspiring those around them to step up and serve as well.
5. Raises Up The Next generation
A phenomenal worship leader isn't just focused on their own journey; they're forward-thinking, investing in the future of worship ministry.
They possess a unique ability to recognise the giftings and potential in others and skillfully draw them out like a seasoned coach.
This investment goes beyond music. It's relational and spiritual as well. They're not just worship team leaders; they're mentors, helping their team realise their fullest potential.
By actively raising the next generation of worship leaders, they create a legacy of excellence that extends far beyond their own tenure.
They understand that true success is measured not only by their own accomplishments but by the success of those who come up behind them.
4 Great Worship Leaders In The Bible
1. King David
King David is often the first person that comes to mind when we think of worship leaders in the Bible, even though he faced his fair share of failures and sins.
Here are some qualities that made him a remarkable worship leader:
Authenticity & Transparency
David's psalms are known for their raw and honest emotion. He never held back in expressing his joys, sorrows, fears, faith and doubts before God. This authenticity resonated with people and made his worship deeply relatable.
Musical Talent & Skill
David was a gifted musician and songwriter. He played the harp skillfully and his psalms are considered some of the most beautiful and moving pieces of poetry in the Bible – in fact, of all time.
After God's Own Heart
Read any of the psalms and it's clear David had a very real, deep and intimate relationship with God. He was the ultimate God chaser.
Undignified Worshipper
David didn't think twice about putting aside his royal dignity to express his love for God. In 2 Samuel 6:14-16, we see him dancing before the Ark of the Covenant with all his might, wearing nothing but a loincloth.
Organised & Diligent
As king, David played a pivotal role in organising worship activities in Israel. He established the Levitical system of worship, appointed musicians and set in order the worship practices in the Tabernacle.
Legacy
David's influence on worship extended far beyond his own time. He raised up dozens of worship leaders after him and his psalms continue to be sung and revered by believers around the world.
2. Asaph
Asaph played a prominent role as a worship leader and songwriter.
He's specifically mentioned in 1 Chronicles 25:7 as one of the Levitical singers and musicians who served in the Tabernacle and later in the Temple in Jerusalem who was "trained and skilled in music for the Lord".
And most people don't realise he actually authored 12 psalms, namely Psalm 50 and Psalms 73-83.
Here are some of Asaph's key qualities:
Skilled Musician
Asaph was personally appointed by King David to be the chief musician and overseer of the musical ministry. Obviously, David recognised Asaph's musical talent and heart for worship. His skill in music was recognised and valued nationwide.
Prophet & Seer
Asaph is described as a prophet and a seer in 2 Chronicles 29:30 so we can assume he could hear and recognise God's voice and leading.
Legacy
Asaph's children and his children's children played a crucial role in the worship services in Jerusalem. The Asaphites, descendants of Asaph, were a prominent group of Levitical singers and musicians who continued to serve in the Temple's worship ministry for generations after his death.
Asaph's qualities and contributions to worship leadership serve as a valuable example for modern-day worship leaders. His skill, devotion and spiritual sensitivity are characteristics that can inspire and guide worship leaders today.
3. Miriam
Miriam, the sister of Moses and Aaron, holds a significant place in biblical history as a worship leader.
Here are some of Miriam's worship-leading qualities:
Prophetic: Miriam is described as a prophetess in Exodus 15:20. Her anointing to receive and communicate messages from God played a key role in leading the people of Israel in praise and worship.
Musically Gifted
After the miraculous crossing of the Red Sea, Miriam took up a tambourine and led the women of Israel in a song of praise and worship.
Fearless
Miriam's leadership in worship was almost spontaneous – it was just her natural response to what God had done. Her bold praise proved contagious and it wasn't long before everyone joined in the worship.
God Was Her Source
In her song, Miriam acknowledged God's role in the deliverance of Israel. She celebrated His power, victory and faithfulness. Her worship was centred on thanking and praising God for His mighty acts on behalf of His people.
4. Deborah
Whilst Deborah is primarily recognized as a judge and prophetess, there are qualities and aspects of Deborah that make her eligible to be on this worship leader list:
Prophetic
This connection between leading worship and the prophetic keeps coming up…
Deborah is described as a prophetess whom people came to for wisdom and judgement (Judges 4:4). This indicates she walked closely with the Lord.
Courageous
Deborah displayed courageous leadership at a time when Israel was oppressed by the Canaanites. She fearlessly summoned Barak to lead the Israelite army into battle against the oppressive forces (Judges 4:6-7).
Talented Songwriter
After the victory over the Canaanites, Deborah composed a song of triumph (Judges 5). This song, known as the Song of Deborah, is considered one of the oldest passages in the Bible and is an example of Deborah's poetic and musical abilities.
Inspiring
Deborah's confidence and trust in God motivated Barak to go into battle, even when he was hesitant (Judges 4:8-9).
Relient On God
Deborah's leadership was characterised by her trust in God's guidance and intervention. She acknowledged that it was God who would grant victory over the enemy.
Great Worship Leaders Are Made, Not Born
Put another way, I believe great worship leadership is a skill that can be developed.
It's a journey of learning, personal growth and developing your abilities and character so you can lead with excellence.
Ready to take the next step?
Check out Worship Ministry Training now to see how they can elevate your worship leadership skills and help you become the best worship leader you can be.
Over To You
What characteristics do you look for in a worship leader?
Who are some of your favourite worship leaders today and what qualities do they exemplify?
Go ahead and let us know in the comments! 🙌
And if you found this post helpful, here are some of our other articles on worship:
And remember:
Your worship leading has the power to impact lives and draw others closer to God.
So keep pressing on and you'll be amazed at what God does through you!
You got this! 🙌🎯💯