The place is packed, everyone's ready and it's your time to shine.
You need something that's going to help kick-start your service.
Congratulations, you're at the right spot!
I think this is really going to help you out 🙂
Here's what we'll cover:
Please feel free to share your ideas and suggestions in the comments below.
And if you have any questions, ask away and I'll try to help you out.
Why Have A Church Welcome Speech At All?
More than welcoming everyone, as I see it, having a great opening speech serves 3 key purposes. Whether your church is big or small, Baptist or Pentecostal, the aim is the same.
It helps everyone focus
The time has come, church is about to start, some people have just arrived and you need to get everyone on the same page.
A good church welcome officially starts the service by helping everyone get focused.
It welcomes first-timers
Launching your service by acknowledging your guests is a great way to make church visitors feel welcome.
It helps create a warm and friendly outward-focused culture where first-timers can feel at home.
It raises expectations
When done right, the person opening the service can help raise the faith level of your church right before entering into worship.
The MC or whoever is giving the welcome can challenge the congregation to prepare their hearts to receive and get ready for what God's going to do.
5 Elements Of A Good Church Welcome Speech
The key here is to keep it short and sweet, yet warm and friendly at the same time.
As they say: less is more.
Especially when it comes to opening your church service. Say what needs to be said and move on.
That being said, it's definitely a good idea to plan what you're going to say in advance. It's best not to 'wing it' and a few minutes of preparation will go a long way to help you deliver a more polished, more confident speech.
With that in mind, here's a rundown of the 5 main elements you'll want to include.
1. Start with a simple introduction
Start off with a warm greeting and a quick introduction of yourself and the church.
This can be as simple as "Good morning and welcome to Victory Church. I'm Simon and it's great to see you all here."
2. Set expectations
Help set the tone by giving everyone a general idea of what's going to happen. You don't need to give a minute-by-minute breakdown of the service, just a quick overview is good.
This is a good place to mention your current sermon series or special guest speaker if you have one.
3. Give useful information
Give everyone the practical information they need to relax and feel comfortable.
Gently remind people to put mobile phones on silent, tell them they'll be tea and coffee afterwards and point out where the bathrooms are.
4. Welcome visitors
It's good to take a moment to welcome first-time guests specifically. Let them know you're glad they're here.
This lets your church members know they can invite their friends and family members and they'll receive a warm welcome.
If your church has visitor connect cards (so you can follow them up later) ask them to fill them out and drop them in the offering basket as it passes by.
5. End with what's next
Now you've officially opened up the meeting, it's time to transition into the next part of the service.
If you're going into worship, have everyone stand. Lead everyone in a faith-filled prayer welcoming the Holy Spirit to move in hearts and minds.
If it's the sermon next, thank God for His Word, pray that their hearts and minds be ready to receive what God has to say to his people, then have everyone clap their hands and welcome the preacher.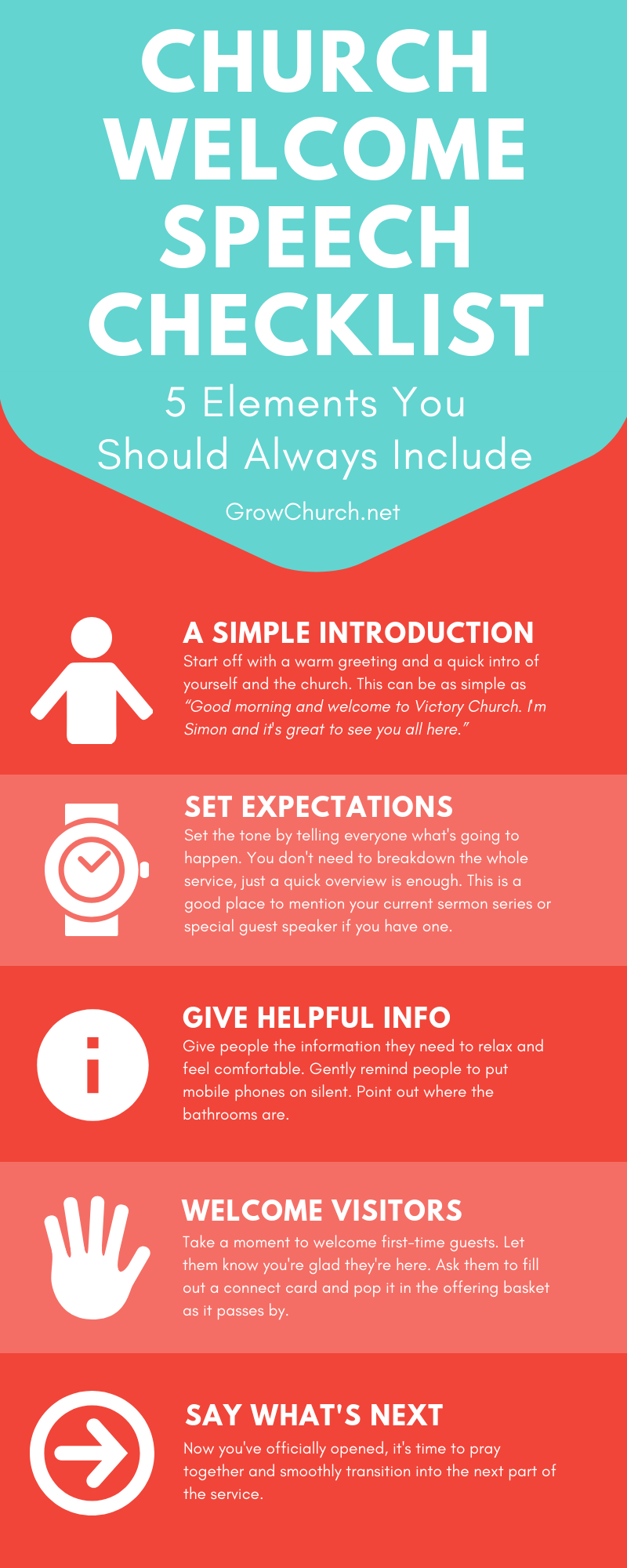 3 Church Welcome Speech Templates
I'm going to share with you 3 outlines you can use at your next Sunday morning service or church event.
Use these to inspire you and spark new ideas, feel free to personalise them, change them and adapt them to your local church setting and most importantly, make them your own.
Church Welcome Speech 1
Good morning and welcome to [CHURCH NAME]. My name's [YOUR NAME] and if you're visiting us for the first time here, thank you for coming! It's great to have you with us.
You'll find a connect card in [LOCATION], it would be great if you could fill that out – we'd love to get to know you better.
In the next [NUMBER OF MINUTES] we're going to enjoy a time of worship before [PREACHER NAME] talks to us about [SERMON TOPIC]. It's going to be good!
Please remember [to collect your children from/turn your phones on silent or any other useful info here].
Please join with me in prayer. [PRAYER]. As the worship team starts playing, let us stand together in singing [SONG TITLE].
Church Welcome Speech 2
Hi! I'm [YOUR NAME] and a very warm welcome to you. It's so good to see so many smiling faces this morning!
If this is your first time at [CHURCH NAME] I want to extend a special warm welcome to you, it's great to have you with us.
Please take a moment and fill out the connect card that can be found [LOCATION]. That'll really help us get to know you a little bit better and know how we can serve or pray for you.
This week we start a brand 4-week series called [SERMON SERIES NAME] where we're going to be talking about [TOPIC]. I know that God is going to speak to us, amen?
Before I go, let me just remind you that [USEFUL INFO HERE].
That being said, let's get ready to [NEXT STEP HERE].
OK, let's pray together. [PRAYER]
Church Welcome Speech 3: Christmas Or Easter Service
Hello and a massive welcome to [CHURCH NAME] on this beautiful [CHRISTMAS/EASTER] morning!
My name is [YOUR NAME] and I am so excited to be worshipping with you today. If you're a visitor with us, thank you so much for coming and celebrating [CHRISTMAS/EASTER] with us.
For those with us for the first time, I'd love it if you could fill out the connect card that's [LOCATION] and kindly drop it on the offering plate as it comes by. Thank you, this will just help us get to know you better.
I know we've got a lot coming up for you today. We're going to kick things off here with a time of worship before we hear a special [CHRISTMAS/EASTER} message from [PREACHER NAME]. After that [INCLUDE ANY OTHER SPECIAL ELEMENTS].
Please note that [USEFUL INFO HERE].
Right, are we ready? Let's pray. [PRAYER] [NEXT STEP]
3 Good Church Welcome Speech Examples
I wanted to end things here with some real-life examples and give you my thoughts on what I think works well. 
It's good to keep your speeches becoming predictable by mixing them up a little.
Here are 3 different styles and approaches you might think about taking in your church.
1. The Comedic Approach
What a clever and funny way to open the service! Almost rapping, he does a great job of welcoming visitors, having them stand while the church applauds.
I also like how he sets expectations, saying "Today is youth Sunday"
2. The Evangelistic Approach
This wonderful woman has a really warm but powerful way of welcoming people to the church.
She starts off by raising the expectation or faith level in the room, getting people ready to worship and hear the Word. This can be a powerful way to set the tone for the rest of the service.
She introduces the church pastors and even points them out individually. This might work well depending on your style of church.
I was surprised to hear her nearly do an alter call saying "Don't leave here today without knowing Jesus."
She's passionate and friendly, everything you want in someone giving the welcome at your church.
3. The Helpful Approach
This welcome takes less than a minute but it works really well. It's a great example of how we can make our church services more welcoming for guests.
He leads by introducing himself saying he's part of the hospitality team and makes himself available if he can help them in any way, right before asking first-time visitors to stand up and thank them for coming.
Push Past Your Attendance Barriers
If you want help to get from where you are to where you want to be, I have some deeper practical help.
How To Solve The Church Attendance Puzzle is a completely FREE webinar that's going to show church leaders how to break through attendance barriers that limits growth and take their churches to the next level.
In this webinar hosted by Ben Crawshaw you'll learn:
1. The biggest mistake churches make that costs them attendance (You'll be surprised… it's not what you think!)
2. How to get more people at your services (and keep them coming back)
3. The best way to get this Sunday's guests to return next week
Register here. (only 200 spots available!)
Whether your church is 50, 150 or 250 people, I know this live event is really going to help you get your church unstuck.