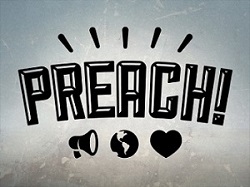 The number one way to grow your church is through preaching better sermons.
Preaching is more effective than any promotion or advertising when it comes to growing a church.
When you grow as a preacher, the church grows too.
The messages you deliver are what keep your current members coming back week after week.
And, they're the greatest determining factor of whether or not guests and unchurched people will attend your church.
For me, the biggest thing that's helped take the stress out of my sermon preparation and presentation is the Preaching Rocket; an online preaching training program and community. 
So if you're looking to invest into yourself and grow as a preacher, check them out and see how it can help you and your church.
Here are 7 reasons why great preaching will grow your church…
1. Great Preaching Attracts People
Jesus drew crowds because he spoke with authority about real life issues. Jesus engaged with his audience, gave real life examples and told interesting stories.
Try using an interesting story in your next preach, people love a good story!
See: 7 Remarkable Stories You Can Use in Your Sermons
Seekers are looking for more than a motivation 'pick me up; they want to know what the Bible says on important issues relating to them and their life.
"90% of unchurched people choose a church based on the pastor or preaching. Thom Rainer" [Tweet this]
2. Great Preaching Starts Great Conversations
A great sermon gets people talking outside and away of your main Sunday morning service.
Great conversations can be had at the office, in coffee shops, in your small home groups .
3. Great Preaching Points People to Follow Jesus
People drawing closer to God is the natural result of a solid sermon.
Speaking God's Word with conviction and skill will inspire and motivate people to connect with their life-giving Creator.
4. Great Preaching Can be Shared Beyond Sunday
Thanks to giant technological advances such as the internet, you have the greatest opportunity in the history of the church to get the Gospel out there.
Through YouTube, podcasts and social media you have the potential to reach an entirely new audience with your message.
5. Great Preaching Influences the Reputation of Your Church
Whether good or bad, the biggest benchmarks people judge your church is by the the senior pastor's preaching.
6. Great Preaching Inspires Personal Invitations
If your congregation members are bored with or tolerate your preaching they won't be inspired to promote the church.
Great preaching fuels people to invite their unsaved family and friends to church.
7. Great Preaching Will Encourage Visitors to Come Back
If people return to your church for a second time they are far more likely to get connected with your church family, to give you their contact details so you can follow up, to sign up and volunteer in a service area.
Ultimately, great preaching is biggest tool in turning visitors in church members.
A better way to prepare and preach sermons
We preach as a labour of love and yet so many preachers are, well, let's say less effective than we could be…
I think that's got to do with not using our time wisely when preparing sermons. Most preachers struggle to come up with sermon outlines easily because they have no system to follow.
Having a proven sermon system means you actually preach better without the need to stress out spending hours and hours struggling with preacher's block.
If you want to see a dramatic improvement in your preaching and be able to claim your Saturdays back from grueling sermon preparation there's only ONE program I really recommend. Click here for the step-by-step preaching system I follow.
What do you think about the effect preaching has on the church? What's your experience? Share your thoughts in the comments below.