The only reason we want to know how to build a church congregation is because healthy, growing churches are the best vehicle to spread the gospel.
And we only get into this because we're passionate about making the name of Jesus known.
Either that or we're crazy…
Seriously though, being a pastor is not the typical 9-5 job where you swipe out at the end of your shift…
It feels like there's always so much going on, so many people pulling things out of you and so many skills you need to build your church and take it forward.
It's hard to discern where to start sometimes.
Today I want to give you some practical, no-nonsense advice on how to build a church congregation by giving you 7 key areas of focus.
I don't claim to be an expert in these things but I'm learning.
And I always want to be better, to learn more and do more.
I want to be able to say one day what Paul said in 1 Cor 3:10:
"According to the grace of God given to me, like a skilled master builder I laid a foundation, and someone else is building upon it.

Let each one take care how he builds upon it."
You and I both know building a church is more than just the number of attendees, but it is an indicator of your church's health.
And while there's no single 'silver bullet' to making a church grow, my hope is that the following pointers, along with tools and resources specifically designed for church leaders like you, will help spur you on your journey to building a strong church congregation.
If we can learn to become master church builders that means more strong churches.
More strong churches mean more lives impacted by the gospel of Jesus Christ, which translates to more people finding their destiny and life purpose in God.
So without further ado, let's take a look together at 7 key church growth factors.
7 Steps To Growing A Church Congregation
1. Have A Clear, Compelling Vision
2. Figure Out Who You Want To Reach
3. Get Your Church Outward-Focused
4. Improve Your Preaching
5. Get More People To Step Up And Serve
6. Increase Your Giving
7. Have Effective Church Systems
1. Have A Clear, Compelling Vision
What is the purpose of your church?
What problem is it that your church is called to solve?
Do you have a vivid mental picture of what your youth ministry could look like?
Your senior's ministry?
Men's ministry?
Children's ministry?
No matter where your starting point may be, your church will grow if you have a clear and concise vision.
"Vision is a mental picture of what could be, fueled by a passion that it should be."
It should be compelling enough your people can get excited by it.
It should be simple enough everybody understands it and if you ask a random church member what it is, they'll be able to tell you right off the bat.
And then, once you have a strong church vision – cast it constantly and talk about it every chance you get…
Offering talks…
Connect groups…
Preaching…
Newsletters…
Social media…
Write it on the walls of your church foyer. Have it as your desktop background.
Vision is like a holey bucket – it leaks. This is why we need to repeat it always until everybody knows it by heart and becomes a part of your church culture.
A compelling vision is key for building a strong church congregation because people will be more generous with their time, sacrifice more, work harder and give more when they've 'got' the vision and can see what the church could be and should be.
Take Your Church To The Next Level 📈
2. Figure Out Who You Want To Reach
The second church growth factor is figuring out who your target audience is.
What kind of people do you want to reach?
What kind of area are you in?
In the book, The Purpose Driven Church, Rick Warren goes into detail about how he planted the Saddleback Church in Orange County, California.
The first thing he did was look at the area and demographic of his church and built a church based on the needs of the people in his local community.
He used that to come up with an ideal target persona he named "Saddleback Sam":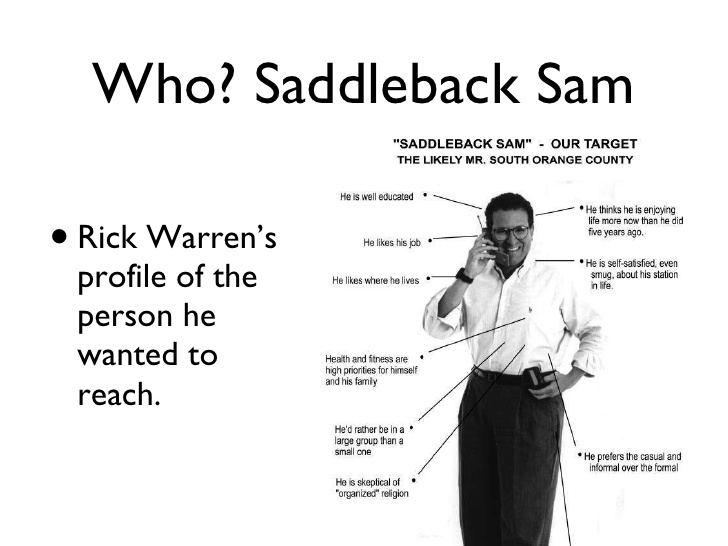 Look at the people you already have.
Are the majority of them middle-aged professionals, working-class young families, teens or wealthy pensioners?
What are their interests and aspirations?
What problems do they face and what issues are they struggling with?
Knowing who you're targeting as a church means you can tailor your ministries in alignment with that purpose.
For example, if you're aiming to reach young families then you know you need to focus on creating a thriving youth ministry and building connections with the parents.
3. Get Your Church Outward-Focused
One of the best ways to build a church is by tailoring your Sunday morning services to the unchurched people you want to reach and helping to make church visitors feel welcome.
This takes a real shift in mindset – both your leadership team and church members need to become purely outward-focused.
For your members, emphasis should be placed on personal friendship evangelism – by far the most effective way to grow your church.
Equip your people by showing them how they can share their personal testimony, train them on how to share the gospel with their friends in an approachable and easy way and show them the importance of creating a friendly church culture.
Why not preach a sermon series for a month on how to talk to your friends about Jesus?
You could give examples of some of the conversations you've had with non-believers during the week.
As church leaders, ensure that your car park signage, greeting team, welcome packs (yes you should have them!), Sunday school program even down to the coffee making is done with your unchurched guests in mind.
Include a church welcome speech or welcome poem at the beginning of your service.
Once your church is outward-focused you could even think about introducing a monthly invite a friend to church Sunday.
Set a date, encourage your people to invite, train your welcome team and be ready for them when they come.
"Any church not seriously involved in the Great Commission has forfeited its biblical right to exist."
4. Improve Your Preaching
Investing in yourself as a preacher is one of the best ways to build a strong church.
"When you grow as a preacher, your church grows too."
That's because 90% of unchurched people choose a church based on preaching.
There are lots of reasons why great preaching grows churches and research shows that spending time to improve your preaching is more effective than any other type of promotion or advertising hands-down.
There are a ton of great preaching courses specifically designed to help preachers like you preach even better.
You'll learn the systems, strategies and techniques that world-class preachers use to prepare, present and evaluate sermons.
5. Get More People To Step Up And Serve
Knowing how to build a strong church means learning how to gain, train and retain volunteers.
It's not just about recruiting more volunteers…
It's about knowing how to keep them motivated by doing little things like saying thank you every once in a while.
Building service teams is the only way to build anything strong and long-lasting.
Training and releasing people into areas of service in line with their God-given giftings and callings creates the possibility for unlimited church growth.
The average church in the US and UK is around the 40-50 people mark.
Interestingly, this is around the same number one person can lead.
If the pastor is not raising up and releasing coworkers for the work of building the church then his ministry will be limited to the national average.
The role of the pastor is not to do the work of the ministry; instead, it's to equip your church members so that they can do it.
If your serving teams grow, your church will too.
Whether it's your worship team, home groups, your welcoming teams or multimedia guys – these rely on the pastor's leadership to gain, train and retain volunteers to serve in these areas.
6. Increase Your Giving
The sixth key church growth factor is increasing your church giving and having more money for ministry.
While sharing great tithe and offering messages definitely helps, according to a recent survey of over 1,000 churches, the 14% that exceeded their church budget were the ones who provide automated ways of giving.
As we leave a "cash society" behind, how is your church going to stay on top of its offering plate each week?
Knowing how to encourage people to tithe is necessary of course, but you'd be amazed at what happens to your church budget when you give people a new way of giving.
Giving people the option of setting up a monthly or weekly automatic bank transfer will do wonders for your church's finances and help you build a strong church.
If you can grow your church's financial budget then you can grow your church's ministry. Finances and resources make ministry happen.
7. Have Effective Church Systems
The seventh and final focus on building a strong church congregation is about creating the right systems.
Dealing specifically with the area of administration and organisation, are things that can hinder church growth if not done in the right way.
What systems do you have in place to facilitate and sustain church growth?
I like to think of it this way:
If I have to do something more than once, I need to create an effective and efficient system for it.
Just take a quick look at creation and you'll see how our God is a God of systems.
Whether it be the solar system, the ecosystem, or our skeletal and digestive systems, I could go on…
Life as we know it doesn't 'just happen'. It's all self-regulating, following a sequence of patterns and laws. Our God orders chaos and He's very intentional about it.
Your church should have good systems.
Many issues pastors and church leaders face are not down to the preaching, church culture or lack of leadership – most of the limiting factors to church growth can be traced back to a lack of having the right systems in place.
Have a sermon system to organise your preaching prep and presentation.
Have a follow-up system for new church guests.
Have a discipleship system to raise up leaders.
You get the idea. Creating healthy systems facilities further growth.
My top recommendation for pastors who want to effectively organise their churches is Church Fuel.
It's full of insanely practical done-for-you resources to help you create healthy systems in your church and streamline your processes so that you can do more with less.
Building A Church Congregation: Bottom Line
Knowing how to build a church congregation means knowing where to focus your time and energy.
Whether your church is 50, 150 or 250 people right now, I hope this post has helped to give you an idea of what key areas to focus on to get your church unstuck.
If you're looking to become a master builder then here are the best church growth courses we've reviewed so far…
🏆 Best Church Growth Courses 🏆
What's Helped You Grow Your Church?
What have you tried that's worked in your local church setting?
Scroll down and share your comments with us.