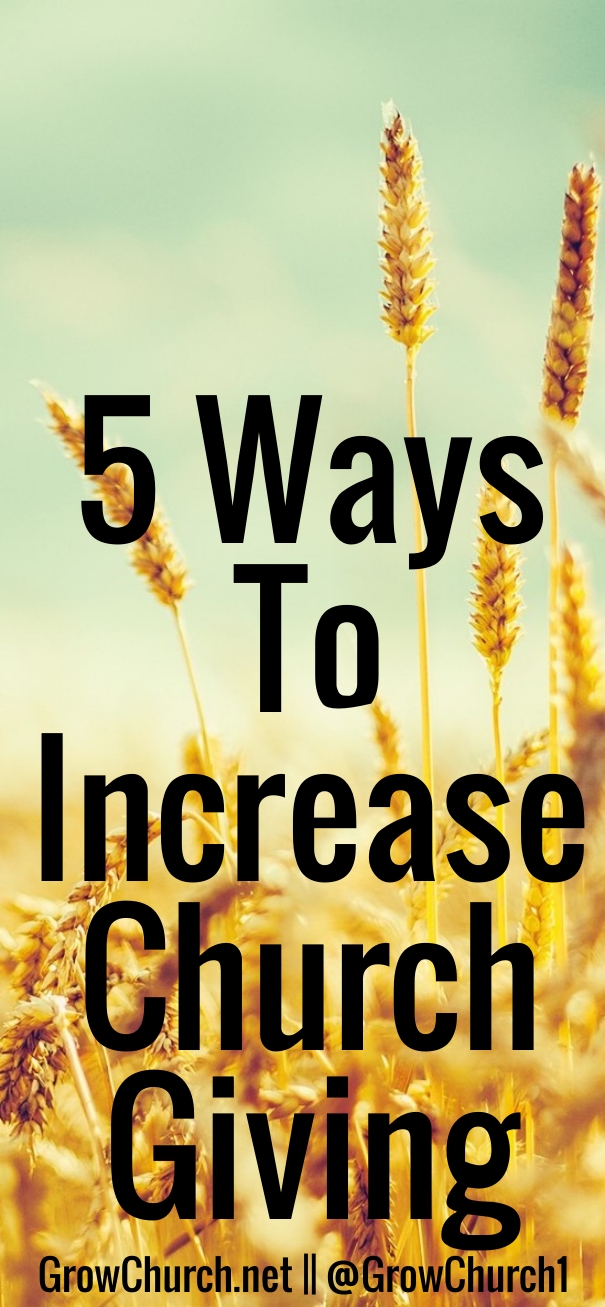 Last Update 5th October, 2016.
Can you imagine if your church had more financial resources available?
If you could somehow find a way to inspire and motivate your church congregation to give more can you imagine how the work of the ministry would multiply?
Most pastors think that simply giving a tithing talk or offering message is enough, but they've barely scratched the surface when it comes to taking advantage of the tools you have at your disposal to take your church finances to the next level.
A generous church is a powerful one.
Not simply because of God's blessing being released and poured out in the lives of your people, but more money in the offering basket means more lives changed.
Really that's what it comes down to.
In order to lead a generous church you need to create a culture of giving.
And though there's no 'silver bullet' to quadrupling your church's income overnight, there are things you can do as a pastor with your leadership team that help foster and create a culture of giving.
In addition to the pointers I'm about to share with you, few things have helped me as much in the last few years as Giving Rocket.
I've been through their entire coaching programming and it's been fantastic for me both as a church leader and preacher to talk about giving and inspire a spirit of generosity in my church.
If you want to explore it for yourself, you can try Giving Rocket for free for 7 days.
Now…onto how to increase church giving.
Let's start with the single best piece of advice I know.
1. Thank your givers
This is the simplest way to increase your church's giving and yet it's often the most overlooked.
What better way to encourage a person toward a life of faithful financial stewardship than a simple and sincere "Thank you"?
We say it all the time; for someone holding a door, for a plate of food received, for a compliment, but sadly this phrase seems almost non-existent in our church's giving.
Two simple but very powerful words – "Thank you!" Gratitude is often a trigger of even greater generosity.
"What gets appreciated, gets repeated."
This is especially true with individuals who are giving to your church for the first time.
For some helpful and creative ways to say "Thank you!", check out What Happens When You Give by my friends at The Rocket Company.
2. Create a way to automate giving in your church
An interesting Church Giving Survey was conducted with over 1,000 churches revealed that only 14% of churches are exceeding their budget.
Of these 14% of churches, 'the ability to receive automatic donations' was listed as the single most significant factor.
Sometimes well-meaning people simply forget to give.
When giving is automated, it is consistent and reliable. This is an advantage both for givers and church finance teams.
Members are able to ensure that illness, travel, cancelled services or forgetfulness will not come between them and their gift to your church.
Your finance teams can start to predict in advance what their monthly giving will look like, which makes ministry planning much easier.
If you don't already have an automated way to give, find one!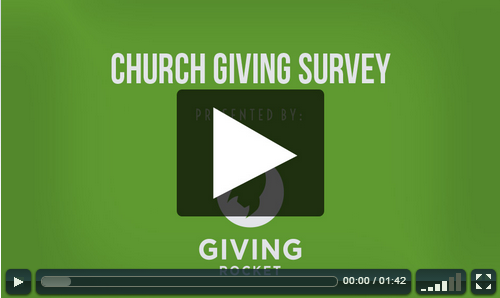 3. Facilitate Giving From Mobile Devices
Your church needs a mobile giving strategy.
You don't need statistics to know that smartphone usage has exploded recently. But here are some statistics anyway:
58% of adults are smartphone owners (83% of adults aged 18-29).
63% of adults use their phones to access the Internet.
34% of adults say their phone is the primary way they access the Internet.
81% of adults use their phones to send and receive text messages.
What do these numbers have to say about generosity?
Simply put: your church needs a mobile giving strategy.
I'm sure you've already noticed your members taking notes on their mobile devices or using a Bible app during the sermon. Why not provide an opportunity for them to give using those same devices?
From church apps, to text giving and mobile responsive giving forms, mobile giving comes in many shapes and sizes.
Different options work better for different congregations, but your church can not afford to ignore this rapidly growing giving channel.
4. Give Regular Financial Updates to Your Congregation
Churches who regularly communicate with their congregations about budgets and ministry expenses raise more money than those who don't.  Your congregation is hungry for this type of information.
Surveys of charitable givers list "transparency" and "knowing where my money goes" as key factors in determining where individuals give.
Celebrate your spending!
You're using your budget to reach out to the unchurched and minister to your members.
Why not share those details with the same members who made that work possible?
Try it for six months and see what a difference it makes!
5. Tell Stories About the Impact of Generosity
Just as people give to vision instead of need, they respond to stories instead of statistics.
While it's important to share financial information, don't stop there – personalise it. Share the names behind the numbers.
Is there a family in your community that your church was able to support during a difficult season?
Tell your givers!
Is there a couple in your congregation who was burdened by financial fear and stress until they discovered the life-giving power of biblical stewardship?
Share the good news!
These stories make generosity personal and powerful.
It doesn't matter if you convey these stories via video, email or Q&A before the offering. Just get the word out!
Any Other Ways To Increase Church Giving That You Can Think Of? Share your comments below.