Ask any pastor and they'll tell you the same thing:
Sermon prep is the biggest stress for pastors.
We put a heck of a lot of pressure on ourselves to come up with powerful sermons every week because we want our churches to thrive.
We want our members to reach their full potential.
We want to reach more people.
But have you ever had that late Saturday night feeling where you know you know you're not quite where you want to be yet with your sermon?
Then there are the creeping doubts every preacher experiences:
What if I see people's eyes glazing over when I'm preaching?
What if it just doesn't connect the way I want it to?
How can I deliver fresh, impactful sermons week in and week out?
So what do we do?
We:
All in an effort to try and prepare and present sermons better.
These things can help for sure, but by far the best way to take the stress out of sermon preparation and preach better is to use a sermon system.
That's right.
Follow the right sermon system and you stay ahead of your preaching schedule, get your Saturdays back and free up more time for other things in your life.
Elevate Your Preaching With Killer Sermons Academy 🎙️
Great Sermons Come From Great Sermon Systems
Ever wanted to know what sermon systems the pastors of the fastest-growing churches use?
I know I have.
They preach fresh, powerful sermons Sunday after Sunday on top of leading a big church with everything that comes with that.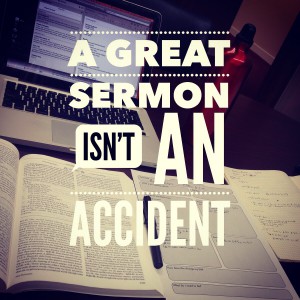 So what's their secret?
Today you're going to find out.
Here's a live stream with Ben Crawshaw and Gavin Adams where they reveal the systems and techniques pastors like you can use to save yourself 20 hours each week.
(I've listed the main points below.)
Effective preaching comes from having these 3 sermon systems in place:
1) An idea system
2) A content system
3) A preparation system
1. An Idea System
A mediocre idea will always end up with a mediocre sermon no matter how hard you try. Starting with a great idea is the first step.
Your ideas can come from anywhere – from something you've read, from taking note of the issues you're facing in your own life, from the pressing needs of those around you. Sometimes a single word is enough to trigger a great sermon series.
But how do you if your idea is a great idea?
Here's a simple test.
Does your idea:
a) Solve a problem?
b) Answer a question?
c) Unveil a mystery?
Don't feel like you have to come up with never before heard concept or be 100% original. Feel free to borrow ideas from other places and make them your own.
2. A Content System
Now it's time to flesh out your idea.
The most effective, time-saving way of prepping a sermon is by starting with the end goal in mind.
Have a clear picture of where you want to take your people then create your outline as the journey to get there.
Start by asking these 3 questions:
1. What's the one thing I want them to know?
2. What do I want them to do?
3. How can I help them remember?
Structuring your sermon
Every good sermon has 5 key elements:
1. Introduction – You outline the problem or the question you're going to solve or answer and connect with the audience through your experiences and theirs.
2. Tension – Before you get into the answer, tell them why they need to know this and what difference it will make in their lives.
3. Truth – Share God's freedom-giving truth.
4. Application – Tell them what they can now do with this information to make this a reality in their lives.
5. Conclusion – End with a memorable statement. use stories that will highlight your main point and bring it to a close.
3. A Preparation System
Having a sermon preparation system means you don't have to spend hours struggling to come up with a plan of execution.
The better you prepare, the better you deliver – this means following simple systems that make preparation easier, quicker and more efficient.
When it comes to having a preparation system here are 4 things to keep in mind:
a) Block and protect time
Be sure you plan out specific time slots when you can get yourself to a distraction-free place where you can focus solely on working on your sermon outline.
b) Internalize as you revise
Rehearse your points, verses, illustrations and stories 5-7 times during the week. This'll mean you know the sermon almost by heart without the need to memorise every line or read off of notes.
c) Be ready before Saturday
Add your finishing touches and rehearse all before Saturday. Give yourself Saturdays to spend time with family and relax. This'll mean you go into Sunday fully prepared, energised and confident.
Ready To Save 16-20 Hours A Week?
Ideas + Content + Preparation = A Great Sermon System
Most pastors are overworked and feel like there are not enough hours in the week to get everything that needs to be done in the ministry and still have enough time to work on their sermons.
This is a big problem.
What would you do if you could reclaim an extra 16-20 hours each week for the next month with a proven step-by-step sermon system?
What difference would that make to your family life, your relationships and your ministry?
Would you spend more quality time with your kids? Exercise? Go shopping with your spouse? Go on a fishing trip? Take the people you love on a vacation?
This proven sermon system has already helped 1000s of pastors just like you to take the stress and hard work out of sermon preparation.
Now it's your turn.