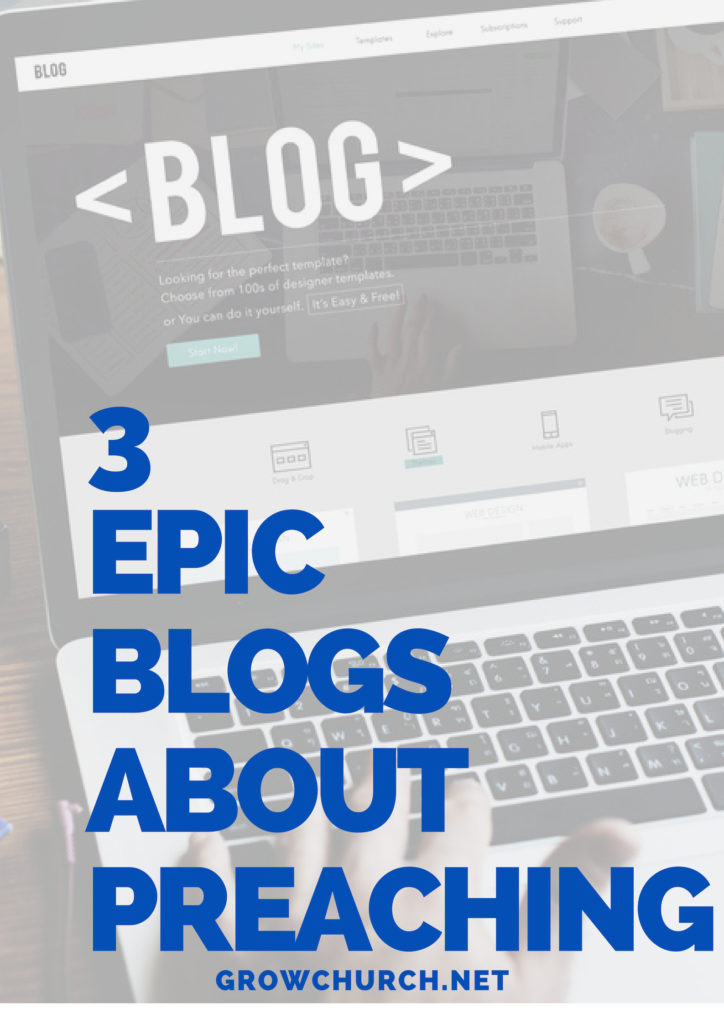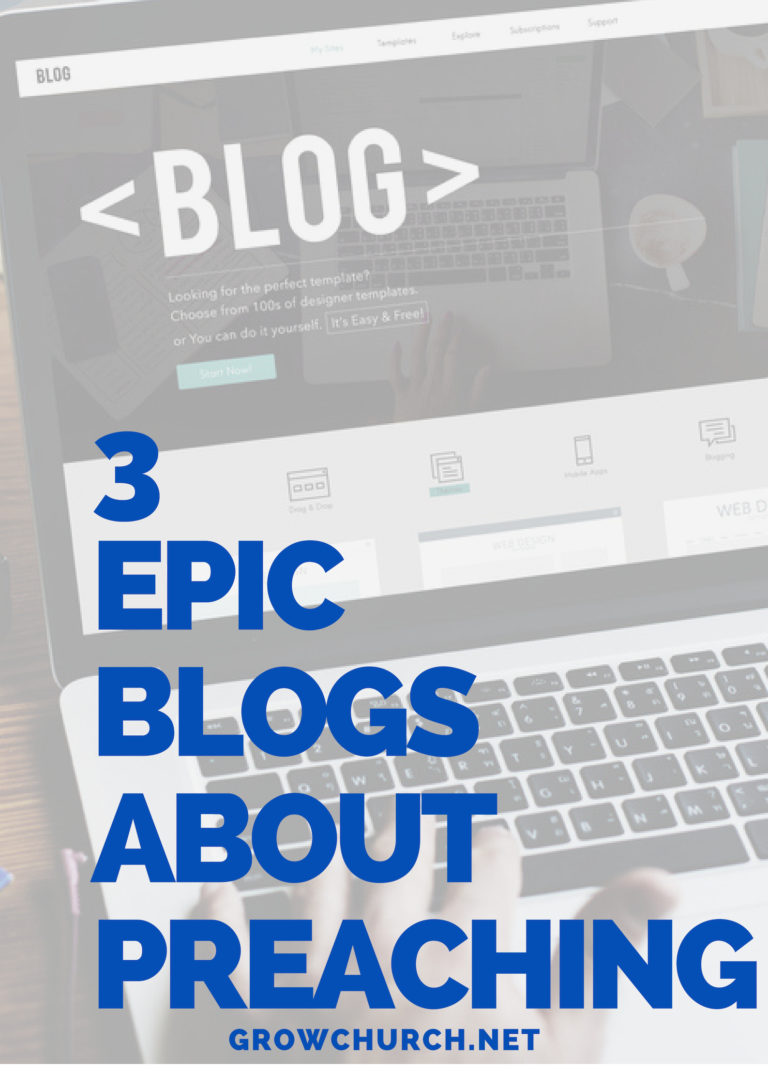 Hi and welcome to the 3 Epic Blogs About Preaching list.
I want to start by congratulating you on wanting to develop yourself as a communicator of the gospel!
2 Tim 2:15 (MSG) says this:
"Concentrate on doing your best for God, work you won't be ashamed of, laying out the truth plain and simple."
There are a lot of great preachers out there we can learn from. Some you know already because, well… they're kinda famous.
Others are unknown. Yet they're preaching their hearts out, skillfully and excellently bringing the Word of God to life in the hearts of their listeners.
Sometimes we fall for the false idea you have to learn from the well-known megachurch pastors.
Sure, there's a lot you can learn from them (their church is mega for a reason!), but never underestimate the nuggets of wisdom you can glean from those working at the grass roots level week in and week out.
In the last 15 years as a preacher I've noticed it's often the minor adjustments you make to your preaching that make the biggest improvements.
We get to where we want to be as a preacher not in one fell swoop, but rather a series of small successful steps taken over time.
The goal here is you'll walk away from this blog equipped with practical tips, fresh ideas and new tools you can use to see a real difference in your preaching. 
So do yourself a favour and take the time to look around each blog.
I PROMISE you'll be glad you did!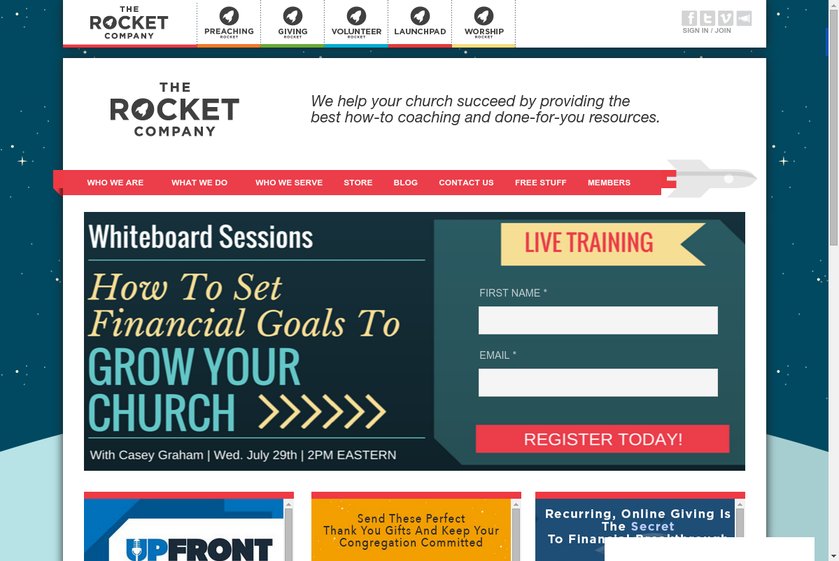 By Ben Crawshaw, Gavin Adams and others.
The Rocket Company (written by church staff from Andy Stanley's church) do a brilliant job or breaking things down into bite-size chunks.
This blog is full of sermon outlines, done-for-you offering talks and a ton of top class webinars and video coaching.
It's also home to an online preaching course called Preaching Rocket – a monthly training program and community of preachers.
"The most effective, time-saving way of prepping a sermon is by starting with the end goal in mind.
Have a clear picture of where you want to take your people then creating your outline as the journey to get there."
Those couple of sentences alone will transform the way you do sermon prep!
2. ProPreacher.com – Helping you preach like a pro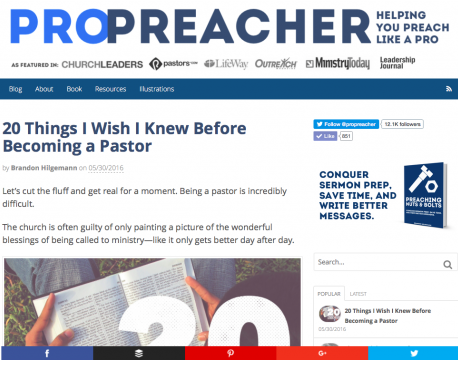 By Brandon Hilgemann
There are so many things I love about this blog post that it's difficult to highlight just one.
This blog is packed to the brim with practical advice, sermon prep checklists, sermon graphics and illustrations.
Brandon often opens up and shares about his own preaching journey, you can't help but relate.
He's honest about his successes and yes, failures so you can learn from his experience and become a better preacher.
Here's a quote from A Quick Shift That Will Dramatically Improve Your Preaching:
"My perspective was totally wrong. I kept stressing, "I have to preach. I have to preach. I have to preach." But what became absolutely clear to me at that moment is that I didn't have to preach; I get to preach.
Preaching is an honor. It's a great privilege. God has called you and me to share his message. We're entrusted with the awesome responsibility to proclaim his Word and the great news of the gospel."
Good stuff!
3. PreachingDonkey.com – Helping preachers communicate better

By Lane Sebring
I love the title of this blog because "If God can speak through a donkey, He can speak through you!"
With real-life examples and step-by-steps this blog will help fine-tune you in the art of communicating the gospel.
There's a wealth of eBooks and podcasts available too, definitely worth checking out.
Here's what Lane says in 3 Ways To Give Application In Your Sermons:
"If your goal is simply to educate or inform your audience so they can be more knowledgeable, then stop preaching. 
Preaching, of necessity, requires application. We're preaching for life-change. We're preaching to make the written word become the living word in people's daily lives."
Wow. I love that!
Want a simple sermon system that will help you prepare and preach better sermons every Sunday?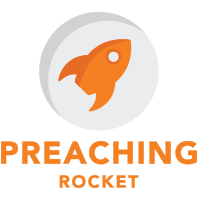 While we're on the subject of improving your preaching skills, you might want to check out Preaching Rocket.
You'll get access to a monthly training course that will run you through exactly how to prepare, present and evaluate sermons in a way that works.
You'll discover the methods, strategies and techniques the world-class preachers use to preach great sermons without the stress and hours of preparation time.
You'll also join a community of 3,000+ pastors and preachers where you can ask questions and get answers, bounce ideas around and learn from the best.
Check out my full Preaching Rocket review here to find out how it can help you preach better.