Today we're talking about growing your congregation and getting more first-time people into your church.
As pastors and church leaders we sometimes put too much emphasis on bums on seats and our whole self-esteem rests on the numbers of people who attend our services on any given Sunday morning.
At other times we're told that numbers are not an indication of our church's success and we shouldn't be overly occupied with them.
Let's get the balance right…
The reality is that numbers are important, and though they aren't the only sign of a healthy church, they are an important indicator.
Read '8 Ways to Create a Fast Growing Church' for the different areas a church can grow in. (Numbers being one of them.)
The size of a church is a definitely a key indicator of its health.
I'm All About the Numbers
That is, if by numbers you mean the number of people getting their sins forgiven, number of lives transformed by Jesus, number of people going to heaven instead of hell.
I'd like that number to go up – yeah I'm all for that.
When we look at numbers as lives changed, a pastor will want their church to grow for the right reasons.
Church Growth Statistics
The following is a rough breakdown of reported (which may not be entirely accurate) church attendance.
Admittedly, these numbers are a few years old, but, as a general rule, they do give you a rough idea of church-size barriers.
Churches with 45 people or less = 100,000 churches or 25% of all churches
Churches with 75 people or less = 200,000 churches or 50% of all churches
Churches with 150 people or less = 300,000 churches or 75% of all churches
Churches with 350 people or less = 380,000 churches or 95% of all churches
Churches with 800 people or less = 392,000 churches or 98% of all churches
Churches with 800 people or more = 8,000 churches or 2% of all churches
Churches with 2,000 people or more = 870 churches or 0.22% of all churches
Churches with 3,000 people or more = 425 churches or 0.11% of all churches
Another study carried out a while ago but still in print shows the power of friendship evangelism.
The research showed how newcomers ended up coming to church, here is what was found:
2% came after seeing an advertisement
6% came after being invited by the pastor
6% came after an organised evangelistic event or campaign
86% came after being invited by friends or relatives
(Source: The Inviting Church, 1987, p. 44)
Ten Strategies to Get More People Into Your Church
2. Organise an 'Invite Your Friend to Church' Sunday
3. Train your people in friendship evangelism
4. Pray intentionally for unreached people
5. Make church visitors feel welcome
6. Have visitor welcome packs ready
7. Give a clear definition of what it means to be a Christian
9. Have a Clear Discipleship Process
10. Provide opportunities for new people to serve
The key result here is that small churches must do well at making relational contact.
I've talked before about how big churches have the wow factor, but if you're small you don't have that – your strength is community, family and relationships.
You don't need smoke machines or a 50 strong choir to grow.
I'm a big believer in God blessing the work of our hands if we just start using what is in our hands to the best of our ability.
Moses had a stick, David had a few stones, a boy had a plate of fish and bread – God will grow his church.
You be excellent in the natural and let God do the supernatural, you do the possible, let God do the impossible, if you do your best then God will do the rest and add to your number.
Pastors must lead the way in evangelism, and your people will follow.
Push past your attendance barriers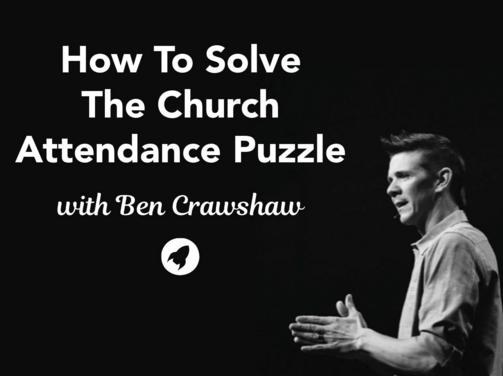 If you want help to get from where you are to where you want to be, I have some deeper practical help.
How To Solve The Church Attendance Puzzle is a completely FREE webinar that's going to show church leaders how to break through attendance barriers that limits growth and take their churches to the next level.
In this webinar hosted by Ben Crawshaw you'll learn:
1. The biggest mistake churches make that costs them attendance (You'll be surprised… it's not what you think!)
2. How to get more people at your services (and keep them coming back)
3. The best way to get this Sunday's guests to return next week
Register here. (only 200 spots available!)
Whether your church is 50, 150 or 250 people, I know this live event is really going to help you get your church unstuck.
How do you get new people into your church?
What outreach ideas do you have? What have you found in your local setting to be the most effective form of evangelism?
Scroll down and share your ideas with us.