Learning how to write a sermon outline will empower you to preach better sermons.
Improving your preaching is one of the best things you can do to grow your church. If people are excited by your preaching they will come back next week for more – and they'll bring a friend with them.
"90 percent of unchurched people choose a church based on the preaching. "
If you're looking to noticeably improve your preaching, today I'm going to give you a few preaching hints and tips that will hopefully get you started in the right direction to learning how to write a sermon outline.
The better you prepare, the better you preach.
A lot of the things I'm going to share with you today come from Preaching Rocket, a step by step guide on how to prepare and present better sermons.
Put together and presented Andy Stanley and his staff, the 12 modules will coach you on how to become the best preacher you can be. Your church will see a dramatic improvement in your sermons.
Preaching Rocket will always be more number one recommended place to preachers and pastors. Getting the online training asking questions and getting answers from the online community of pastors and preachers is invaluable.
Over 1,200 Pastors and church leaders are currently using Preaching Rocket to transform their sermon preparation and presentation.
For my full Preaching Rocket review click here.
Here are 3 steps you can take to write powerful sermon outlines and improve your sermons:
1. The better you prepare, the better you preach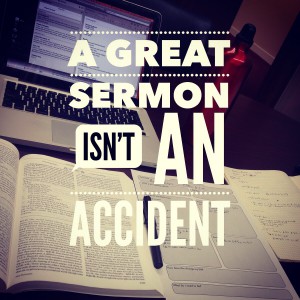 The difference between a mediocre sermon and a great one is in the sermon prep.
The best preachers are the ones who have planned their time well and written out their sermon outlines in advance.
A great sermon doesn't just happen – it's cultivated and developed through careful and thoughtful sermon preparation.
Having the right sermon prep system in place will take out the stress of sermon planning.
2. Write sermon outlines that stick
Nobody wants to be a dry, boring preacher right?
Of course not – we our preaching to be captivating, inspirational and motivational!
If our congregation is  actively engaged with our sermons that means their ears are open and that maximises the opportunity for life change.
[bctt tweet="A good sermon is like a virus. It spreads."]
There are a few techniques you can use to spice up your sermons and make them better.
Use stories in your sermons
These can be funny, emotional, personal or interesting stories that help hold people's attention and highlight a point that you're trying to make.
Learning how to be a good storyteller will automatically make you a better preacher.
Everyone loves a good story and Jesus knew this. In fact, the Bible says that Jesus never preached without using stories (See Matthew 13:34).
People might not remember your three point sermon outline but I guarantee they will remember your story.
For some story ideas for your sermon see my post: 7 Remarkable Stories You Can Use In Your Sermons.
Use clear and powerful illustrations
Similar to stories, great sermon illustrations help flesh out your message and can help clarify explain or drive home a particular concept you're wanting to get across to your church.
To watch some great sermon illustrations, have a look at The Top 3 Sermon Illustrations I've Ever Seen On YouTube.
Use One-Liner Takeaways
A simple one liner that sums up the main idea of your message for that week can be very powerful. It's the one single idea that if people in your church remembered nothing else, they need to just remember this one point.
The easier it is to remember, the better. Memorable is portable; if people can remember it, they can take your preaching with them for the rest of the week.
Module 2 of Preaching Rocket will show you how to effectively craft a memorable bottom line.
3. Have a call to action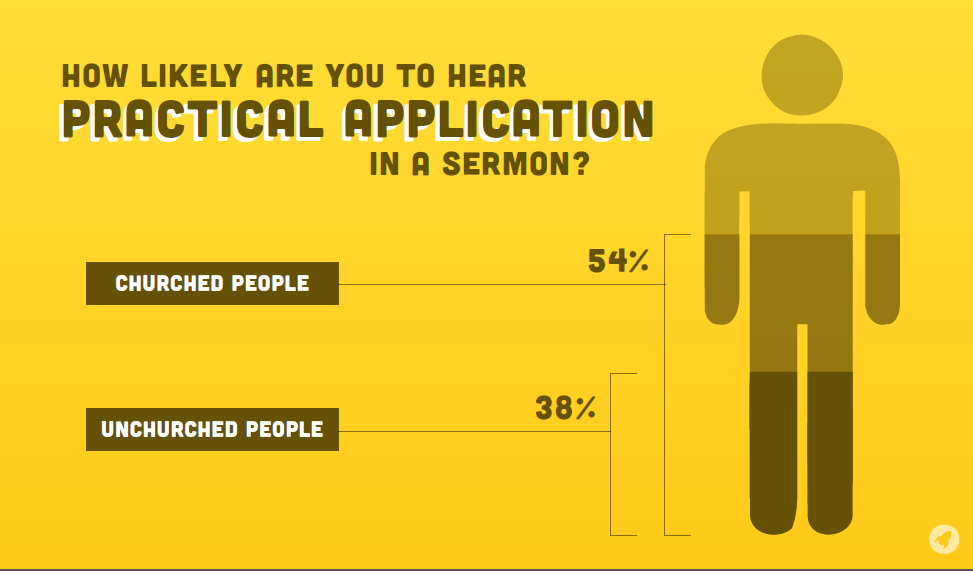 When you are preparing your sermon, always have the end result in mind.
What is your call to action?
What do you want your church congregation to do with what you've said?
I always start my preaching preparation with the end in mind and work backwards from there.
My call to action is my final destination and everything I say and do before that is to take them to this point. We all know that when it comes to the Bible, application is everything.
You want your people to be doers and not just hearers only. If you don't know what you want them to do, you've got more work to do, your sermon isn't finished yet.
Here's a powerful story that John Maxwell shares in his book Everyone Communicates; Few Connect about what Abraham Lincoln once famously said:
"President Abraham Lincoln, an incredible communicator, was known during the Civil War to attend a church not far from the White House on Wednesday nights.
The preacher, Dr. Gurley, allowed the president to sit in the pastor's study with the door open to the chancel so he could listen to the sermon without having to interact with the crowd.
One Wednesday evening as Lincoln and a companion walked back to the White House after the sermon, the president's companion asked, "What did you think of tonight's sermon?"
"Well," Lincoln responded, "it was brilliantly conceived, biblical, relevant, and well presented."
"So, it was a great sermon?"
"No," Lincoln replied. "It failed. It failed because Dr. Gurley did not ask us to do something great." Inspiring communicators always expect a lot from their listeners."
"A sermon fails, though it be well presented, biblical and inspiring, if it has no call to action."
So in closing, if you want to know how to write a sermon outline effectively, remember to include these three keys:
1. Prepare well, be organised and have a system in place. Start enjoying your sermon prep again by taking the stress out.
2. Help people remember your sermons by including  creative stories, illustrations and 'today's takeaway' – the one point you want people to take home with them, (the simpler the better).
3. Take time to think about your call to action – this doesn't necessarily mean having an alter call every week. What is the thing you want people to do in response to what you've said? Life application is the key to life transformation.
Make your next sermon your best sermon
The #1 secret to growing your weekly attendance is the ability to prepare and present memorable and engaging sermons week-after-week.
And the preachers who preach better sermons are the ones who are always learning. That's why investing in yourself as a preacher is the best thing you can do to unlock the growth potential of your church.
If you want to see a dramatic improvement in your preaching and claim your Saturdays back from grueling sermon preparation there's only ONE program I recommend.
Click here for the step-by-step preaching system I follow.
How do you write sermons?
Any tips or advice for fellow preacher on writing sermons?
Scroll down and share your comments.