What sets a good sermon apart from a truly unforgettable one?
It's the bottom line.
A sermon's bottom line is a compelling statement that encapsulates your core message and leaves a lasting impression on your congregation long after the preaching.
It's the statement that lingers, the key takeaway and the truth that sticks. The more memorable it is, the deeper it resonates.
Crafting one takes time, but the massive payoff makes it a worthwhile part of your sermon prep.
In this guide, I'll walk you through the art and science of writing a sermon bottom line for your next sermon and share a wealth of examples along the way to get your creative juices flowing.
Let's dive in!
How To Write A Sermon Bottom Line In 5 Steps
Now, here's the step-by-step process for writing sermon bottom lines I picked up from Killer Sermons Academy.
Step 1. Savour The Scripture
Think of your target text as the ingredients to a fine dish.
Read and re-read them, letting their flavours mix in your mind. Allow the wisdom to marinate, just like a slow-cooked stew.
This is where you extract the rich essence, the big idea and the key takeaway so you can make it the main point of your message.
Step 2. Nail Down The Purpose & Desired Response
Consider the job your sermon is meant to do.
Is it to inspire, challenge, encourage or give practical advice? Decide what you want your congregation to take away from your message.
Then decide what you want them to do in response.
Maybe you want to encourage listeners to:
Whatever it is, your sermon bottom line should reflect these specific goals and serve as a clear call to action.
Step 3. Employ The PREACH Technique
Creating an unforgettable bottom line is part art, part science and part finesse.
Follow this PREACH technique and you'll come up with some stellar bottom lines:
P: Picture
Word pictures are like mental snapshots that capture complex ideas in a single, vivid image, making them easy to remember.
In the Bible, we find a ton of examples like:
Jesus as the good shepherd
You are like a planted tree
You are the salt and light of the world
The tongue is like a fire or a wild animal
God's kingdom is like a fishing net, a mustard seed or treasure in a field
One of the best examples of this technique comes from Steve Jobs when he likened the iPod to having "1,000 songs in your pocket". Everyone instantly knew what he meant.
R: Rhyme
Rhymes in a sermon bottom line give it a musical quality and a natural rhythm.
Over 20 years ago I watched a Jesse Duplantis sermon where he humorously quipped, "You lie, you fry boy!" in his distinctive Louisiana accent.
The rhyme made it unforgettable, and I still chuckle about it to this day!
Rhyming is also why Andy Stanley's "Your direction, not your intention, determines your destination." or Mars' "A Mars a day helps you work, rest and play." works so well.
E: Echo
The strategic use of echoes in your sermon's bottom line amplifies and reverberates your message in the hearts and minds of your congregation.
Much like President John F. Kennedy's famous words, "Ask not what your country can do for you; ask what you can do for your country", continue to resonate in American history 60 years on.
Consider these examples:
We don't go to church, we are the church
Fixing your mind on Christ fixes your mind
These straightforward yet impactful statements demonstrate how the echo technique can transform ordinary words into profound and memorable messages that linger with your listeners.
A: Alliteration
Alliteration is a powerful tool for creating a memorable sermon bottom line.
It's when you use words that start with the same letter, like "Christ's cradle, cross and crown" or "Believe, belong, become".
Big brands use this technique all the time:
M&Ms: "Melts in your mouth, not in your hands"
Capital One: "What's in your wallet?"
Burger King: "Bigger, Better, Burger King"
So give it a try for your next sermon and watch your bottom line stick.
C: Contrast
Contrasting two ideas is another powerful way of writing a compelling bottom line.
Alfred used contrast when he told Bruce Wayne, "The night is darkest just before dawn."
But this technique isn't just helpful for Batman scripts; contrast is used throughout the
Bible:
Dark and light (John 1:5)
Righteous and unrighteous (Psalm 1)
Death and life (John 5:24)
First and last (Matthew 20:16)
Rich and poor (Luke 16:14-31)
Pharisees and tax collectors (Luke 18:9-14)
In an Easter sermon on the resurrection, one pastor hammered his point home with this bottom line:
"It is finished, but it's not over."
Here, the crucifixion (it is finished) and resurrection (it's not over) gave the clear message that God is still at work in their lives.
H: Hook
A strong hook is like the catchy chorus of a song—it captivates interest.
Your sermon's bottom line could be a powerful statement or thought-provoking statement that piques curiosity and grabs attention from the get-go.
The scars of your past can become the stars of your testimony
God calls us to be black and white in a rainbow world
My imperfections become His masterpiece
Get this right and your people will lean in, eager to hear what you have to say next.
Step 4. Unlock The Power Of AI
ChatGPT is a powerful tool that can drastically help you preach better sermons.
I asked AI to help me write a sermon bottom line for a sermon based on John 3:16. It took a bit of work but here's what it came up with: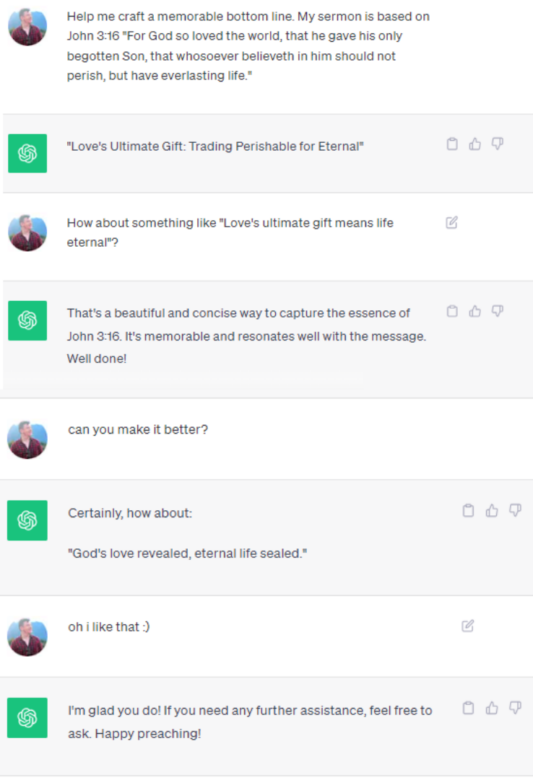 Here are some prompts you can use:
"Help me refine this bottom line for clarity and impact: [insert your bottom line]."
"Can you provide a vivid metaphor for [insert main point] in my sermon?"
"Is this bottom line clear and easily understandable: [insert your bottom line]?"
Start with this free AI guide for preachers.
Step 5. Run It By Your Preaching Team
And finally, your preaching team is a goldmine of insights and creativity, so tap into their collective wisdom to elevate your bottom lines beyond what you could ever come up with on your own.
Run your sermon bottom line ideas by them for new ideas and fresh approaches.
Constructive criticism and creative input from trusted friends and colleagues will help you refine the bottom line and give it a more powerful punch.
21 Great Sermon Bottom Line Examples
1. Christianity doesn't hinge on what you know. It hinges on who you know.
2. Jesus said yes to forgiving us so that we could say yes to forgiving each other.
3. Your direction, not your intention, determines your destination.
4. Your greatest contribution to the kingdom of God may not be something you do, but someone you raise.
5. The value of your life is determined by how much of it you give away.
6. Rules are confirmation, not a condition, of a relationship with God.
7. There's no win in comparison.
8. Faith is knowing God is who He says He is and will do what He says He will do.
9. Bitterness binds, forgiveness frees.
10. Don't just go through life; grow through life trusting in God's guiding hand.
11. God doesn't call the equipped, He equips the called.
12. We don't go to church, we are the Church.
13. The purpose of prayer is to surrender our will, not impose it.
14. Christ swapped our sins for His pure perfection – a divine transaction.
15. Healed people heal people.
16. What would you do if you were confident God was with you? In you? For you?
17. Jesus is not ONE way; He is THE way.
18. Your faith isn't just for you, it's for those around you too.
19. Following Jesus isn't about perfection, but progression.
20. Grace doesn't just cover our past, it shapes our future.
21. Fixing your mind on Christ fixes your mind.
22. In life's turbulent sea, anchor your soul to God's unwavering grace.
Make Your Next Sermon Your Best One Yet
When it comes to enhancing your preaching skills, you have two options:
Go through years of trial and error, or transform your preaching starting this Sunday.
Believe me, the second option is the way to go.
Introducing Killer Sermons Academy – a comprehensive, step-by-step system to help you craft and deliver powerful, life-changing messages week after week.
Killer Sermons Academy has already helped 2,500+ pastors take the stress out of sermon prep and present more compelling messages.
Now, it's your turn.
What Are Your Favourite Sermon Bottom Lines?
Go ahead and let us know what sermon bottom lines you can still remember to this day that left a lasting impact! 🙏