"Preaching without notes? Is that even possible?!"
Yes, it is 🙂
I'm going to show you how to preach without notes using a technique I learned from Preaching Rocket.
But first, here's one good reason to leave your security blanket at home next Sunday…
Preaching without notes means you can focus on your people instead of your papers.
When you're reliant on those beloved sermon notes you're just reading to people instead of engaging with them. All they can see is a talking head peeking at them over a pulpit.
There's no better way to improve your preaching than to get ride of the notes that hold you back. Instead of focusing on your papers, you can focus on your people.
Instead of faking eye contact while trying not to lose your place, you can actually look your people in the eye.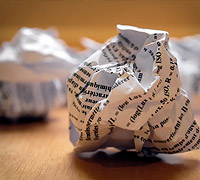 Words alone make up a mere 20% of human communication…
Can you imagine if instead of being bound to your notes, you could communicate the truth of the Word using 100% of the tools that God gave you?
You'll be free to preach the message through your tone of voice, body language and eye contact, just being free to focus on your congregation alone, can add so much more energy, confidence and emotion into your sermons.
"But What If I Forget What To Say?"
It's fear…or rather, 'terror' that holds us back!
You just need to have confidence in what God has already given you.
You need to realise that you already have everything you need: you've invested hours preparing your sermon, you're prayed up, now it's just time for the delivery.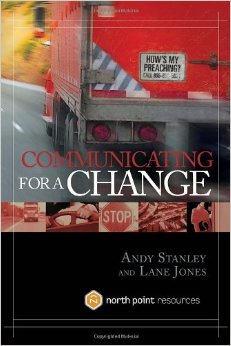 That being said, there are a number of techniques you can use to ease your way into this.
Pastor Andy Stanley of the Northpoint Community Church wrote a great preaching book entitled 'Communicating for a Change'.
Andy Stanley is one of the leading pastors in the church right now, with his books and leadership podcasts helping so many pastors and leaders all over the the US and beyond.
In this book Andy reveals that instead of thinking of his message as a series of sermon points, he goes by what he calls his 'mile markers'. 
These mile markers are his reference points that guide him through the message without the need for notes.
Here's a great sermon preparation structure that you can use to preach without notes:
1. Me
2. We
3. God
4. You
5. We
1. Me
"Here's my problem"
Opening your sermon by introducing your topic like this is a great way to introduce yourself and the topic you'll be speaking about.
I think too often as preachers we answer questions that nobody is asking.
Identify the problem, ask the question until your church can not wait for the answer.
Have you ever head the saying "You can take a horse to water but you can't make him drink?"
Why not just make the thirsty by giving him a salt cube? The 'Me' milestone of your sermon should make your congregation thirsty for the answer.
2. We
"And I'm sure I'm not the only one. We all share…"
The next milestone that Andy uses to help him preach without notes is 'We'.
Now you've identified the issue you'll be dealing with, now you can move on to find not only are you finding common ground with your listeners.
It's good to build as many emotional bridges as possible. Again, emphasising the pressing need.
You are answering the question "Why do they need to know this?"
3. God
"So what does God have to say about this?"
Now it's time to turn to the Scriptures for God's solution for us today.
At this most important segment of your sermon speak straight from the text – but make it engaging.
Don't just read it – bring it home and make it fascinating!
4. You
"Here's what you should do about it…"
Let's be doers of the Word and get into the application.
You've explained why it's important for them to know, you've shown them the truth of God's Word so rather than just telling them to do something, you've given the reasons why.
5. We
"Can you imagine if…"
Now it's time to end your sermon on a high by casting vision.
You can inspire your congregation by asking,
"Can you imagine what our marriages/family/church/community/world would be like is we all learned to deal with fear/conflict/greed/anger/finances in this way? What a difference it would make!"
Feel free to follow this structure as a way to outline your next message or any other structure that means you don't have to use notes or memorise your sermon verbatim.
Are you going to try it?
I hope you can see how structuring your sermons in this way can free you up to preach without notes.
I believe that having this simple 5 step framework in your mind as preach will really help free you up to reach your full potential as a preacher and both and your church will benefit from it.
I want to leave you today with a great teaching on preaching directly from pastor Andy Stanley himself.
This video is a snippet from one of the training modules included within the Preaching Rocket Core Coaching Program.
In this interview, Andy gives great insight about how to take the stress out of message preparation and deliver effective sermons.
I know you'll get a lot out of it! Enjoy.
Make your next sermon your best sermon
Learning the methods and systems of the top preachers of our time is the best way to take your preaching to the next level.
If you want to see a dramatic improvement in your preaching and claim your Saturdays back from grueling sermon preparation there's only ONE program I recommend.
Click here for the step-by-step preaching system I follow.
Are you going to give preaching without notes a try?
Do you know of any other helpful ways to preach a sermon without notes? Share your insights in the comments section below.