Last Update 3rd October, 2016.
The better you prepare the better you will preach.
A great sermon doesn't just happen – it's cultivated and developed through careful and thoughtful sermon preparation.
This is exactly why knowing how to prepare a sermon well is vital to preaching and presenting better sermons.
I learned how to prepare and present sermons through the Preaching Rocket Core Coaching program and up to this day its my #1 recommended resource for preachers.
More than an online preaching course, it's a lively and interactive community of preachers just like you, all sharing ideas, helping each other craft a bottom line and getting feedback. This is invaluable.
Read my full 3,832 word Preaching Rocket review here.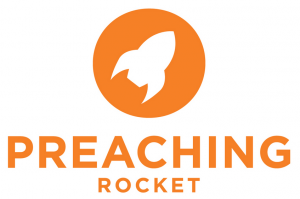 3 Examples of How To Prepare a Sermon Well
1. Pastor Brandon Kelly:

Monday

I look at the text
Begin thinking and praying
Ponder the text – no research

Tuesday
Wednesday

Determine the main point – what is the main thing I want people to take away with them?
Write out my sermon outline points on a whiteboard
Type out the full manuscript – using headings that I'll later boil down to use as my sermon notes.

Thursday

Finish typing out manuscript if not finished
Have my sermon notes ready.
Go through sermon (as many times as I can depending on other commitments that day)

Friday

make any final changes to sermon if necessary
Go through the sermon, solidifying it in my own mind (as time allows)
Create slides (Scripture and bottom line – nothing fancy)

Saturday

Let everything simmer
Go through sermon one more time
The most important aspect of good sermon preparation is having an attitude of surrender to God in pray.
When you preach you want God to speak through you.
God knows my congregations needs more than I do. he sees their hearts, knows their frustrations.
So throughout the whole sermon preparation process I seek God and ask Him to show me what He wants to say to His people this week because I want my preaching to be hot and fresh, right out of the oven.
My biggest prayer is that God will push me to the side and just take over, I make myself available as a tool to be used by Him to accomplish what He would like to do.
2. Pastor Aaron Kirk:
Tuesday 7am-12pm

Pray and ask God to help me say what He wants me to say and guide me throughout the sermon preparation process.
Read the Scripture text for that week;
Maybe read a commentary on the passage (usually David Guzik or Matthew Henry from BlueLetterBible.com)
Research key phrases/words in original language (again using Blue LetterBible.com)

Wednesday All Day

Pray and ask God to help me and guide me
Write entire message (I don't full manuscript, but rather what I would call an "extended-notation" form; notes but with important sections written out)

Thursday 7am-12pm

Pray and ask God to help me and guide me
Go through and make changes
Practice and repeat the sermon

Sunday 5am-7am

Make any last minute tweaks if necessary
Pray for the Holy Spirit to help me speak it and to open hearts if the people to receive it.
Although the sermon preparation can be done in the week, most pastors and preachers find it really helps to plan the preaching topics into bite-size monthly sermon series.
I think it's very difficult to come up with the themes as well as researching and writing your sermon outline, editing and practicing in the week!
I find that sometime in December is a great time to plan your monthly sermon series a year in advance.
3. Pastor Joe Hoagland:
Monday

Find my scripture text and start study

Tuesday

Continue study: consult commentaries, past sermons, put together possible illustrations

Wednesday

Write out the sermon outline

Thursday

Work on the preparing the sermon presentation and practice

Saturday night

Pray for the people about to hear the message, and that I might speak God's word faithfully
[bctt tweet="A great sermon isn't an accident."]
Your Own Sermon Preparation Process
I hope you find these few examples of how to prepare a sermon helpful.  Some preachers find their own way of coming preparing and stay with that consistently.
It really is what works well for you. My hope is that this helps to give inspire you and guide you in your own sermon prep.
What works for you?
How do you do when preparing for a sermon? Do you have a system for sermon prep? I'd be very interested to hear your feedback on this one.