Can It Really Help You Preach Better Sermons?
Preaching Rocket Core Coaching Quick Overview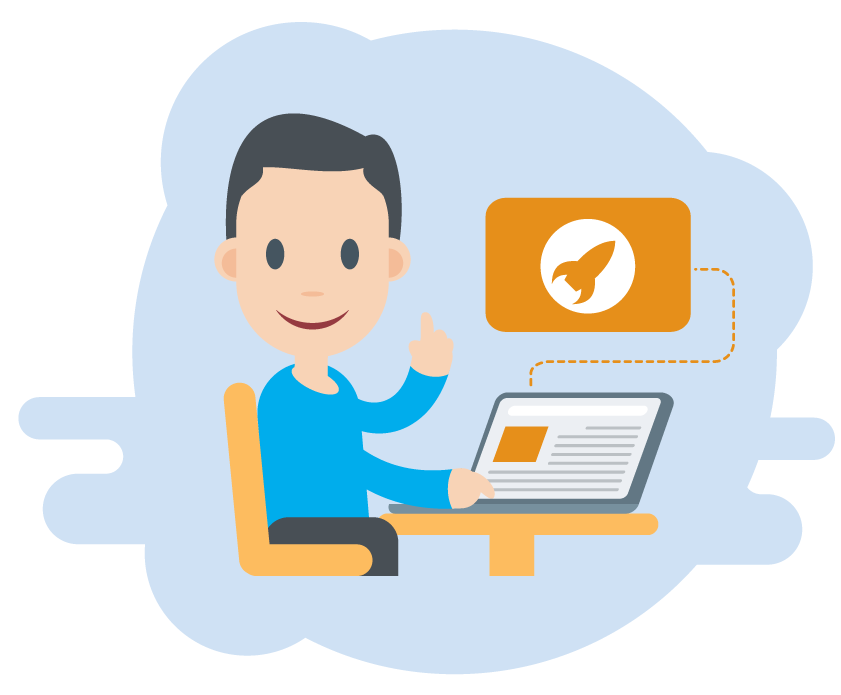 Name: Preaching Rocket Core Coaching
Creators: The Rocket Company
Website: therocketcompany.com/preaching
Price: Free 7 day trial then $89 or $99/mo
Overall Rank: 98 out of 100
Who it's for: Newbie – Expert
My Personal Experience of Preaching Rocket…
Have you ever heard of the Preaching Rocket Core Coaching Program?
Whether you heard about Preaching Rocket on the Preaching Better Sermons online preaching conference or you've never come across it before, the purpose of this review is to give you all the information you need to make an informed decision on whether Preaching Rocket is for you or not.
As a Preaching Rocket community member myself, I'm going to give you an honest insider's perspective.
Note: I'd love to hear if Preaching Rocket helped you sharpen your preaching skills. Please share your experience in the comments.
I'm going to be giving you my honest feedback on Preaching Rocket because I want to make sure that I only recommend resources that will seriously help take you and your church forward.
So… is Preaching Rocket a worthwhile resource or just a waste of time and money?
I decided to give Preaching Rocket a try 18 months ago.
After hearing about how over 3,000 pastors had already benefited from the Preaching Rocket community, I decided to take advantage of the 7 day test drive so I could take a look and see for myself.
Eighteen months on, and I'm still a member.
Why I Think Preaching Rocket Makes Sense
You preach week in and week out and although we love what we do, I know how much pressure you can feel to come up with powerful messages that are always fresh week after week.
I'll admit that I might not be the most naturally organised person – I have to really work at it.
Before I joined Preaching Rocket my biggest headache was sermon preparation.
I dreaded it.
I'd be up until 1am, maybe 2am on Saturday night perfecting my sermon. Talk about stressful!
And this wasn't good for me or the church. 
Preaching Rocket helped me take the stress and pressure out of sermon prep, so now, instead of stumbling my way through trying to find a good sermon outline, I follow a set preaching system.
Now I find preparation much easier, quicker and I'm definitely preaching better and sharper.
I didn't tell anyone I was studying my way through the Preaching Rocket coaching program. I wanted to see if anyone in the church noticed.
They did.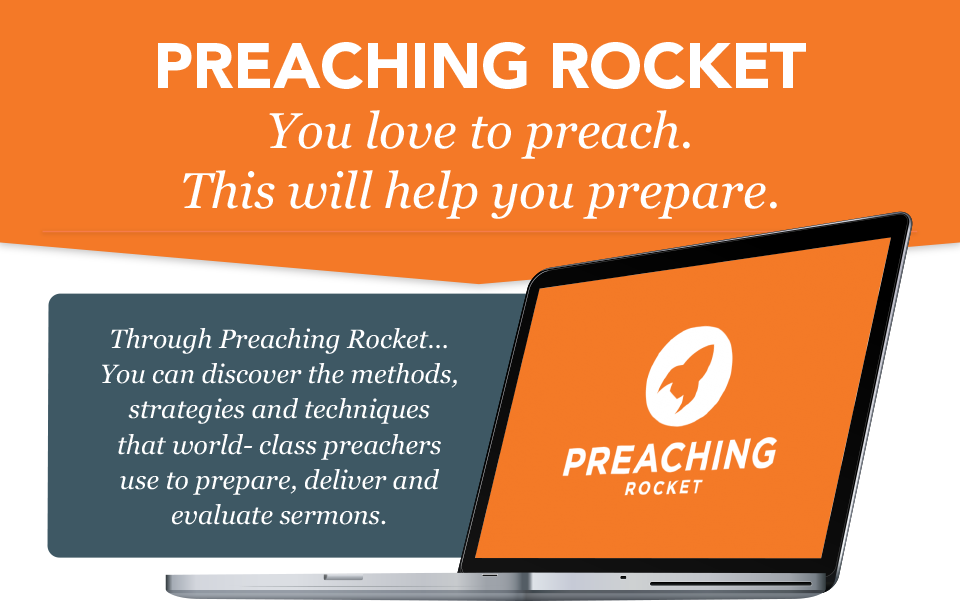 We know that the better the preparation, the better the delivery. But what, with leading staff, admin and visitation, sometimes the most important task can get overlooked.
Why's preaching our most important task?
According to Andy Stanley, pastor of Northpoint Community Church, 90% of unchurched people choose a church based on the pastor's preaching.
I mean honestly, with so many demands on our time, what choice do we have? 
Download sermons, listen to other preachers for ideas, rush  preparation and hope it all works out on Sunday?
I did this for too long.
Until Preaching Rocket helped me develop a preaching preparation and presenting system.
For me, joining the Preaching Rocket program just made sense – I mean, if you want to get better at something why not learn from the best?
Why not learn from the most influential leaders and preachers in the church today?
One of the biggest reasons I decided to sign up for the online preacher training in the first place was because as a church leader I'm always pouring out into others, but at what point do I ever invest into myself?
And I'm not being selfish here. We all know that when we invest into ourselves as preachers, the whole church benefits.
"90% of unchurched people choose a church based on the pastor's preaching. – Andy Stanley" [Tweet this]
What Exactly is Preaching Rocket?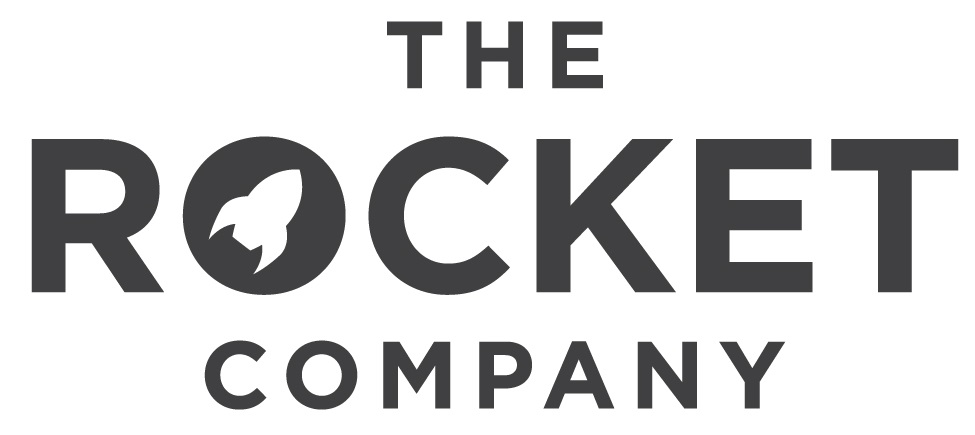 Preaching Rocket Core Coaching was designed and created by The Rocket Company, specifically with pastors and preachers in mind.
They partnered with the likes of Dr. Charles Stanley, Louie Giglio, Andy Stanley and others and had the opportunity to ask all of the questions that we wouldn't normally be able to ask.
Here's the Preaching Rocket promo video from The Rocket Company's YouTube channel:
Preaching Rocket answers questions like:
 "How do megachurch pastors prepare for their sermons every week?"
"Where do they get their ideas?"
"How do they deal with criticism?"
Through the Preaching Rocket Core Coaching you get to discover the methods, strategies and techniques that the most influential teachers in the church today use to prepare, deliver and evaluate their sermons.
The Preaching Rocket is essentially a coaching and training program that's been designed to help pastors and leaders just like you preach better sermons.
It was launched to provide insights into the way some of the country's most influential pastors do their sermon prep and their best delivery methods.
For me this is a 'big one': Preaching Rocket also provides you with support and community in the lonely world of preparing and preaching sermons.
Leading speakers featured within the core coaching program include:
Charles Stanley
Andy Stanley
Jeff Henderson
Louie Giglio
Judd Wilhite
Dan Cathy
Vanable H. Moody
Preaching Rocket will give you instant access to a step by step course with practical training, tools and resources to help you deliver better messages.
The course, which is always being updated with tons of useful content, includes:
Video coaching

Audio coaching

Written coaching

Ready-to-use resources that will get you five days ahead

An online community of pastors helping pastors.
Who is Preaching Rocket For?
In a nutshell, it's for people like you and me who want to claim their Saturdays back.
I would honestly say that Preaching Rocket is great for both experienced and newblie preachers.
It could also be used to train Sunday school teachers, church home group leaders and Bible study leaders or anyone looking to become a better communicator of the gospel.
I have used this training program in a group setting and it works really well and naturally leads to great group discussions.
So far, over 3,000 pastors have enrolled. (You can read their testimonials here).
If you want to get better at what you do and you're willing to take action on what you've learned then I wholeheartedly recommend Preaching Rocket.
Join thousands of other pastors and reduce stress, reduce preparation time, improve your planning, preach better and expand the reach of your church.
The Preaching Rocket Community
For me, the biggest benefit to being a part of the Preaching Rocket community is the feedback I can get from fellow preachers and church leaders.
The lively and interactive community is a great place to ask for feedback on a sermon outline, get help coming up with a 'bottom line' for your upcoming sermon or sharing ideas.
I can ask questions and get answers. This is priceless.
The Preaching Rocket Training
As soon as you sign up you'll get access to the member's area where you can view your lessons and track your progress.
Each training module comes with video tutorials and interviews, audio and written coaching, as well as regular online live conferences and webinars.
Here's a detailed breakdown of the Preaching Rocket Core Coaching modules within the membership area: 
Module 1: How to Build a Great Sermon
How to effectively structure your message

How to prepare your sermon with the listener in mind

How to structure your weekly schedule so you carve out sufficient time to prepare
Module 2: Sermons That Stick
You will learn how to craft a memorable bottom line

Crafting a bottom line is summarizing your sermon in a sentence to drive home the Gospel truth in the hearts of your congregation
Module 3: Seeking Feedback and Dealing with Critics

You will learn the importance of structured feedback for consistent improvement and how to find it

Dealing with criticism in a healthy way can be tricky, so knowing when to say something or not is key
Module 4: A Preaching Calendar Made Easy
No matter what your preaching style is, having a clear plan will help you lead people from where they are to where God wants them to be

This module will help you plan annually, monthly and weekly
Module 5: Preaching to the Unchurched
Your audience includes people at different stages of their spiritual journey and it's important to prepare with all of them in mind

This module focuses on the unchurched people who are possibly giving God and the church one more shot
Module 6: The Crucial First Five Minutes
This module will teach you how to connect with people in the first five minutes so you win the right to be heard

You will learn the two things you must have in your introduction along with examples of good and bad ones
Module 7: Preaching That Elicits a Response
You don't preach just so people will hear and then do nothing with it

This module will help you create simple action steps for people to take when they leave the weekend service
Module 8: Preaching the Gospel
You have been called to preach the Gospel, but it's not always easy

You will learn new ways to preach the Gospel in relevant ways people can relate to
Module 9: Becoming a Master of Stories and Illustrations
This module will give you tips to involve stories into your message

We will teach you how to help people relate your sermon to their lives and engage them
Module 10: How to Create a Preaching Dream Team
Two are better than one and so you shouldn't be preparing alone all the time

This module will help you create and effectively use a team of people to preach the Gospel in your church
Module 11: The Greatest Tool in Your Toolbox
This module will teach you four steps to improve your preparation process

You will learn how to make your preparation process more personal and inspiring for a more meaningful message
Module 12: The Missing Ingredient that will Change Everything
We believe your church will only be as healthy as you are

In this module, we are going to talk about your emotional and spiritual lives and help you become the healthiest leader for your church
Preaching Rocket Pricing Options
As a paid monthly program, Preaching Rocket have 3 different options for you to choose from:
1. Standard Plan – You get to trial Preaching Rocket FREE for 7 days and then pay $99/mo
2. Special Value Plan – $89/mo
3. The Annual Plan – A one time annual rate of $997
For me, I started out on the free trial account because I wanted to try it before I signed up to the monthly membership.
I see this is a smart investment in you as a preacher and the growth of your church. I also know a lot of pastors whose churches actually pay for the training of their pastors.
Either way, it's about picking the option that works best for you.
My Final Verdict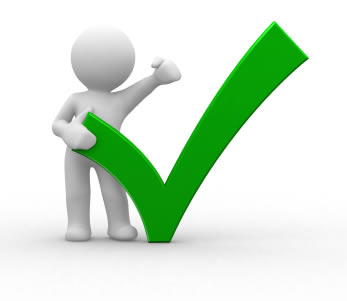 So it's probably pretty obvious by now that we're definitely onto a winner here.
The training is top-class and I've learned so much from this program and continue to learn new things all the time.
As I say, people started noticing a difference in the quality of my preaching within the first couple of weeks and I'm still a Preaching Rocket community member which I think speaks volumes!
So, for all of the above, I have to give Preaching Rocket a 98 out of 100.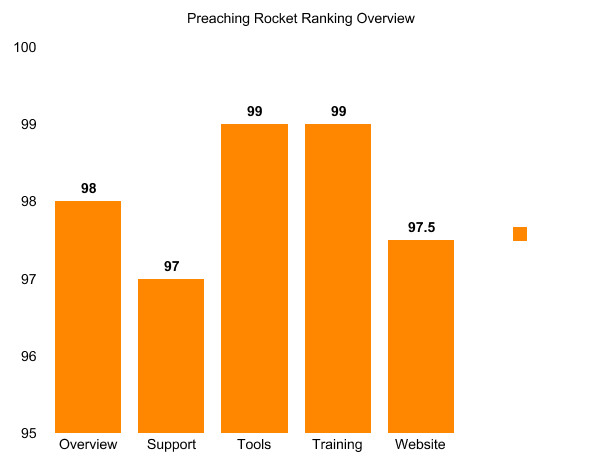 It's a clear win-win all round I think. Is it worth the price after the free trial? I definitely thought so and that's why I stayed with it. I think it's a very worthwhile investment.
I'm sure that once you try it and discover exactly how it can help make your sermon prep so much easier, you'll be glad you did.
But the great thing about Preaching Rocket is that you don't have to take my word for it – check it out for yourself absolutely free of charge and then come back here to let me know what you think!
I joined Preaching Rocket in 2015 and it was one of the best decisions I've made. I login every single day to learn how to preach better and improve my sermons.
Do you have a question before you start your free trial or want to share your experience of the Preaching Rocket community with us?
I'd love to hear from you, please share your comments below.