Welcome to my Preaching Rocket review!
Firstly let me congratulate you for looking to improve your preaching skills!
Preaching Rocket say you'll get to discover the methods, strategies and techniques the most influential teachers in the church today use to prepare, deliver and evaluate their sermons…
But is Preaching Rocket worth it or just a waste of time and money?
That's exactly what we're going to get into in this 2,190-word Preaching Rocket review.
Why should you listen to me?
Because as a Preaching Rocket member myself, I'm able to give you an honest insider's perspective without the hype.
Preaching Rocket Review: Quick Summary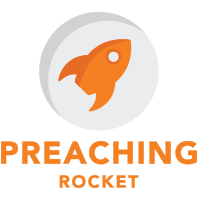 Name: Preaching Rocket
Creators: The Rocket Company
Price: $99 a month or $997 a year
Best for: Preachers preaching every week
Summary:
We preach as a labour of love and yet so many preachers are, well, let's say less effective than we could be.
Preaching Rocket, although not perfect, is my top recommended training and community for anyone looking to seriously improve their preaching prep and delivery.
You're given the best tools, resources and support you need to become the best preacher you can be but it's up to you to apply it.
UPDATE:
We're on a mission to find the best preaching course, based on our own extensive research plus feedback from real students.
Unfortunately, Preaching Rocket doesn't make the top of our list for the reasons explained below…
Here are some better Preaching Rocket alternatives:
🏆 Best Preaching Courses 🏆
What Is Preaching Rocket?
Preaching Rocket is a step-by-step 12-month preaching course created by The Rocket Company to equip you with the secrets, methods and systems used by the best preachers of our time.
Preaching Rocket is also an online community of over 3,000 pastors all going through the training together, sharing ideas and getting feedback.
The step-by-step coaching and community are designed to equip you with useful tools and simple systems to help take the stress out of sermon preparation.
"90% of unchurched people choose a church based on the pastor's preaching." – Andy Stanley [Tweet this]
The Preaching Rocket Training
Within minutes of becoming a member, an email will land in your inbox with your login info so you can dive into the training and track your progress.
Here's a sneak peek of the member's area: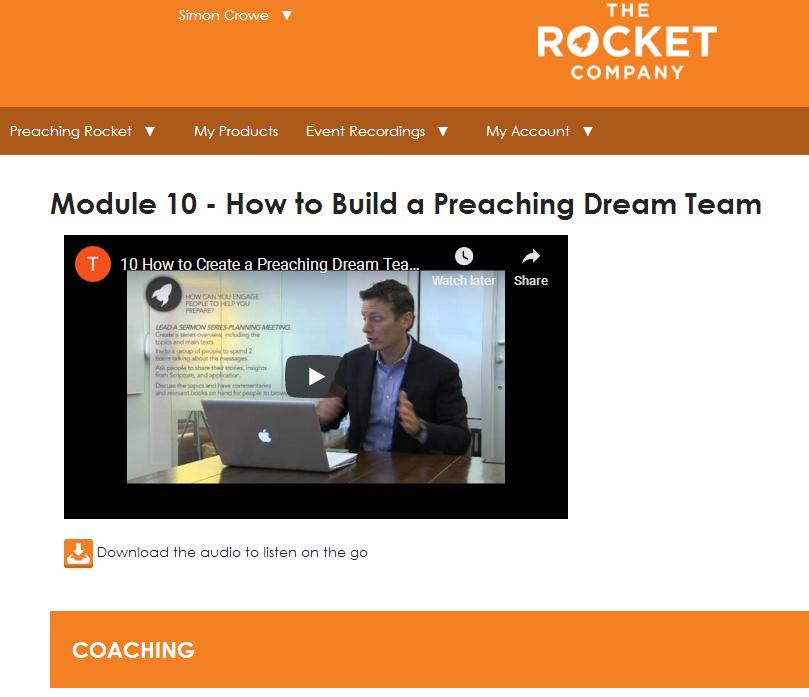 Under the "Preaching Rocket" menu tab you'll find the training modules.
If like me you chose the monthly payment option you'll get a new training module each month (12 in total) but if you choose the yearly option all the modules will be there at once.
The 12 learning modules are: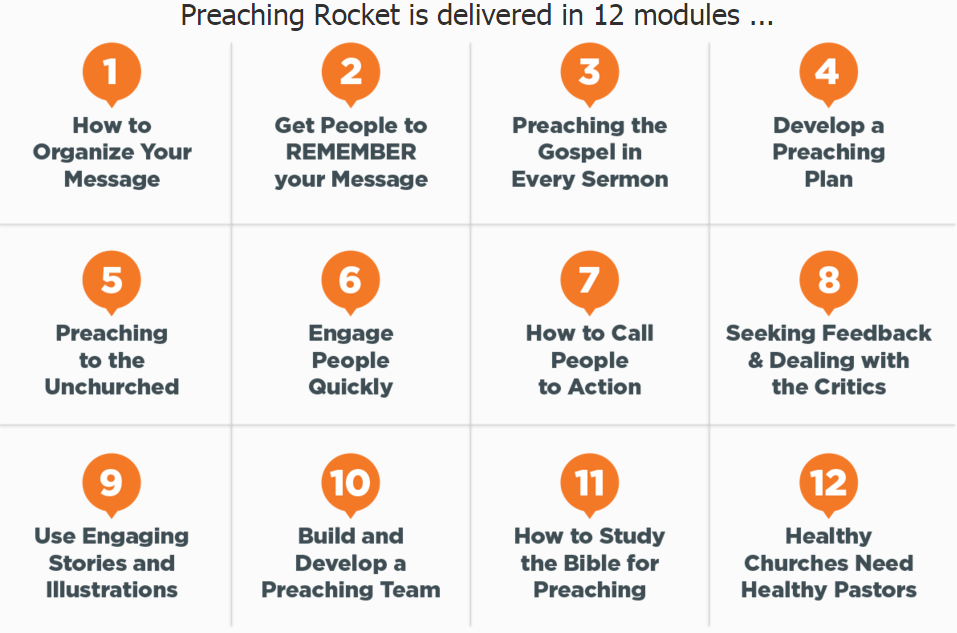 As you're going through the video training you'll recognise a few familiar faces…
There are interviews with people like Andy Stanley, Steven Furtick and Louie Giglio sharing in detail exactly how they plan and prepare their preaching.
This gives you a rare insight into the behind-the-scenes process the best preachers use.
Honestly, I think the training is excellent – they've clearly put a lot of thought into structuring the modules in a way where each lesson builds on the previous one.
I love that you can start applying everything you learn right away because everything is hands-on and super practical.
Alongside the core video coaching, each lesson comes with interviews, webinars, audio training, real-life examples and done-for-you worksheets.
This is the reason Preaching Rocket is the best online preaching course I've ever taken – the creators have really gone out of their way not just to teach, but to equip.
It's not just useless head knowledge, it's 100% actionable.
Let me give you an example:
In module 2 they show you how to make your sermons memorable.
One of the ways you achieve this is by coming up with a sticky statement that summarises your main point in a clear and succinct way.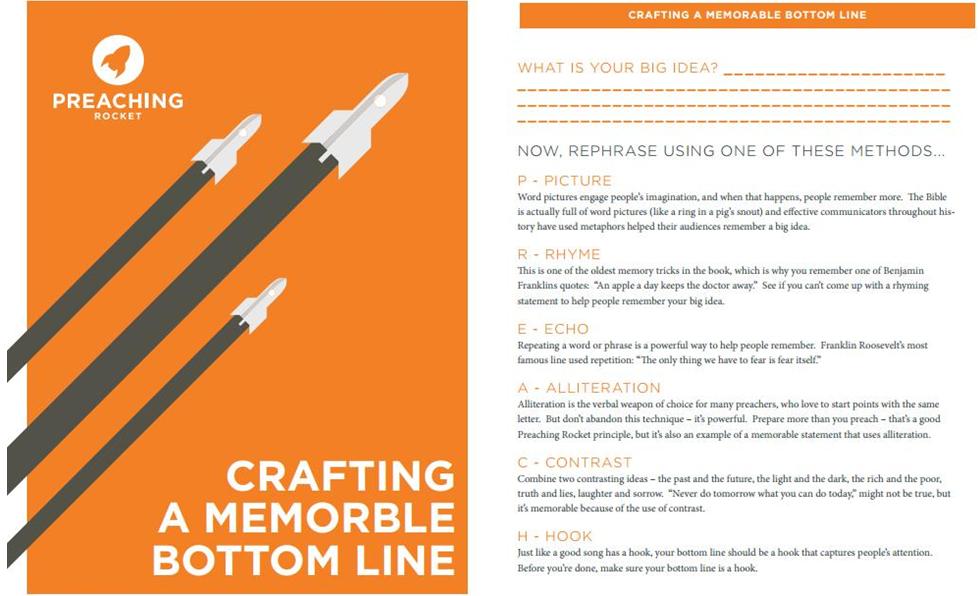 They teach you why this is so effective, walk you through how to craft a memorable bottom line, give you case studies and video examples of this being done well and give you a printable worksheet you can use to come up with your own.
On top of that, you can reach out to other pastors and preachers within the community and get feedback and constructive criticism to help you refine your ideas.
It doesn't get much better than that!
The Preaching Rocket Community
As a Preaching Rocket member, you get around-the-clock support and advice from fellow preachers and church leaders.
You no longer have to struggle alone in the lonely world of preparing and preaching sermons – for me, this is a real game-changer.
Now you have a support system.
Now you can ask questions and get answers.
This is HUGE!
Seriously, what better way is there to improve the quality of your preaching than learning what's worked for others, bouncing around sermon series ideas and getting feedback on your outlines?
Elevate Your Preaching With Killer Sermons Academy 🎙️
Who Is Preaching Rocket For?
So far, over 3,000 preachers and pastors like me and you have enrolled.
Check out their testimonials here.
The community is made up of a mix of both newbie and experienced preachers alike who have all seen dramatic improvements in their preaching as a direct result of applying what they've learned.
In my opinion, Preaching Rocket is best for:
Trainee preachers looking for a proven step-by-step on preparation and delivery

Preachers who want an easy sermon system that means more time for ministry

Pastors who want to get their Saturdays back

Sunday school teachers

Youth pastors

Home group leaders

Anyone looking to invest in becoming a better communicator of the gospel
Whatever your current skill level or experience, you'll be given the techniques and processes you can follow that will empower you to preach better, reduce the stress of writing sermons and connect better with your audience – if you're willing to take action.
How Much Is Preaching Rocket?
Enrolling as a student of Preaching Rocket has been one of the best decisions I've ever made in developing myself as a communicator of the gospel.
The truth is when you invest in yourself as a preacher, you benefit and the whole church benefits.
Let's take a look at the 3 membership options…
a) Monthly option: 12 monthly payments of $99
$99 x 12 months = $1188
This is the best option if you're looking for low monthly payments without the initial upfront investment. You'll receive a new module each month
b) 3 monthly payments of $333
This option gives you one lesson delivered each week for 12 weeks.
c) Yearly option – $997
The one-off payment gives you instant access to all 12 modules at a 17% discount and works out to $83 per month.
If you have the budget, this option gives you all unlimited access to all the training modules at once at a lower rate.
The key here is to pick the option that works best for you and your budget.
To be honest I think the value of the community alone is already worth more than the $ 99-a-month membership fee.
Let me know in the comments if you can find any other practical preaching course out there that comes with all the training, guides, handy worksheets and walk-through tutorials plus the amazing, helpful community – because I've not been able to find one!
Elevate Your Preaching With Killer Sermons Academy 🎙️
What I Like About Preaching Rocket…
1. A Systematic Approach that makes your life easier
While you work away on your sermons week after week, who is working on you?
Before Preaching Rocket, the only time I ever studied preaching was in a 2-week homiletics class at Bible school years ago.
Most of us leave seminary, start working in the ministry and never develop our preaching skills ever again.
I decided to invest in the Preaching Rocket membership because while I loved preaching, I hated preparing.
I would watch other preachers for ideas and grab a quote or two but I had no idea of how to organise my ideas or structure my sermon outline.
The result?
It would take me hours…
You'd always find me up late on Saturday nights after everyone else had gone to bed still sweating over my talking points not feeling anywhere near ready.
I can not emphasise this enough:
This is not about gaining head knowledge and it's way more than simply improving your preaching…
It's about giving you a proven step-by-step system to follow that takes the stress and long hours out of sermon prep.
2.

An Amazing Support System
The community support is awesome – everyone's super friendly and helpful and more than happy to answer your questions.
The saying "Two heads are better than one" means that when people work together they are more likely to solve a problem than one person doing it alone.
It's the same with preaching.
Many times I've had feedback on my sermon outline which meant I could make tweaks and make it even better.
I've often had an idea for an upcoming sermon series idea for our church which was okay… but getting input and bouncing off dozens of fellow preachers turned what was a mediocre idea to start with into a great idea.
Preaching Rocket also has a 24/7 support team on standby to help you. And when I say 24/7, I mean it. I've tested it many times.
You can ask a question in live chat or send them an email, and PR's amazing support team always responds within 30 minutes at most.
This is real help when you need it from real people.
3. Use This To Train Your Preaching Team
Do you need to train other preachers up in your church?
The Preaching Rocket website says:
"Everyone in your church can benefit from these resources, but please don't share them with people outside of your organization."
This means you can take these teaching materials and go through them with your leadership teams.
I've taken a group through this training program and it works really well.
Play the videos, print out the eBooks and handouts and it naturally leads to great group discussions.
Is Preaching Rocket Worth It?
According to Andy Stanley, pastor of Northpoint Community Church, 90% of unchurched people choose a church based on the pastor's preaching.
As pastors, preaching is one of the most important things we do.
We preach week in and week out and I think we put a lot of pressure on ourselves to come up with fresh powerful messages every Sunday.
We all know the better you prepare, the better you preach, but in the daily reality of leading a church, managing staff and volunteers, dealing with administration and so on, sometimes our sermon prep gets overlooked…
And if you're like I was, it all gets left until the last minute.
For me, this just wasn't good enough and I knew I had to change.
Now, because of Preaching Rocket, I no longer get stressed out struggling to prepare sermons until late…
I've got my Saturdays back because instead of stumbling my way through trying to find a sermon outline, I save time by following a set preaching system.
When it comes to Sunday morning I'm refreshed and ready and can't wait to get up there to share what God's put on my heart! And I'm definitely preaching better and sharper.
It's a win-win all round – for me and the church.
So if you're asking is it worth it? In my experience, yes it is! No doubt!
Here's the deal:
You do what you do because you love what you do.
You're always pouring into others but at what point do you ever invest into yourself?
While you work on your sermons who is working on you?
"Be diligent to present yourself approved to God, a worker who does not need to be ashamed, rightly dividing the word of truth."
2023 Update
I wrote this Preaching Rocket review back in 2018 and safe to say, a lot has changed since then!
Unfortunately, Preaching Rocket hasn't…
There have been no updates to the training and the once-thriving Preaching Rocket Facebook community now lies dormant.
The good news is a ton of better and more affordable options are now available.
The Best Preaching Course?
We're on a mission to find all the best preaching courses.
After 40+ hours of research, here are the top ones so far…
🏆 Best Preaching Courses 🏆