Though important, teaching a 5-minute lesson on tithing every week is not enough to increase the giving in your church.
In today's post, we're going to have a quick look at the importance of building trust and casting your church's vision as a way to increase your church offerings and get more money for ministry.
One of the best resources I can recommend in this area of increasing your church's annual financial budget is the Giving Rocket Core Coaching program, designed and created by our friends at The Rocket Company.
Packed full of how-to coaching, done-for-you resources, real church examples and online church-giving solutions, Rocket Company will help you have more money for ministry.
Trust & Vision
People don't give because you ask them to or because bills need paying…
People give if they trust you as a leader and if they know where you're taking them; it all comes down to trust and vision.
Do you want to increase financial giving in your church?
Build trust and cast the vision.
Do you want people to sacrifice their time and talents more?
Build trust and cast the vision. Do you want people to trust you?
Find opportunities to admit you've made a mistake – seriously! Say "I was wrong, I'm sorry". It doesn't fuel mistrust, the opposite in fact.
You need to talk about and cast the vision of your church constantly because the fact is, like a holey bucket, vision leaks.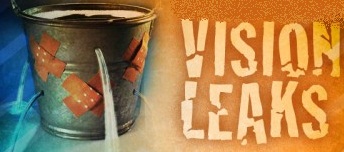 What Is Vision?
Do you have an idea of what you youth could be like?
Can you imagine what your worship team could be like?
Do you have a mental picture of what your church could look like if it grew?
It's not enough.
You need to have a passion, a burning desire, a determination that it should be!
2 Ways To Make Your Vision Stick
1. State it Simply
People will sacrifice more, work harder, be more dedicated and give more if they've 'got' the vision and they're carrying it around with them.

Memorable is portable so make your vision simple.
To make vision simple it doesn't have to be complete. Look at the most famous vision statements in history and you'll see that they're simple so they're memorable and portable:
"Change" (USA Elections)
"I Have a Dream"
"Just Do It"
"Make Poverty History"
Your vision may ask more questions than it gives answers and that's fine, you don't need to go into the 'how', 'what' and 'why'.
2. Cast It Convincingly
Nehemiah is a book of vision.
In chapter 2 the king noticed that Nehemiah, his cup bearer, was deeply troubled and asked, "Why is your face sad?" Nehemiah then cast the vision before the king.
When we cast vision we can follow his pattern, we can do these 4 things:
Define a Problem: "Why should my face not be sad when the city, the place of my father's tombs lies waste and it's gates are burned with fire"
Offer a Solution: "I ask that you send me to Judah, to the city of my father's tombs, that I may rebuild it"
Explain Why: Judah had recently become part of the king's domain
Explain Why Now: Present your vision as the solution to a problem that must be addressed immediately
As a church, what problem are you called to solve?
Your mental picture is the solution to that problem.
Don't make the mistake of giving people the solution before presenting the problem, in the post 'How to Grow Your Church Systems' we talked about telling people why they need to know something before telling them.
An Example:
Defining the Problem: Pastor Kelly Stickel of Parallel Church in Lethbridge defined their problem as irrelevance; a vast majority of the people in Lethbridge thought the church was irrelevant.
This was illustrated by the 50,000 cars that drove past the church each day with only a small handful of people thinking that the church would have answers or relevance to their lives.
The Vision (Solution): "We want to be a church unchurched people love to attend."
When you paint a picture of a problem so that it's big in people minds and then offer a solution, a way to change it, to make a difference – people will commit to that.
You won't only see an increase in giving, but you'll begin to see a higher level of commitment from your people too – if you live out the vision, repeat, repeat, repeat and do what you say you will do.
How important do you think casting vision is to your church's giving? Does your church have an online giving option? Would love to hear from you in the comments!
Recommended Reading: