Last Update 6th October, 2016.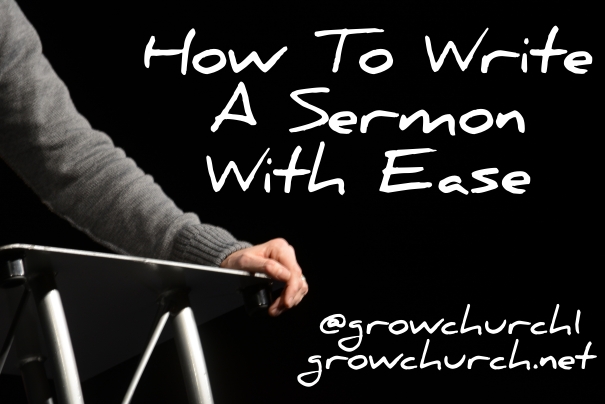 When it comes to preparing and preaching better sermons, half of the battle is learning how to write a sermon effectively and with ease.
Learning how to do this will make your sermon preparation much more easier and pain free.
Writing a great sermon outline doesn't have to be difficult.
If you're like me, this week I'm working on my next message and beginning to plot out another sermon series for a few months down the line.
It's a labour of love.
And yet so many preachers are, well, let's say less effective at it than we might be.
Great content is king for sure. But if content was king, people would be reading instruction manuals recreationally. They don't.
As well as being relayers of information, we need to learn how to convey truth in a powerful, inspiring and memorable way.
This is why I love to learn about the how of preaching and communication, not just the what.
And this is why I'm going to share with you some helpful articles and further online preaching training that can help you develop further in the area of preparing and presenting sermons.
I'm also passing along some preaching tips I learned in the Preaching Rocket Core Coaching, put together by my friends at The Rocket Company with preachers like you in mind.
You get to learn about the art of preaching from some of the very best preachers and communicators of our time: Andy Stanley, Louie Giglio, Steven Furtick, Dave Ramsey, Jon Acuff, Nancy Duarte and so many more.
Preaching Rocket is more than a great preaching course, it's an online community of preachers helping each other out.
Don't believe me?
No worries, just take the free 7 day trial and find out for yourself.
I hope this will help you plan and write sermons with greater ease and effectiveness. I promise you that thinking through these things has helped me in preparing and writing my sermons.
1. Having A Sermon Outline System
Having a simple way to layout your sermon outline not only makes it easier to prepare, ut it makes it better to present too.
In your mind you'll know what section is coming up next so you can be more confident.
In the article How To Preach Without Notes, I go through Andy Stanley's simple but effective technique for easily preparing sermon outlines every time.
2. You don't have to prepare alone
I don't know where this idea that we have to prepare in solitude comes from but it's prevalent amongst many preachers today.
I saw a significant improvement in the quality of my sermons once I started working sermon outlines out in a team.
3. Use topical monthly sermon series
As I've already mentioned, having monthly sermon series not only helps you plan ahead, but if gives you a theme to work with.
There are things you can do on a daily, weekly, monthly, quarterly and annual basis that will dramatically improve your preparation time and help you deliver better messages.
Instead of trying to cram 4 points into one sermon, simply take one point per week and really drive it home.
This also has the added advantage of making your sermon far more memorable.
4. Use Stories like Jesus did
When Jesus preached He always used illustrations and stories.
Stories make your sermon point come to life and really enhance your message.
Use things from everyday life to illuminate what the scripture text is saying and people will be able to remember your point long after they walk out of the church doors.
5. Get sermon feedback
How do you knwo if you've preached well or not? How do you evaluate your sermons?
One of the best ways to ask for feedback.
Here's a sermon evaluation form you can hand out to people you trust.
Or better still, record yourself and watch it back. Take notes on how you can improve next time.
6. Listen to great preaching regularly
One of the best ways to grow as a preacher is to listen to great preaching.
In our internet age we have so many options, so, instead of listening to the radio in your car, use that time and listen to some of the best preachers of our time.
7. Invest in training
Invest into yourself as a preacher and your whole church benefits.
You can read books on preaching preparing and presenting.
You can take an online preaching course. My top recommendation would be to take advantage of the free 7 day trial and try the Preaching Rocket Core Coaching.
With excellent monthly training modules, videos and tutorials, Preaching Rocket will take you through all aspects of connecting with your congregation, taking the stress out of sermon preparation and start planning months in advance.
Here's my full 3,832 word Preaching Rocket review.
As soon as you sign up you get instant access to the Preaching Rocket community of other pastors and church leaders all asking questions, getting answers, getting feedback and helping each other out. This has been a lifesaver for me!
Your turn…
So there you go. I hope this gives you access to tools and resources that will revolutionise your sermon prep time.
What tips and techniques have helped you to write a sermon with ease and preach better sermons?