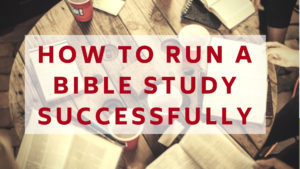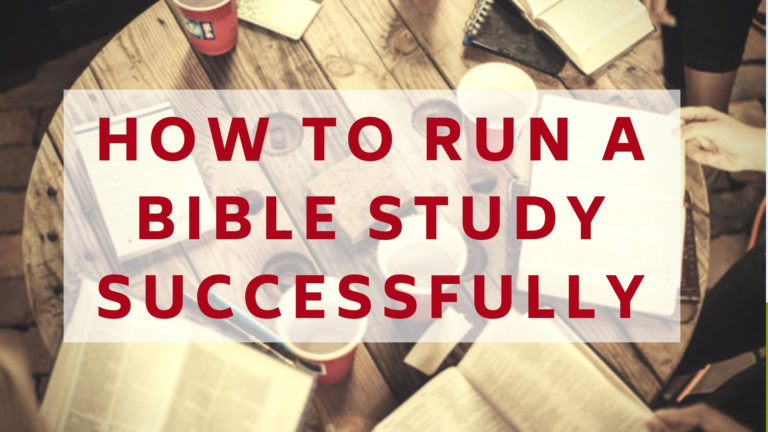 In this how to run a Bible study guide I'm going to go over some of the core strategies and techniques I use to not run a group, but grow it successfully.
If you haven't launched your group yet, be sure to check out: How To Start A Small Group Bible Study From Scratch
I'm going to share with you all the things I wish I knew about running a group when I was first starting out.
You see, for me I was thrown in at the deep end and had no choice but to fumble around, pretty much making it up as I went along.
You don't have to be like that!
So let me make it easy for you; I'll show you how I get people to join, how to run the group as well as how to get people to really engage and open up.
Oh and of course, if you have any questions along the way be sure to drop your comments below and I'll be more than happy to help you out.
Making a clear case for launching the Bible study group
One of the best books I've ever read about building church cell groups was a book called Helping You Build Cell Churches. The first chapter of the book lays out the Biblical case for cell groups.
God created us for community, God Himself is a Triune community! And He works in groups of people to reach people.
Look at the early church, they all met in each other's homes. Acts 2:46-27 says:
"Every day they continued to meet together in the temple courts. They broke bread in their homes and ate together with glad and sincere hearts, praising God and enjoying the favor of all the people. And the Lord added to their number daily those who were being saved."
You'll want to state clearly from the very beginning what the purpose of your Bible study group is. I can tell you (at least in my mind) what the purpose of achurch small group is – it's to help members:
1) Connect with God through worship and the Word
2) Connect with each other
Having a clear purpose makes sure everyone is on the same page and going in the same direction from the get go.
Who will join your Bible study?
The biggest issue that stops most people from starting a Bible study is they think there's no one they know who'll be interested to come.
I can pretty much guarantee you there are people you know, family, friends, church members, who are not connected into a small home group who will come if you invite them.
Sometimes we don't see the people who are right there under our noses and in our circle of influence until we sit down and think about it.
You only need a group of 2 or 3 to get started and it won't be long before they're inviting their friends and the group grows.
One thing I've done in the past is invite a few people out to eat somewhere and bring up the idea of starting a Bible study. Then you'll get an idea of how many people are interested. I find it's always best to invite people personally, one-on-one.
Tell them the time and the place and keep it consistent to avoid confusion. You could have the group at someone else's house to ensure at least they'll turn up!
How I run a Bible study in 4 simple steps
Feel free to use this as a guide but at the same time don't be afraid to deviate. You may well find what works for me might have to be adjusted to fit your demographic and culture.
1. Open with an ice breaker
An ice breaker…. well, breaks the ice (Bad pun intended).
Here's 10 Church Small Group Ice Breakers I use regularly. Sometimes we'll play a game, other times I'll just ask everyone a question.
The aim is to start off the Bible study by getting everyone interacting, relaxed and engaged. It really helps new people get to know the rest of the group and builds that all important sense of community and belonging too.
You only need this to take 5 to 10 minutes so watch it doesn't run over and detract from the main Bible study.
2. Get everyone focused with worship
Now everyone's together, I find worship a great way of getting everyone focused.
You don't know what kind of week they've had and there's nothing like corporate worship to help people fix their eyes on God and let the stresses and worries of the week melt away.
It only has to be a song or two that everyone knows well, preferably one you sing on Sundays. Check out my article called How To Lead Worship In A Small Group for common-sense tips on how to do this well.
If you have no musicians in your group, you could always play a worship video on your phone. Again, it depends on your group dynamics. Over time you're learn what works and what doesn't.
I like to flow straight from worship into studying the Word with a prayer inviting the Holy Spirit to come and teach us and guide us, thanking Him for speaking to us through the scripture text we're studying that day.
3. Have a systematic approach to studying the Word
Now it's time for the Bible study itself. Generally speaking I like us to follow set Bible study lesson plans.
By following a systematic approach I know I'm not going to miss anything out or just focus on the topics I love to talk about. It ensures the people I'm discipling get a solid Biblical foundation.
(Plus, there's a real sense of accomplishment when we finish a particular book or course.)
The good news for us is there's so many Bible study resources available right now.
There's Bible studies for men, Bible studies for women, Bible studies for new believers, Bible studies about serving, Bible studies about faith, Bible studies about finances.
If there's any particular theme you'd like your group to learn about, there's probably a Bible study out there that covers it.
The favourite Bible study I like to use is called The Purple Book: Biblical Foundations for Building Strong Disciples
I'm currently going through this book with some of our young Thai leaders. As they're all from Buddhist backgrounds and have been saved for less than a year, it's perfect as it's aimed at new believers.
The course grapples with the biggest fundamental questions:
What is sin and why is it so bad?
Why did Jesus have to die?
What is water baptism?
What is the purpose of the Holy Spirit?
My favourite thing about The Purple Book is how it's laid out. Whenever I start a new group Bible study I never want it to just be me at the front doing all the talking with everyone else just listening. I really want my Bible studies to be interactive with lively discussions, going back and forth.
I want people engaged.
I also like the fact there's a lot of Bible references so you can teach people how to use their Bibles in the process. The Purple Book facilitates this wonderfully with open ended questions and fill in the blanks.
Another great book for generating discussion is Instant Small Group: 52 Sessions for Anytime, Anywhere Use.
I always want to make sure everyone in the group answers a question or reads a scripture and feels involved in the conversation.
I also intentionally emphasise the fact there's no such thing as a dumb question. I want everyone open and honest as we dig into the Scriptures to find answers.
4. Make time to get social
This part is really important: you are not just leading a Bible study meeting, you're building a community.
You want to give time to those in your group to build real friendships and that sense of belonging we've talked about. For me the biggest sign of a healthy and strong group is that people don't rush home afterwards but want to stick around and hang out. They actually enjoy spending time together.
How you facilitate this where you are is completely up to you. Maybe you could offer hot tea and refreshments after the meeting, or even have a sit down meal or monthly BBQ's – whatever you do be sure to give time to get social.
3 pro tips on running a small group Bible study successfully
Here I'm going to share with you some extra bonus tips I think are crucial to running a Bible study, but first here's a great video I think you'll find helpful:
Tip 1. Let it flow, let it flow
One very good point Dawn makes in the video is about letting the conversation flow. I always come to the group prepared with a Bible lesson but when members are interested, engaged and asking lots of questions I don't worry if we have to finish the lesson the following week.
Part of running a Bible study is knowing when to bring the conversation back to the main point and knowing when to let it flow. The fact people are actively discussing te lesson together means you're definitely doing something right.
Tip 2. Do anything you can to build community
Beyond the Bible study try to think of new ways to build those friendships. I like to go out on a social activity once a month and do something different, something fun.
Another easy thing you can do is open a Facebook messenger group chat to help stay connected during the week.
As the Bible study group leader you should also make it a priority to meet one on one with every one of your members at least once a month. Invite them for coffee, go to an all you can eat buffet.
You don't need to have an agenda, just spend time, show them you're interested in their personal lives.
Encourage your members to do likewise, invite each other for shopping trips or a catch up.
Tip 3. Hand over responsibility as soon as you can
True discipleship is more than studying the Bible, it's about discovering your people's passions and giftings and releasing them into their Great Commission destiny.
Another way to put this is it's your job to replace yourself.
How do you do this? By making it as easy as possible for people to serve and giving them an area of responsibility they can call their own.
If someone in your group can play the guitar or sing, let them lead worship. Have someone else lead the ice breaker or put them in charge of serving tea and coffee.
The point here is to help people feel involved and take ownership. Everyone likes to feel useful and giving them a part to play will help them to really tie in.
If you're struggling to get people to step up and serve check out: How To Recruit More Church Volunteers
Are you leading a small group Bible study for the first time? Let us know about so we can pray for you!
Have any recommended resources or Bible study materials you'd like to share with us? Have your say in the discussion below.