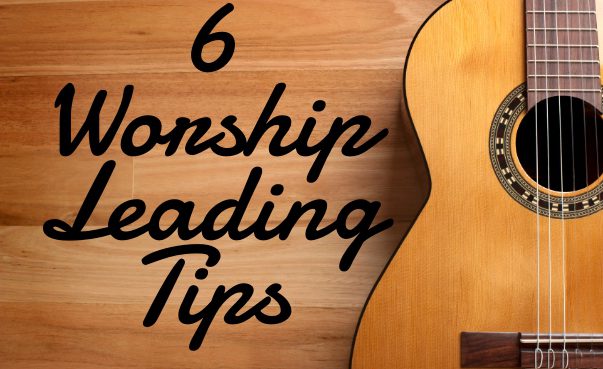 When I was just 14 years old, I picked an old nylon-stringed guitar and started strumming away to songs like 'Shout to the Lord' and 'These are the Days of Elijah' in my bedroom.
(in the key of G of course!)
I started learning the guitar because just 2 years earlier at the tender age of 12 I was captivated by the awesome love of God and although Sunday morning was the highlight of my week it wasn't enough – I wanted to worship at home.
I didn't realise then that just a few years later I would end up being the worship leader for my home church in Leeds, England for 9 years…
Now serving as a missionary, I've led worship in churches, slums and Karen hill tribe villages across Thailand.
The moral of the story is: following God's calling in your life means you're never sure where you might end up!
That's why today I'm going to give you some practical steps on how to lead praise and worship well.
Here are 6 worship leading tips:
1. Know that you're called to lead worship
Are you called by God to be a worship leader? This is a good place to start. You need to answer it right away but I think the fact that you are reading this article is a good indication God is calling you.
Worship leading is not for everyone and knowing that you are called by God will give you a confidence to serve.
I use the word 'serve' purposefully; leading God's people into the worship of Him is a high honour.
Don't ever fall into the trap that it's about you or your calling – it's always all about Him.
2. Stir up the giftings that are hidden within you – get worship leader training
So let's assume you are called to lead worship. Where do you start? It may seem obvious, but you need to become competent in your instrument and/or vocal ability.
Practice. The more comfortable you are with your voice, instrument, and the songs, the more freedom you're going to encourage when you lead worship.
"Sing to him a new song; play skillfully with a shout of joy. Psalm 33:3" [Tweet this]
There's nothing like leading a group of people in worship to get better.
Why not start leading worship in small groups to start building confidence in worship leading before hitting the main Sunday morning service?
Get some good worship leader training.
Invest in yourself to be the best worship leader you can be. It will pay you back for years to come.


LeadWorshipWell.com has designed a fantastic full worship leader training program called Worship Rocket.
It's taught by Todd Fields who is the worship for Andy Stanley's Northpoint Community Church and with monthly training modules, Worship Rocket was put together specifically to show you how to design and deliver fresh worship services week after week that keep people locked in and engaged.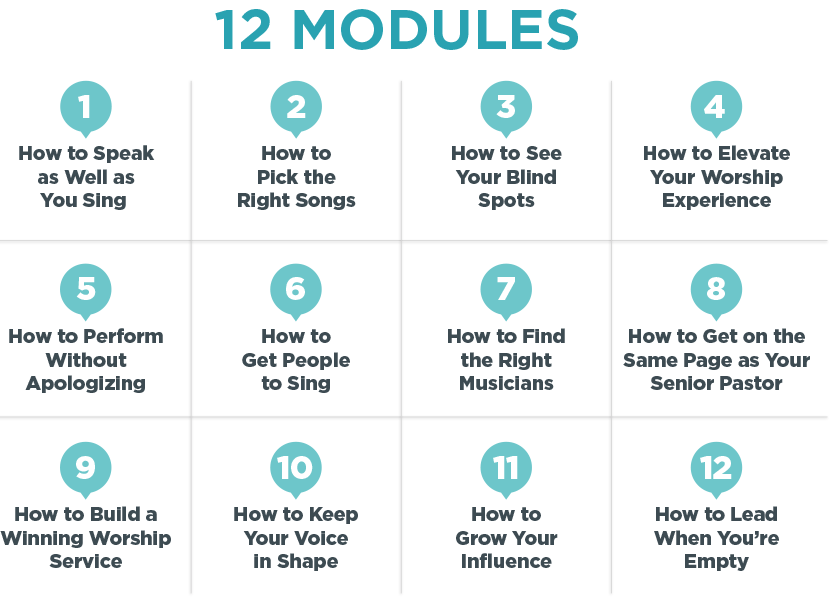 I can not recommend this worship leader training highly enough.
Statistics show that people come back to church because of good worship services – learning how to lead praise and worship well will help you reach more people and grow your church.
You can learn about how to pick the right songs for your worship set, how to transition songs effectively, how to find the right people and build your worship team, and my favourite: how to get your congregation to actually engage and worship plus so much more…
3. Put Yourself Under Authority
Don't be a one man band.
As a worship leader, you are under the authority of the senior pastor, youth pastor, and other worship leaders in your church.
Accept their leadership.
Welcome it.
Embrace it.
Learn from your leaders (whether it's learning what to do, or what not to do!)
With this attitude in your heart, approach the people in charge and say you are willing to help with worship in any capacity.
Keep in mind that they might say you're not ready, or ask you to do something else entirely.
We all want to be leaders, but the best leaders are always the best followers.
"The best followers always make the best leaders." [Tweet this]
Sometimes God puts us in lowly positions to see how we handle it. Only then will He release bigger things.
Great worship leaders often start as musicians or vocalists on teams that others lead. I can't think of a better way to learn how to become a worship leader than to serve under someone who is doing the thing you want to do.
4. Look for open doors to lead worship
You may come from a big church with an established worship team. Maybe they have a worship schedule where there doesn't seem to be any opportunities for you to lead worship.
That's OK.
What about church home groups? The children's ministry?
How about the monthly men's breakfast or the mid-week group at the local retirement home?
Chances are they don't have a worship leader. What a great place to gain some experience while serving a potentially neglected segment of your church.
5. Be reliable and available
I promise you this – your church leaders value consistency and reliability higher than talent or experience.
Your leaders have likely seen many people come through the church doors who are eager to get up and lead worship on the big stage, and though they be very gifted musically and can talk the talk – they are simply not reliable or trustworthy.
95% percent of becoming a worship leading is just showing up.
Be consistent, week after week, year after year. You'll see doors fly open wherever you go.
As someone who has trained up many young people into worship leaders, I can say I spent most of my time with people who proved their commitment. They showed up on time, practiced outside of group rehearsal, and demonstrated eagerness to learn.
As the leaders see your dedication, they will promote you.
There were countless times I led worship for a seemingly small event and someone there asked me to do something bigger. That's just how it works. No shortcuts.
So if you really want to know how to become a worship leader, it's pretty simple: keep at it. Be persistent and it will pay off.
6. Your leading worship journey
"Hallelujah! Thank God! And why? Because He's good, because His love lasts. Ps 106:1 (MSG)" [Tweet this]
I hope I've given you some useful and practical tips and access to worship leaders training that will help you lead worship in your church.
Yet, maybe I've been a little too practical so let me end with one thought:
None of this will help you if you are not living a life of worship. When you are leading worship, your praise and worship overflows from your own heart. This kind of genuine, authentic worship can only come from your own quiet time.
Remember that 14 year old boy strumming away to Days of Elijah in his bedroom?
It has to start in that place of intimacy.
It's really hard or impossible to lead worship if your life is not consistent with what you're singing.
If you're leading worship from a real place of heart-felt, life-given worship – people see it, notice it and follow it.
So on that note, may God bless you as you continue in your learning of how to lead people in worship.
Do you have any tips for leading worship for beginners? Share your comments below.
If you haven't yet, don't forget to check out LeadWorshipWell.com for more leading worship training and helpful tips.