Last Update 19th October, 2016.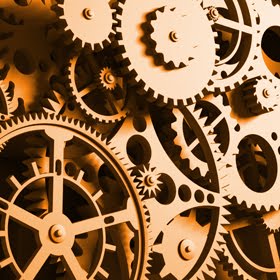 I was listening to an Andy Stanley podcast the other day when he said:
"It is systems, not just sermons, that will make the church more effective."
As a preacher, and someone who loves to talk, I wanted to disagree with Andy's statement, but I knew he was right.
Sometimes we fall into the trap of thinking we can preach our way out of anything…
We say to ourselves:
"If there's an issue with your volunteer systems, financial systems, discipleship systems or church growth systems just preach on giving, preach on serving, preach on 'getting out there' and any issues will sort themselves out."
Ever been in a church that proudly preached it's mission statement and vision but had no strategy or system in place to make it happen?
"Most churches have a mission, but no strategy. They have passion, but no plan to make it happen." [Tweet this]
I think sometimes as Christians we can be guilty of putting too much emphasis on vision and motive, we can preach the abstract and theological while neglecting the concrete reality.
I suspect God is way more practical than we think.
Our church has a purpose, a mission, a task to accomplish; stop telling me we should and start telling me how we can.
I prefer pragmatic over philosophical any day.
Assuming you are a pastor with the right intentions, the right doctrinal statements and right heart. What now?
As I continued listening to the podcast, Andy went on to say,
"The system you have right now is perfectly designed to get the results you are getting."
Ouch!
Growing your church means a shift in your focus.
Sure, it's good to invest time into becoming a better preacher but why not learn how to become more organised?
Spend some time and organise your church ministries and programs.
Streamline your processes.
Then watch your church start growing.
It's taken me running around like crazy for a long time to realise that I can't preach myself out of every problem. Systems, not sermons are needed for your church to grow.
Here are 5 Systems to Organise your Church and Faciliate Growth (and Reduce Your Stress):
Financial systems to track spending and encourage generosity.  Raising money makes more ministry happen.
Ministry systems to help ministry run smoothly as it should.  Family ministry, small groups, and special programs need to be organized.
Worship service systems to help plan services that honour God and inspire people.  Since Sunday happens every 7 days, you might as well streamline the planning. [leadworshipwell.com is a brilliant site for experienced or aspiring worship leaders]
Outreach systems to encourage people to invite their friends, family, neighbours and co-workers.
Staffing systems to hire, fire and develop team members.  Your team is your greatest asset but they won't get better without intentionality.
Systems might not sound exciting, but they are so important for your ministry. That's why we have partnered with the Rocket Company to make The Systems Bundle available to you.
This will help your ministry life flow so much smoother and help to give you peace of mind that your church is on track and effectively accomplishing it's mission.

What systems do you have in your church? What works well? Would love to hear from you on this one!