Tired of Netflix and looking for the best Christian alternative?
Want a Christian streaming service that's faith-filled and family-friendly?
We've got you covered.
Today you're going to learn which ones are worthwhile so you don't have to waste any money on the crappy ones.
These recommendations are based on 30+ hours we've spent buying, researching and testing them, plus lots of feedback from real customers.
Here are the top Christian streaming services we've reviewed…
🏆 15 Best Christian Streaming Services 🏆
Angel Studios is a Christian streaming service that focuses on providing family-friendly entertainment that amplifies positive values.
They have popular titles like "Dry Bar Comedy," "His Only Son," "Wingfeather Saga" and "Tuttle Twins and their new film "Sound of Freedom."
One of the standout features of Angel Studios is that all episodes and movies can be streamed for free…
The platform operates on a "Pay It Forward" model, giving viewers the option to contribute so they remain accessible to future audiences without cost.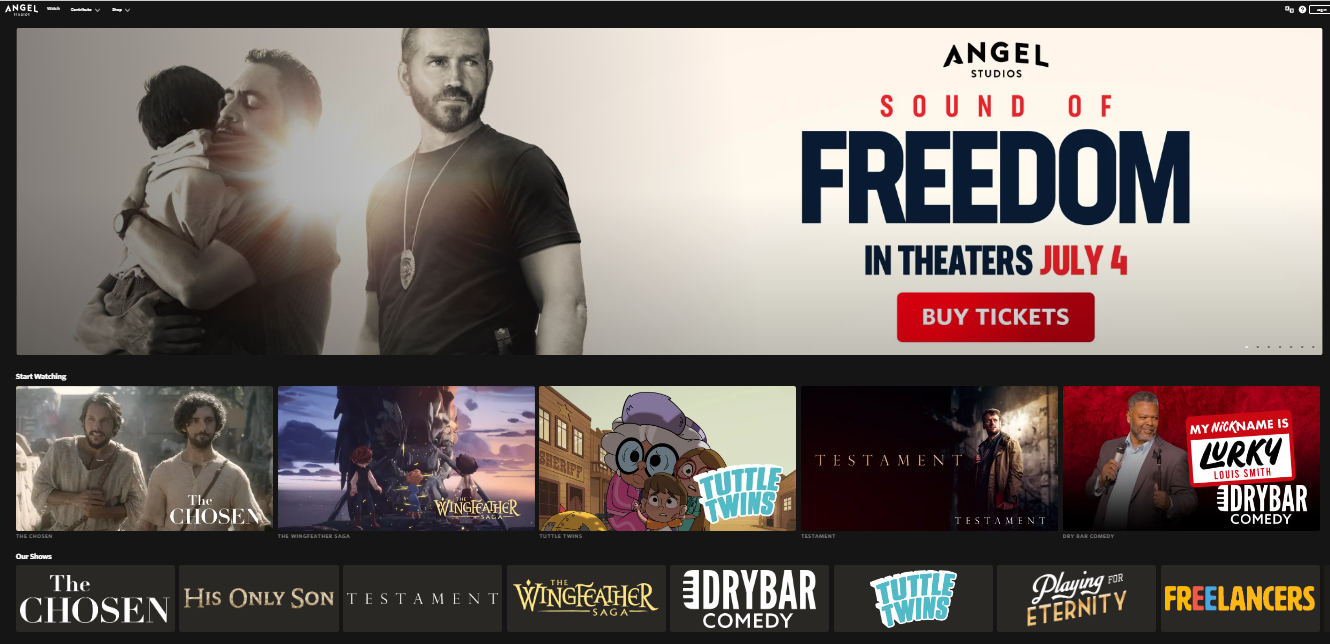 Pros: Family-friendly, faith-based entertainment. Lots of original and exclusive content.
Cons: Occasional technical issues and login problems.
Price: All movies and series can be streamed for free. Viewers have the option to donate and ensure it remains free.
Pure Flix is a Christian streaming service that offers a wide variety of family-friendly movies, original shows and engaging documentaries free of violence, sex, explicit language and the woke agenda.
Pure Flix was launched in 2015 as a faith-based Netflix alternative and bought by Sony in 2020. It has 2 million+ subscribers worldwide.
Pureflix ranks high on our list of Christian streaming services because of the sheer amount of content that aligns with Christian values, including The Chosen series and the God's Not Dead movie franchise.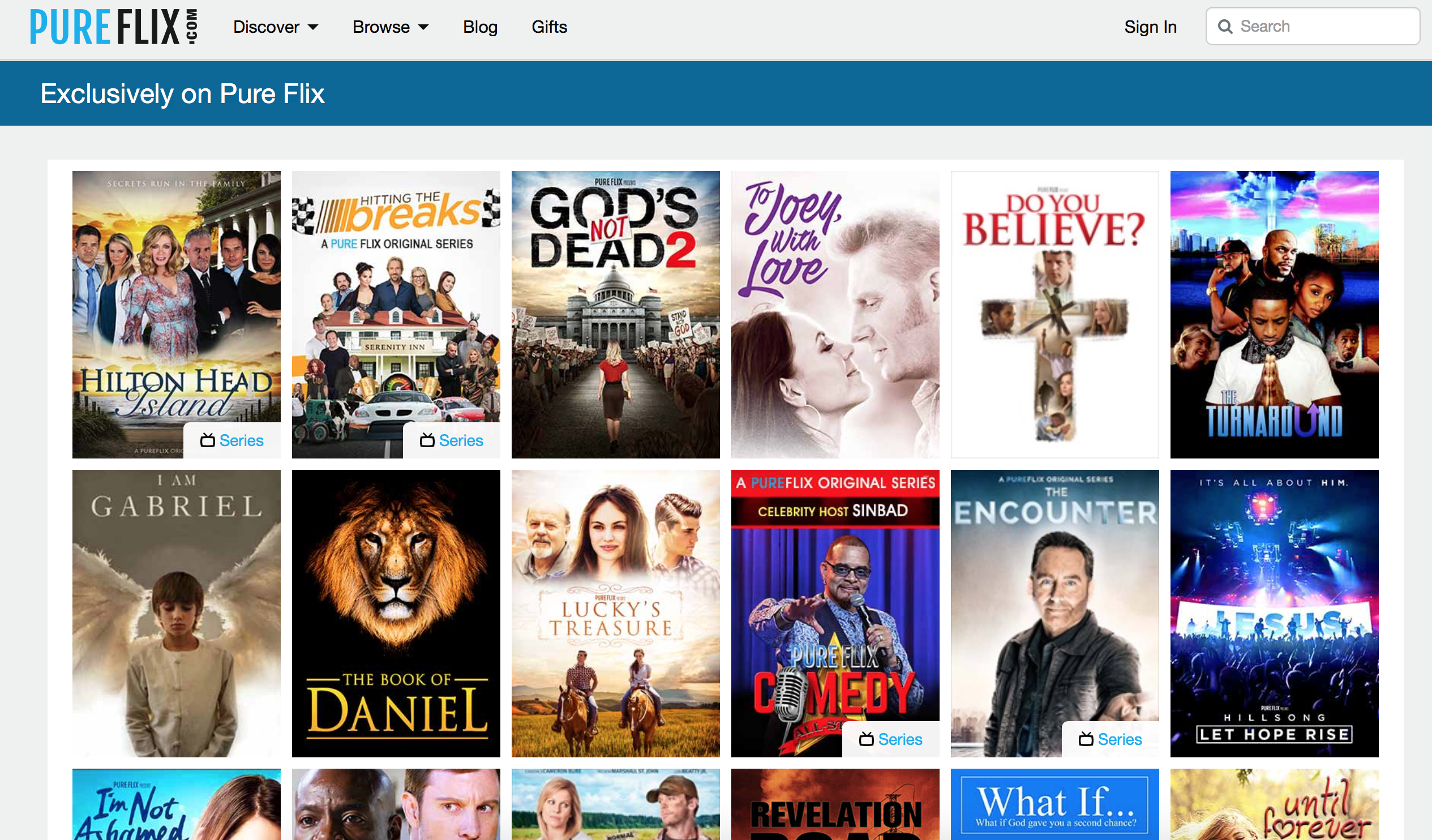 Pros: A ton of high-quality content.
Cons: Customer support could be improved, with some users reporting billing and customer service issues.
Price: $7.99 per month or $69.99 per year with a 7-day free trial. Cancel anytime.
UP Faith & Family is a Christian streaming service that offers a wide range of faith-affirming and family-friendly entertainment, available across various devices for convenient viewing.
With a selection of quality dramas, comedies, lifestyle shows, children's favourites, music specials and documentaries, it's basically the Christian version of Hallmark.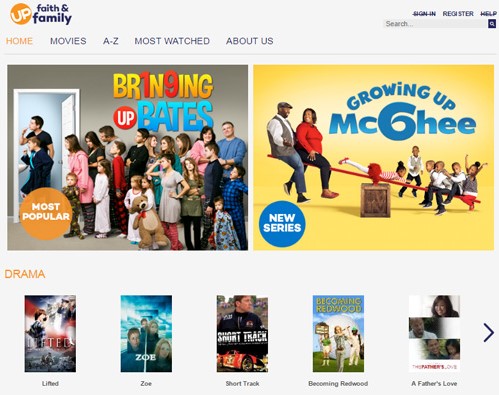 Pros: Offers a vast collection of original, high-quality content and has a user-friendly layout and extensive library. Reasonably priced.
Cons: Mostly romance films.
Price: UP Faith & Family offers two subscription plans: $5.99 a month or $53.99 a year.
Yippee is the best Christian streaming service for children, providing faith-filled shows that kids will enjoy.
Although the quality may not match that of traditional TV; it serves as a suitable alternative to YouTube and features the latest episodes of Veggie Tales.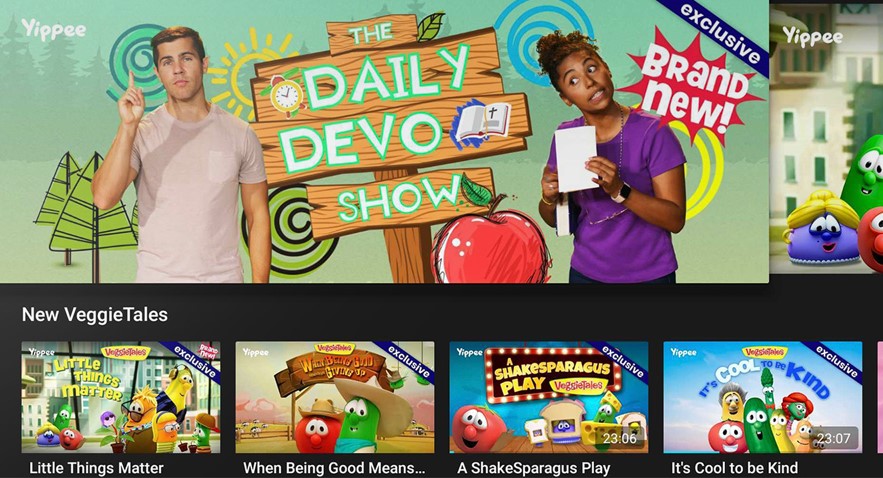 Pros: Best streaming service for kids, very well designed.
Cons: More of a YouTube alternative than a Netflix alternative. Not much for the parents.
Price: After a 7-day trial period, Yippee offers an annual subscription at $41.55 or a monthly subscription at $6.77 and you can cancel anytime.
Minno is a dedicated Christian streaming service for kids, offering access to over 2,300 episodes from 130 shows, including Jungle Beat, Micah's Super Vlog and Cocoa Talk.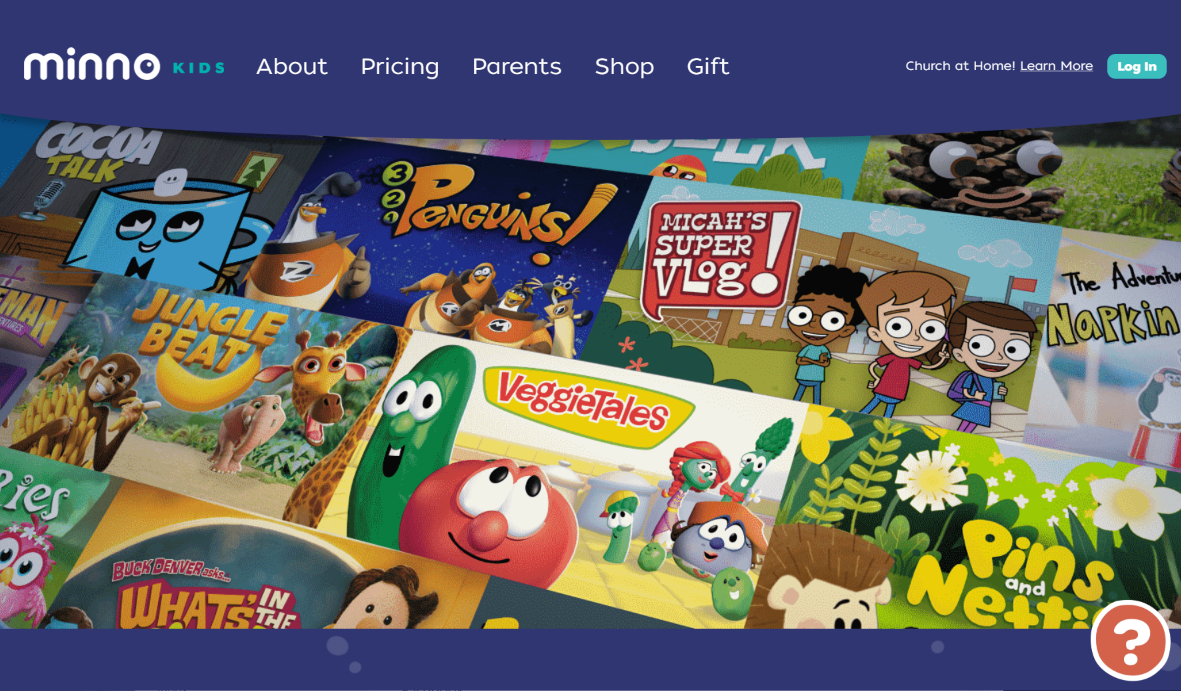 Pros: Can download shows for offline viewing, ability to stream on multiple devices simultaneously.
Cons: Yippee TV is better and lower cost.
Price: 7-day free trial then $8.99 a month or $69.99 a year.
Faithlife TV offers a diverse range of edifying and entertaining content, including movies, documentaries, shows, and biblical teaching, with original series catering to teens, children, and adults.
With thousands of hours of Bible documentaries, dramas, biographies, kids' videos, and more, Faithlife TV provides access to a wide variety of Christian programming.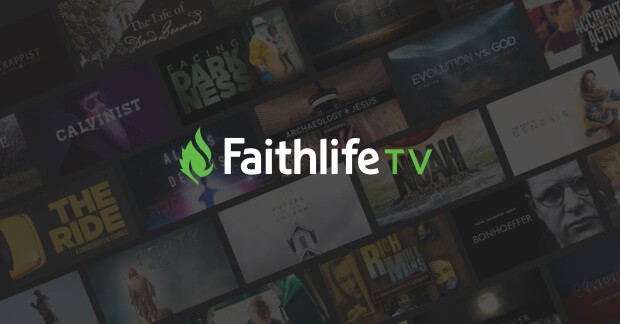 Pros: Curriculum for churches available. Multiple viewing options.
Cons: Needs a greater variety of content.
Price: 14-day free trial then just $4.99 per month.
Dove Channel is a streaming service that provides a safe and family-friendly environment for entertainment.
With hundreds of movies, TV series, documentaries and children's programs, it offers a wide selection of content that reflects the time-honoured standards of The Dove Foundation.
Every title is reviewed and approved by Dove Foundation staff reviewers, ensuring safe and wholesome viewing.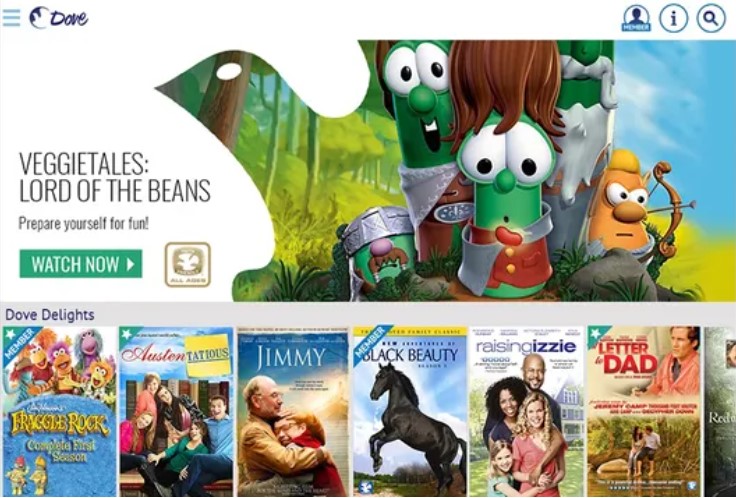 Pros: Has the widest selection of safe and family-friendly entertainment.
Cons: Most shows are just low quality or B-rated.
Price: You can watch for free with ads or become a Dove Channel Member for $4.99/month after a 30-day trial. Cancel anytime.
With the slogan "Streaming Goodness", RedeemTV is an ad-free, donor-supported streaming service that offers a diverse range of edifying and redeeming content.
They have 1,500+ dramas, documentaries, animated features and children's favourites and they're adding more content every week.
RedeemTV has slightly better quality content and more variety than some streaming services on this list, though what streaming service asks you to donate?!
Just charge people. I'd be more than happy to pay $5 to $10 a month for a high-quality Christian streaming platform.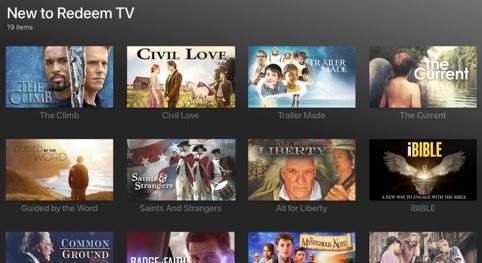 Pros: Wide variety of free and ad-free content.
Cons: Quality of content may not be as high
Price: RedeemTV is free, but donors who contribute at least $5 per month or $25 per year get access to additional donor content.
Parables is a faith-centred digital video streaming service that delivers empowering and entertaining programming while promoting strong faith and family values.
Users can access Parables through the ROKU TV app, allowing for convenient streaming on compatible devices.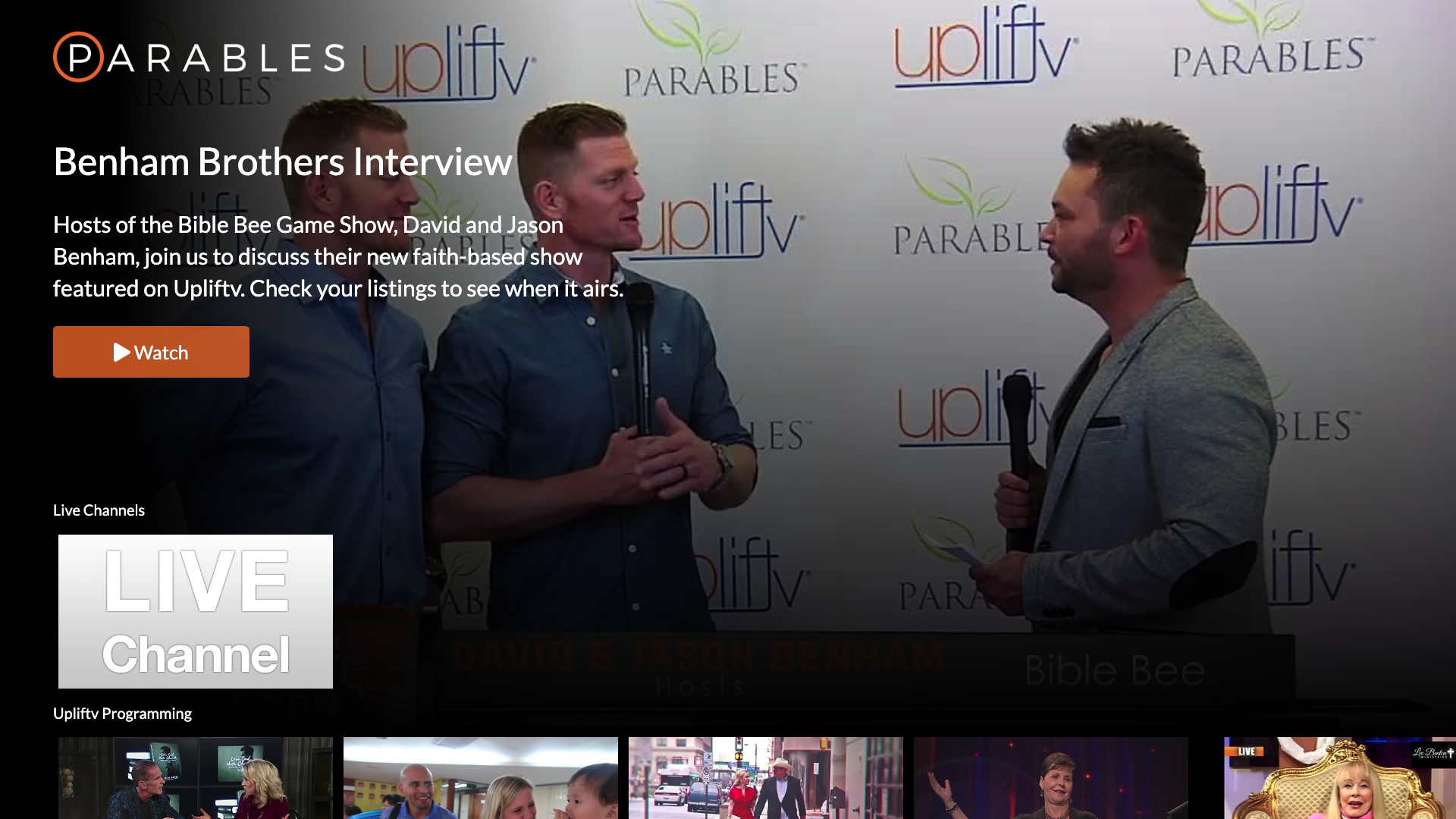 Pros: Wide range of programming to cater to different age groups.
Cons: No website and limited availability only through the ROKU TV app.
Price: Parables TV is completely free.
Crossflix is a Christian Netflix alternative that offers faith-inspired documentaries, children's animated and educational biblical programs, Christian movies, comedy shows and more.
Crossflix+ is one of the only Christian streaming services with nearly all of its content highly rated by Dove.Org. Dove.Org is a reputable Christian movie rating organisation.
I'll be honest, I had high hopes for Crossflix Plus and thought it would be higher on this list…
They tick all the boxes but the content's just not that good.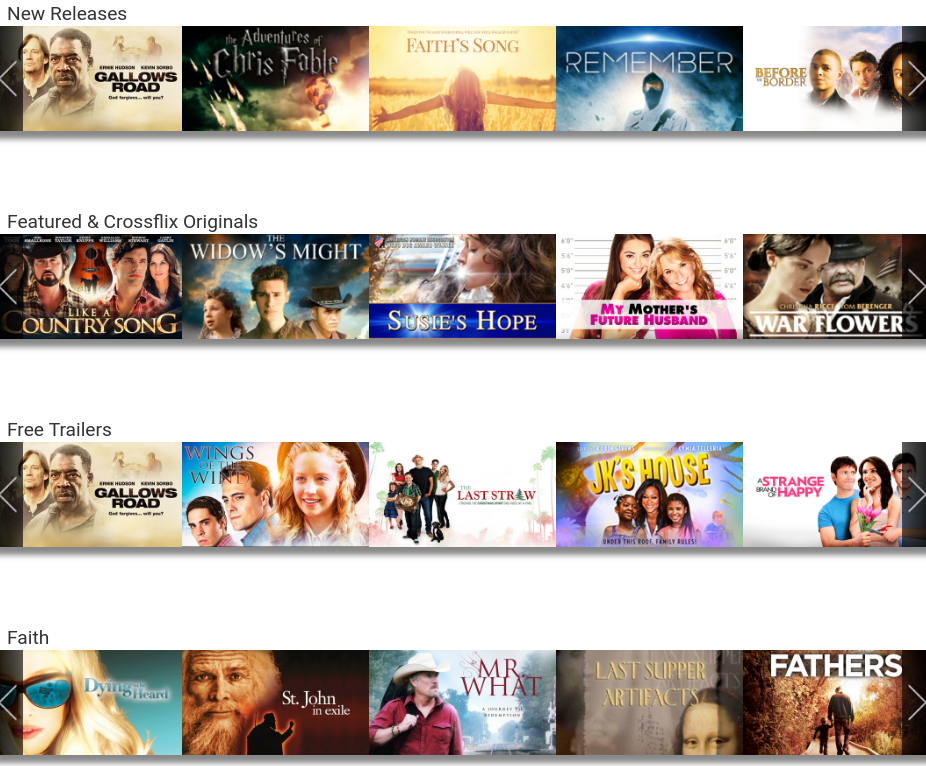 Pros: They have the Crossflix community where pastors can sign up for free and the church can message and communicate with each other.
Cons: Some technical and billing issues. They have a 2.8-star Google rating based on 82 reviews.
Price: $9.99 a month after a 30-day free trial.
Whilst not strictly a Christian streaming service based on entertainment, The Bible Project shares free Bible resources to help people engage with and understand the Bible.
Their educational content includes animated videos, podcasts, blogs and classes all aimed at making the biblical story accessible and engaging for people of all ages and backgrounds.
Through visual storytelling and clear explanations, the Bible Project seeks to promote biblical literacy and a deeper understanding of the themes, narratives and teachings found in the Bible.
They have an impressive 4.9-star rating on The App Store and a 3.6 million subscriber count on YouTube.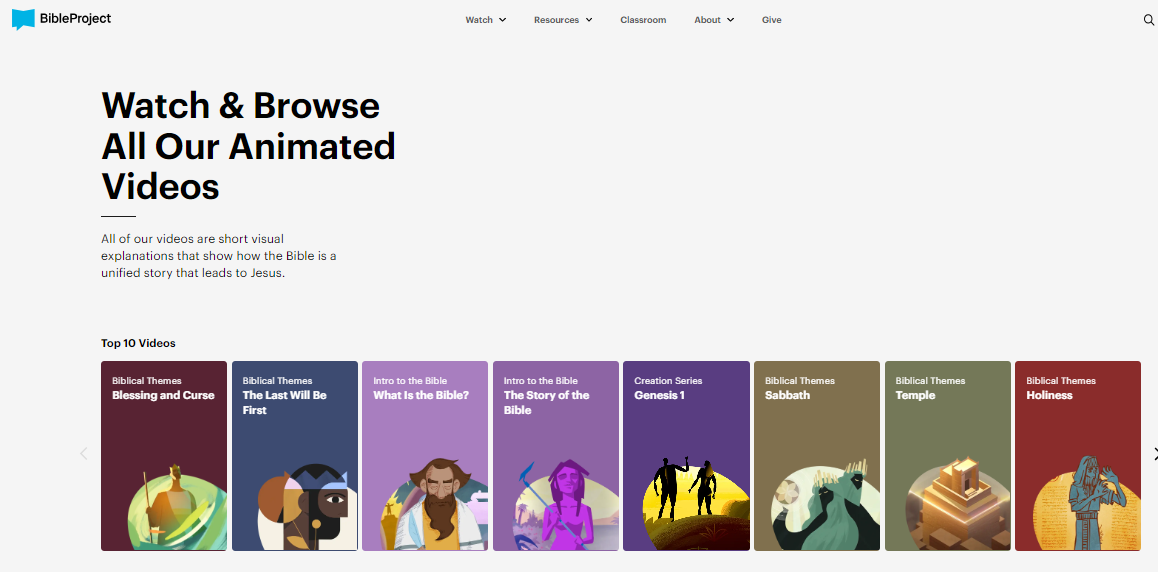 Pros: Free access to high-quality Bible videos, podcasts and resources.
Cons: Education content only. Not really for entertainment.
Price: The Bible Project is 100% free and is a nonprofit, crowdfunded organisation.
Christian Cinema is a streaming service that offers a wide variety of Christian and family films on demand, allowing you to watch anytime and choose the movies you want to pay for without any subscription commitment.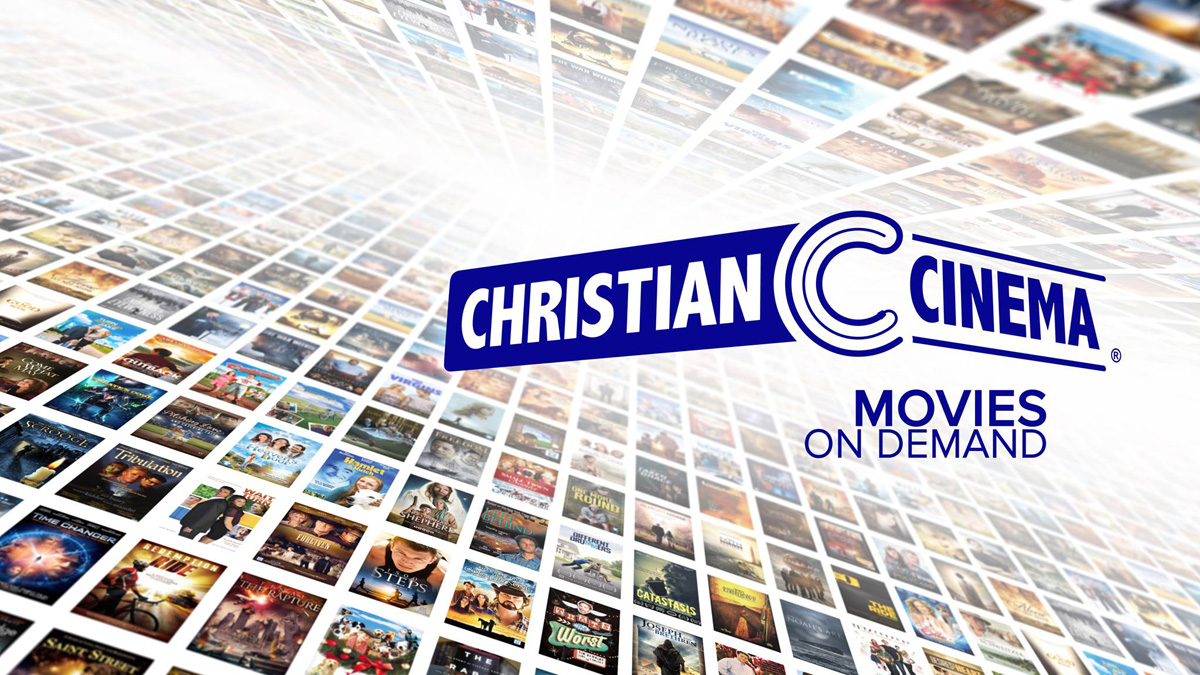 Pros: You only pay for the movies you watch.
Cons: It could potentially be more expensive than other streaming services like Pure Flix.
Price: Rent movies from $4.99 or buy movies from $12.99.
FaithStream is a platform that allows you to access a collection of Christian channels and on-demand content, including movies, documentaries, music, and educational programs.
FaithStream has 200+ 24/7 Christian TV channels and children's channels and 50+ Christian radio channels available in 20+ languages.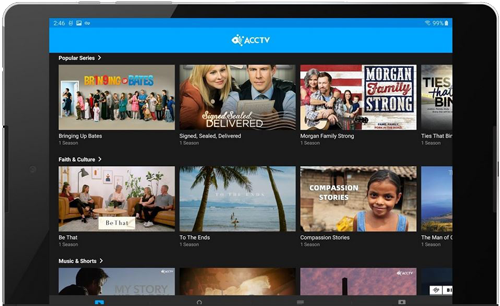 Pros: No monthly fees, a wide variety of content for all the family.
Cons: Big lump sum required upfront.
Price: A one-time fee of $179.
Answers TV is a streaming service that empowers viewers to defend the truth of God's Word.
With a vast library of live and on-demand high-quality and entertaining content, it features programming from renowned ministries such as Answers in Genesis, the Ark Encounter, Creation Museum, and other ministries worldwide.
Subscribe to this platform and you can watch engaging dramas, thrilling adventures, toe-tapping musicals and kids' shows.
In addition, you can enjoy Answers News, thought-provoking talk shows and captivating documentaries, all designed to deepen your understanding and faith.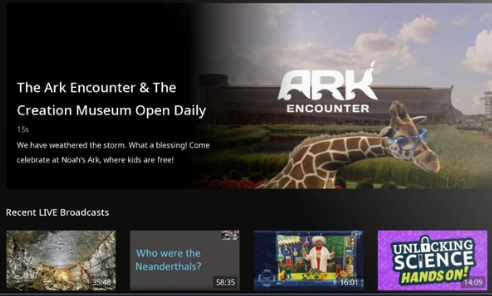 Pros: A wide variety of high-quality content for all ages. Equips you to defend the Gospel.
Cons: More education-based, not much in the way of "entertainment".
Price: 7-day free trial then $4.99 a month or $39.99 a year.
Hope Channel is a global network offering a wide range of free Christian TV content, with 70 channels available in over 80 languages, including programs like Wake Up With Hope, Hope Talks, InVerse Bible discussions, and Bible Heroes Game Show.
It can be accessed on various platforms such as phones, tablets, and smart TVs through Google Play, The App Store, Roku TV and the Amazon Appstore.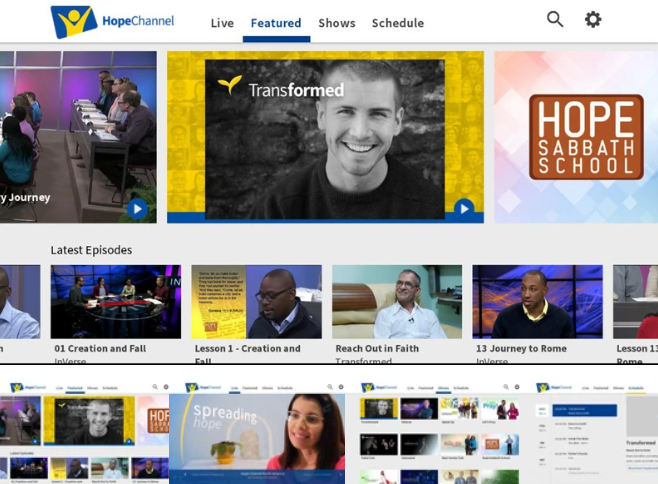 Pros: Free access to a diverse range of Christian content.
Cons: Associated with Seventh Day Adventists (maybe a pro for some).
Price: Hope Channel is free, though they do accept donations.
The 2 That Didn't Make The List (& Why)
VidAngel is a great option for you if you want to apply filters to your existing platforms, but it didn't make our list of best Christian streaming services because, well…
It's not one.
They do have access to some AngelStudios content (they used to be the same company) but that's about it.
VidAngel might still be worth considering if you want to enjoy your favourite Netflix or Amazon Prime shows without all the usual profanity and sex scenes for $9.99/month.
Living Scriptures claims to be a Christian Netflix alternative though it is, in fact, Mormon.
They offer a library of LDS shows and movies for $9.99 a month.
Which Christian Streaming Service Is Best For You?
If you're torn between these Christian streaming services, the following should help…
🥇 If You Want The Best…
They're the ones on this list that have the most, high-quality content and they're adding new stuff constantly. Plus it's free!
🧒 Best For Kids…
It's got the widest selection of shows (and the latest episodes of Veggie Tales) that'll keep your kids entertained for hours.
🤔 If You're Still Not Sure…
Pure Flix is a solid option. They've got a 7-day free trial so you can try it out and see what you think.
What Christian Streaming Service Do You Watch?
Or is there a Christian Netflix alternative missing from this list?
Let us know in the comments!