What makes a good book "good"?
Have you ever picked up a book and lost all track of time?
My friends know I've enjoyed a book when they borrow it only to find more lines highlighted than not – the main text marred by my feverish scribbles and underlinings.
I must confess right now that I am a hoarder… (please don't tell anyone!)
I adamantly resist the peer pressure to buy an Amazon Kindle simply because being surrounded by books is my safe and happy place.
I have to be very careful entering a bookstore, especially a Christian bookstore because I just might lose control of my senses.
See:
In this post I have picked my top 5 Christian books here, ones that have left me with a lasting impression. I have only included my personal favourites here.
These books have all inspired me in some way, brought me closer to God and given me a greater understanding of His Word.
I walk and talk and think differently because of what these books imparted. God spoke to me through these books to increase the hope of my heart and change me irreversibly.
So let's get started! In no particular order…
A lovely lady who saw the call of God on my life and gave me this book when I was 14 years old and I've read it at least three more times since then.
This book is all about being a person who's passionate and hungry for God's life-changing presence.
King David said, "My soul follows hard after You" (Psalm 63:8).
Paul put it this way: "I chase after that I may catch that which apprehended me" (Phil.3:12).
God Chasers made me thirst for the reality of the Holy Spirit in my everyday life.
It helped knock down the self-constructed wall I built between my 'normal, physical life' and my spiritual, church life.
When I get too busy being busy or I find myself wondering what the heck I am doing, I pick up this book to remind myself of the basic truth that I am alive to be loved by God and to love Him back.
It's so simple but how easily we forget!
Where do I start with this book? This book changed my whole relationship with God – it's as simple as that.
The truth sets you free!
Destined to Reign helped me to see who I am in Christ and gave me a new and continuing revelation of what the cross of Christ means to me.
Sin and guilt gave way to forgiveness, acceptance and righteousness when I became a new creation.
The New Testament suddenly came alive and started to make sense to me – I actually 'got' what Paul was writing about!
Please read this book!
Though the cover is hideous, this is one of the best books I have ever read.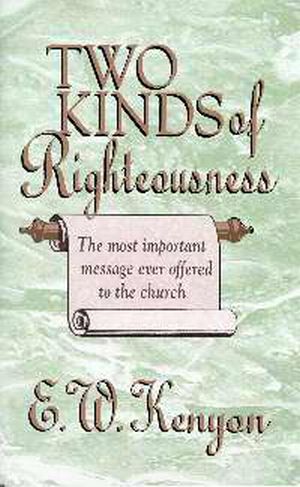 I read this at about the same time as Destined to Reign and wow 🤯
It was in my first year studying at Bible college and a tutor recommended I read this.
It's one of those really old books and if it wasn't for my tutor recommending this to me I would never have bothered to give it a second glance.
Have you noticed how so often it's the old, dusty books that are the best?!
It's only about 60 pages and it's packed with Scripture. It's full of such deep Bible truths made perfectly simple and easy to understand.
This will change your whole walk and relationship with God – We do not have to wait until we get to Heaven to enter into what Christ did for us…
It is ours to enter into and enjoy NOW!
Hinds' Feet on High Places is one of the bestselling Christian fiction books and an all time classic.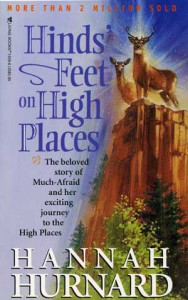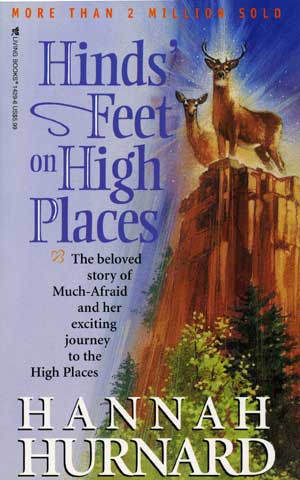 If I hadn't read the two previous books I would be feeling very ashamed right now because I only read this a year ago! I wish I had read it earlier.
It's basically the story of a young woman called Much Afraid and her journey away from her Fearing family into the High Places of the Shepherd. It is an allegory of the Christian life from salvation through maturity.
I wept as I read this book. You can not help but identify with Much Afraid as she goes through vast expanses of desert and struggles up steep cliff edges.
She struggles and defeats her enemies and transforms from the inside out as she travels her path with the Shepherd at her side.
I love to read biographies and stories of the great missionaries who have gone before us.
This book is one that has made a lasting impression on me.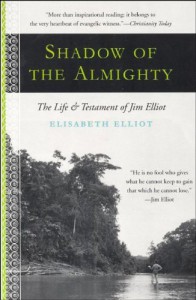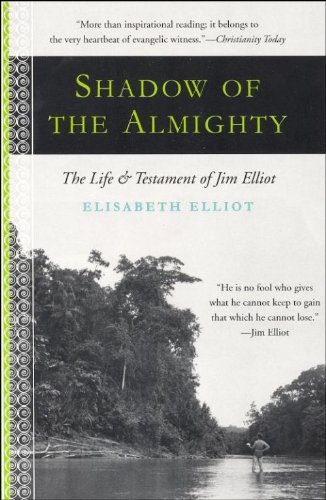 Shadow of the Almighty consists of the letters and journal entries of missionary Jim Elliot as he trained and served on the mission field.
He was later murdered whilst sharing the Gospel with the unreached Auca tribe in Ecuador.
His wife, Elisabeth then shared her husband's personal diaries to inspire and encourage others.
I love Jim's honesty and vulnerability before God and the simple faith by which he lived his life.
If he needed something, he asked God and God provided. I want this kind of simple faith.
Jim Elliot is a great example not of a perfect man, but of a man who wants to live his life fully for Christ, no matter what the cost.
Jim is an inspiration and example to me as I prepare to serve as a missionary in some of the most unreached places on Earth.
Your Turn…
I'd love to hear your book recommendations!
What book have I missed off this list?
What's your favourite recommended read?