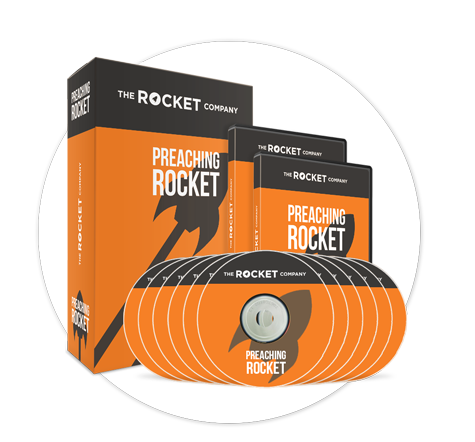 Last Update 2nd October, 2016.
Sermon preparation can be stressful and take up a lot of time. 
You know that sermon preparation is important, but with leading a staff, handling administration duties and ministering to people, the most important task is often overlooked.
There is a better way.
You don't have to struggle to find prepared sermon outlines and ideas for your next preach.
 Preaching better sermons is the single most effective way you can:
Improve the quality of your church

Reach more people
While you're busy working on your sermon, who is working on you? When the preacher grows, the church grows. It's as simple as that.


Want Help With Your Weekly Sermon?
Our goal at GrowChurch is to equip, help and empower pastors and church leaders with the resources they need to cause their churches to grow and thrive.
That's why we're introducing Preaching Rocket, a 12-month program that brings you Christian sermon outlines, preaching ideas and full step-by-step coaching.
You can check out my full 3,832 Preaching Rocket review here.
You will get 52 great preaching stories from the worlds of science, technology, history, sports, literature and more. 
Not only will this content help make your messages better, the program will deliver twelve modules of focused coaching to help you get better as a preacher. 
You'll also get 12 MONTHS OF COACHING, on important topics like:
How to structure a great sermon.  I'll show you how I build a talk outline from the ground up.
Creating a memorable bottom line.  If you want people to remember lines from your messages, this formula will help.
Seeking feedback and dealing with critics.  This can be one of the most helpful or harmful experiences of a preacher. 
How to create a preaching schedule that really works.  Not only will we show you exactly HOW to do this, but we will give you some tools to make it easier.
Preaching to the Unchurched.  If you want to reach unchurched people with the Gospel, these principles can really help you.
How to build an introduction that draws people in to the message.  The first five minutes are the most important in your message.  Are you using this time effectively?
Preaching for a response and giving a call to action.  This will help you call people to put their faith in Jesus, jump into a small group, sign up for volunteering, or give!
Becoming a master storyteller.  People love and remember stories, not facts.  Learn how to tell them and where to find them.
Creating a preaching team so others can share the load.  Building others isn't just healthy preaching, it's discipleship!
How to study the Bible for preaching.  We will show you methods and systems for starting with the Scripture, so you're not sharing your opinions but teaching God's Truth.
How to be spiritually and emotionally healthy.  It doesn't matter if you're a great speaker but your soul is empty.

Each of these modules comes with an eBook, an audio training course, a coaching video and a listening guide.  
There are documents, spreadsheets and interviews sprinkled throughout the program. 
Together, it's a powerful and practical tool to improve your weekly messages. 
Hundreds of people are going through the program and I want to invite you to join the Preaching Rocket community. 
I am convinced that preaching the Word of God is the greatest calling one can receive.
It is not always an easy task but it is most rewarding when you see God changing lives through the sermons you preach.
But please don't take my word for it. Try it and see for yourself.
You can test drive Preaching Rocket for 14-days, free of charge.
If you have any questions about Preaching Rocket, or any of our church growth resources, feel free to leave your comment below.
While you work on your sermon, we work on you.
We want to help you preach better sermons.