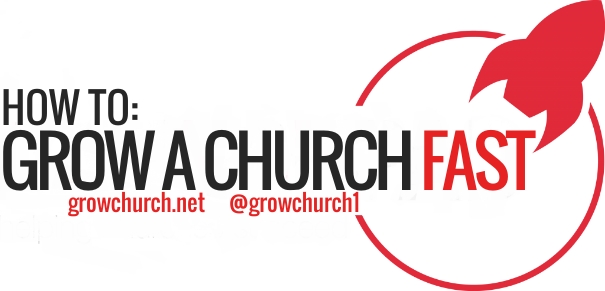 Pastors and church leaders, you want to know how to grow your church to grow fast?
Today I'm going to share with you the tools and resources you need to take your church forward.
It's not going to happen automatically, and sure, if you are serious about wanting to see rapid church growth then some changes and tough decisions will have to be made.
But just before we get into the strategy side of things, I just want to take a moment to encourage you.
Maybe you've been frustrated, maybe you've been hurt and maybe you've been disappointed?
When things happen that you could never have anticipated, when things didn't go the way you thought they would, what do you do? What now?
What drives you pastor? What's your motivation?
You can and will have a fast growing church, but you can never be successful until you turn your past pain into greatness, until you allow your pain to push you from where you are now to where you need to be.
Your pain, your experience up to this point can be the driving force, the platform you use to push you and your church forward.
I believe that these 3 triggers to growing a church fast will unlock the great plan that God has in store for you and your church and you will see rapid growth, starting as soon as you apply them.
So here they are, 3 proven and tested steps that you can take to breakthrough and drive rapid church growth. Here's how to grow you church, and quickly build forward momentum.
1. Honestly Evaluate: Know your starting point
This first step is often the hardest.
Just like a SatNav or GPS system needs to know your starting location before it can give you directions to your destination, honestly evaluating where your church is right now means that you can then begin to take solid steps in the right direction.
My friends at The Rocket Company have made this step a lot easier by designing a resource specifically for pastors called Launchpad.
They specialise in helping churches succeed and I can not recommend it highly enough if you are serious about building a fast growing church.
Why do I mention it?
Because in their very first introductory module (which you can get your hands on completely free with their risk-free trial here) they guide you through a step by step blueprint to help you evaluate where your church is at the moment, and working together, they'll be able to identify some important objectives for moving your church forward.
The church health assessment module within Launchpad covers:
1. Where are you now?
It will help you identify where you are. Jim Collins says, "great leaders need to confront brutal facts," so we'll help you do this in the trial module.
2. Where are you going?
Once you know where you are, it's time to talk about where you want to go.
We've found that a lot of churches don't have clearly articulated goals. And, if they do, they may not always communicate those goals with their staff. The Dream worksheet will help you set three church-wide goals for the next season of ministry.
3. How to Get There. Now that you know where you're going, we'll show you how to get there.
In the remainder of Module 1 Launchpad will coach and help you to:
Clarify and focus on your purpose
Lead the people God has given you
Create a solid ministry plan
Execute the right projects
Learn to communicate your vision
Learn the ability to motivate through messages
Learn how to equip others for ministry to avoid burnout
Learn how to raise money
Learn the skill of managing your time and energy
Remember that you can get your hands on this today, with no obligation and best of all, at no cost.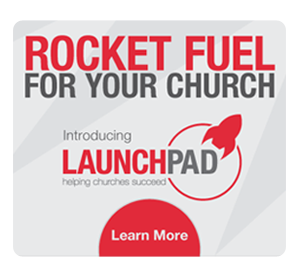 Launchpad is one of the most affordable, practical and timely resources available to help you lead and grow your church.
I've heard hundreds of pastor's give testimony after discovering this so I'm confident you'll want to continue with it.
2. Be unshakable in your decision that your church WILL grow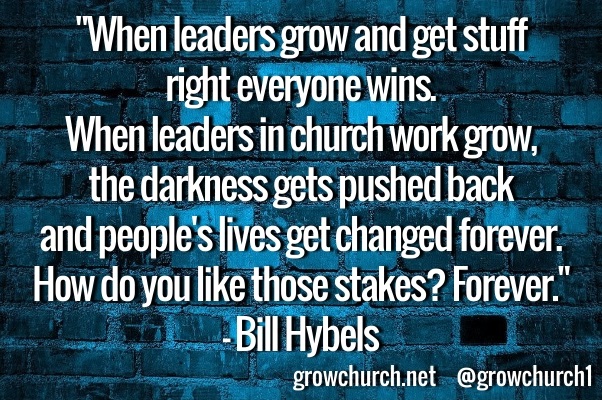 The purpose of knowing where your church is right now is not to dwell on the past, but to use as a trigger to look to a bigger future for you and your church.
What happened last week doesn't count, whatever happened in the past really doesn't matter.
Forget about that. What matters now is the direction your church is heading.
Can you see it?
The second trigger starts with you here and now.
If you can see it, you can have it. With the right tools, resources and know-how, what can you see?
What vision has God put in your heart for the church?
Surely God has put you in your church for this time, to make a lasting difference.
Say a resounding "Yes!" to the vision God has given you. Embrace it. Start saying yes to your unfolding future, yes to your potential.
"Now faith is the substance of things hoped for, the evidence of things not seen." Hebrews 11:1
You need to settle the issue that God wants his church to grow.
All living things grow. If a church is alive, it grows.
Growing a healthy church is hard work, and unless you clarify your convictions, you're going to be tempted to give up.
You have to be determined that your church will see fast growth because:
God commands growth. Both in Genesis with creation, and with Jesus' Great Commission challenge.
People demand it. The world is desperately looking for an authoritative message in a humble personality. That combination is irresistible.
 Set specific church growth goals
"Write the vision and make it plain on tablets, that he may run who reads it." Habakkuk 2:2
It's important to get your church growth goals down in writing.
Do you want to see your Sunday morning attendance grow to a certain number?
Do you want to increase the number of disciples you are making?
How many people do you want in your congregation?
How many more people willing to step up and volunteer in your church?
What is your goal for increasing the church's income?
When writing down your goals, be specific and give them a time limit. Print or write them out and put them in a  prominent place; somewhere where you'll see them daily.
Remember that all of these goals are not just numbers, but families, marriages and lives changed.
3. Use the right tools to grow your church FAST
Many pastors I've met feel called to the work of the ministry, but they often feel overwhelmed by the work of the ministry.
They are honoured and humbled to do what they do, but they need a little help and hope along the way.
The sole aim of Launchpad is to provide that help.
Think of Launchpad as an extra staff member specialising in taking your church forward. (Though at a fraction of the cost)
How do you know if LaunchPad is for you?
a) I can only recommend it because this is what I use myself and I've seen the results.
b) Test drive Launchpad for FREE and see how this proven system can help you lead your church.
Launchpad is already a great help to many pastors like you who are building strong and growing churches because you don't have to reinvent the wheel.
You get to glean from the best, you can glean what works and apply it to your own church setting.
For me personally one of the most useful and time saving benefits is the Launchpad online community of other like-minded pastors who are on hand to lend their support.
You don't have to go and try to figure out everything along. You can ask questions and get answers. This is absolutely invaluable.
Here's what you're about to get full and instant access to: 
Getting the best curated content and filtered ideas to help your church grow
The practical, bite-sized coaching that will help every ministry
The "done-for-you" resources that will save you time
The "just-say-this" scripts to inspire and help you communicate clearly
Access to the Resource Vault, private events and private Facebook group
Seeing real church examples from growing churches
Being part of a like minded community of leaders who believe in the mission and power of the local church
Never having to start from scratch when you need to create a document, spreadsheet, or system
Don't just take my word for it, see what other pastors and church leaders had to say here.
Listen, if this has worked for hundreds of other pastors across the country, why wouldn't it work for you and your church?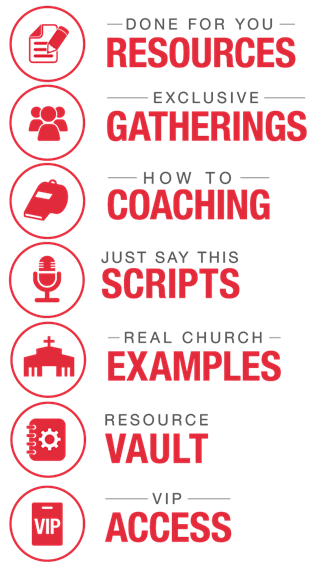 And Finally…Take Action
Just to summarise, here are the 3 triggers that you need to grow your church and fast, and take your ministry to the next level:
1) Take the free Church Health Assessment
2) Decide that your church will grow. believe it, see it and write it down.
3) Get the right tools and resources to help you.
Don't try and do it all on your own.
If you haven't done so already, sign up for the free Launchpad test drive and get instant access.
God wants to turn your city upside down. He wants to use your church to do it.
If you're not where you want to be as a church, if you don't have what you want to have right now, you don't need to stay in the same place.
If you're not where you need to be at this particular moment, you need to be willing to make the necessary changes to make it happen.
Unless you attempt to do something beyond that which you have already mastered, you'll never grow.
Can you imagine seeing fast growth in your church starting in the next few months?
Can you imagine if you applied these steps and you started to see your church growing in influence and being a catalyst for change in your town or city?
Can you imagine the lives that will be changed as your church rises up to be all that she could be and should be?
A church that is giving hope to the hopeless, reaching the unreached and loving the unloved. This is our call.
Once your inside the Launchpad community area let me know (it's my usual hang out 😉 or if you have any questions simply leave a comment below.